Starbucks Launches Functional Coffees
Published 28 February 2020
Listen
As covered in Meet the New Coffee Consumers, health-conscious coffee drinkers are favouring brews that boost wellbeing and offer additional functional benefits. Starbucks is targeting these new cohorts with ready-to-drink and at-home products that offer 'a little more than the average cup of coffee'.
Starbucks Launches Functional Coffees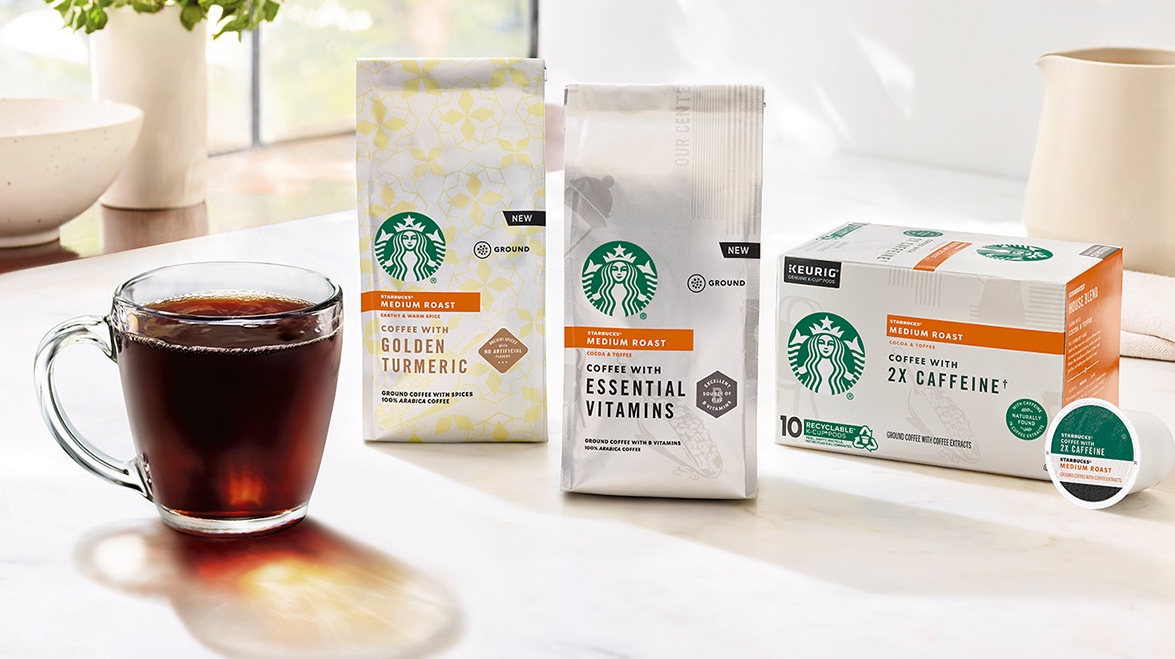 Starbucks
The Coffee With More range, launched this month in the US in collaboration with FMCG link giant Nestle, is a collection of three variations of Starbucks House Blend coffees with additional benefits, available in both ground coffee and individual pod formats.
The first variant, called Essential Vitamins, is fortified with five different B vitamins (B1, B3, B5, B12 and biotin) boasting a host of health-boosting properties, including brain health, a boost in energy levels and better cell health. The second variant, called Golden Turmeric, is spiked with turmeric, cinnamon and ginger, lending the coffee both a warm, earthy flavour. Turmeric is famed for its anti-oxidant and anti-inflammatory properties.
The third in the range, called 2x Caffeine, contains double the caffeine found in a regular Starbucks K-Cup coffee. This energy-boosting varietal is available in five variations, including Blonde, Medium and Dark roasts, as well as Honey Caramel and Madagascar Vanilla-flavoured versions.
Launching these new products is a savvy move by Starbucks, as they are sure to appeal to the 37% of global consumers who are looking for functional benefits from their food and drink products (Tastewise, 2019). See Soda's Health-Conscious Pivot for more on how beverage brands are capitalising on this growing demand.
Read also Functional Ingredient Trends: Boomer Focus Vitafoods 2019 and US Natural Food Trends: Natural Products Expo East 2019 for more exciting functional-food development.