New Wearable Provides a Sense of Connection in Isolation
Through haptic vibrations, the Sentero wearable gives people a sense of orientation and connection to loved ones and places, even if miles apart. As we discuss in Leisure & Wellness in Lockdown, tech which provides consumers with human contact is sure to win while travel is restricted and social distancing measures remain.
New Wearable Provides a Sense of Connection in Isolation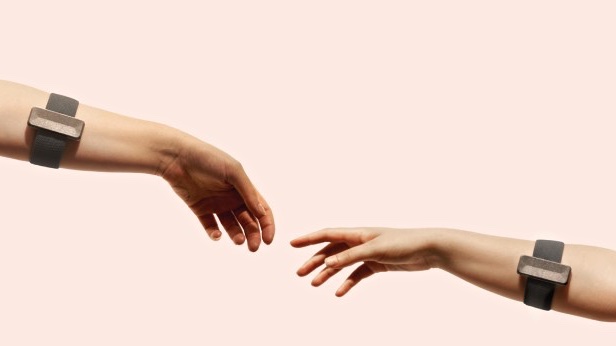 The Sentero wristband, designed by UK-based start-up CyborgNest, vibrates when the wearer turns the device towards pre-set 'nests'. Anywhere in the world that has co-ordinates can be designated as a nest – such as a wearer's home or a place meaningful to them. The device can also be used to sense other wearers. Users elect to be discoverable to loved ones through the app. Sentero will vibrate when they face each other – providing a visceral connection no matter where they are in the world. The device represents an evolution of the sense-extension devices we explored in Sensory Lifestyle.
Using the paired app, wearers can create bespoke haptic patterns for individual 'nests' and people. The longer the device is worn, the more the brain learns to recognise these vibration patterns and what they represent, turning the wearer's conscious identification into subconscious recognition. To build on the screen-free, physical connection Sentero provides, the device can also send other wearers haptic emojis or even feel each other's heartbeat. See Crafting Modern Connection for more technology designed to support human connection.
The device also offers mass connectivity – where multiple people can elect to sense one person as a group. This has huge potential for applications during lockdown and social isolation. CyborgNest suggests a remote yoga class as a use-case; wearers can sense their instructor while they follow a yoga class from home. The device is slated for launch in spring 2021, retailing for £127 ($100). For more ways in which the tech industry is helping people maintain distance but retain closeness during the Covid-19 pandemic, see Enter EthiTech.