Mother's Day 2022: Global Brand Campaigns
Mother's Day spending in the US alone is expected to reach a record high this year, up 13% to $31.7bn (NRF, 2022). With the holiday observed in 100+ countries on May 8, brands from countries including India, Saudi Arabia and the US have created campaigns focused on ultra-realistic, boldly inclusive portrayals of motherhood.
Mother's Day 2022: Global Brand Campaigns
Baby Dove's Hardships of New Motherhood: US skincare brand Baby Dove partnered with American non-profit Postpartum Support International in a bid to destigmatise conversations about postpartum anxiety and depression. It was in response to proprietary research which found that the majority (59%) of American mothers don't feel society allows them to share how hard the first year of motherhood really is (Baby Dove, 2022).

A campaign video depicts often unshared moments of early motherhood – such as a woman crying as she surveys her caesarean scar, and a sleep-deprived woman napping next to her washing machine with her baby placed atop it, soothed by its vibrations. The campaign, which features a racially diverse cast of same-sex and heteronormative couples, is set to a cover version of Queen's track Under Pressure.

Specifically acknowledging its finding that 85% of American mothers agree the first year is nothing like what they see on social media (Baby Dove, 2022), Dove is encouraging mothers to share images under #OneRealPressure on social media to help change the narrative.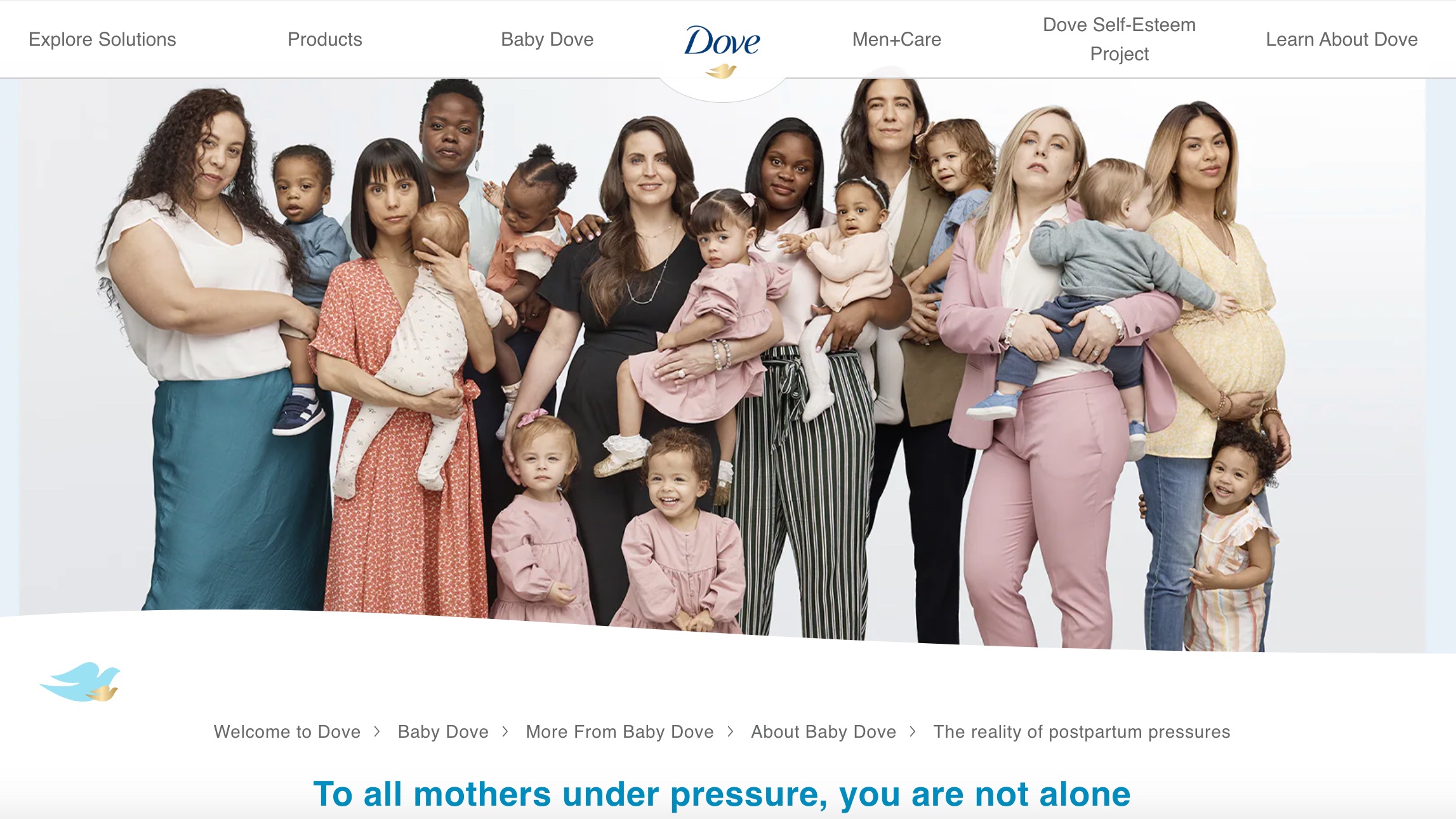 Baby Dove
Prega News' Takedown of Perfection: Indian pregnancy detection kit brand Prega News is striking a chord (1.3 million YouTube views in its first week) with #SheIsImperfectlyPerfect – a campaign relieving mothers of impossible standards.

A three-minute video depicts a mother working at an ad agency who initially feels guilty for forgetting to order baby food. Her team is brainstorming a Mother's Day campaign featuring a superwoman who can do it all, when her colleague pitches another angle, celebrating mothers without the pressure to be perfect.
Puck Arabia Pivots 'Supermom' Narrative: In the same vein of debunking the perfect mother myth, Saudi Arabian dairy brand Puck Arabia's campaign #NoSupermomsHere encourages mothers globally to use the hashtag (and its Arabic counterpart) to share everyday stories of motherhood. A commercial urges moving away from the image of perfection dictated by society, telling viewers: "It's true that we do amazing things, but being a supermom isn't one of them."
Teleflora Campaign Auditions Meet Reality: An emotionally driven campaign from US floral delivery service Teleflora centres on three actors who believe they are auditioning for a commercial. They're all asked to read a letter, which turn out to be actual letters from their children, who meet them at the end with a bouquet. The main commercial racked up 3.8 million YouTube views in its first 10 days.


Sephora's Inclusive Motherhood: Recognising and celebrating inclusive and beyond-biological motherhood (see Parenting Gets Real for more on modern families), the Canadian arm of French beauty giant Sephora's video posits that "Mother's Day is a time to reconcile the treatment of the past with the hopes for the future". It features drag mother Xtacy Love, all-abilities motivational speaker Talli Osbourne, and Wyandot artist and cultural adviser Catherine Tammaro (all Canadian).
Upwork Creates Resources for Working Mothers: Responding to the pandemic's disproportionate impact on working mothers, the #MotherhoodWorks campaign from US freelancer marketplace Upwork urges businesses to rehire them. A commercial, comprising selfie-shot footage, notes that 1.6 million American mothers left the workforce in 2020 (US Department of Labor, 2021). It depicts them caring for their children during the pandemic, telling viewers "what makes them a great mom, also makes them a great hire".

Upwork also launched an accompanying Hire a Mom microsite, where working mothers can apply for remote work, connect with others, and upload skills certifications.
For more on the pandemic's impact on women, see What Women Want.