Lego Reimagines Laundrette as Playscape
Published 12 November 2021
Reimagining an everyday community space as a children's playscape, Lego and British-Nigerian designer Yinka Ilori created Laundrette of Dreams, a free interactive art installation in east London. With British five- to 16-year-olds now averaging 6.3 hours of screen time daily (NHSGGC, 2021), the space was conceived to reignite in-real-life (IRL) connectivity.
Lego Reimagines Laundrette as Playscape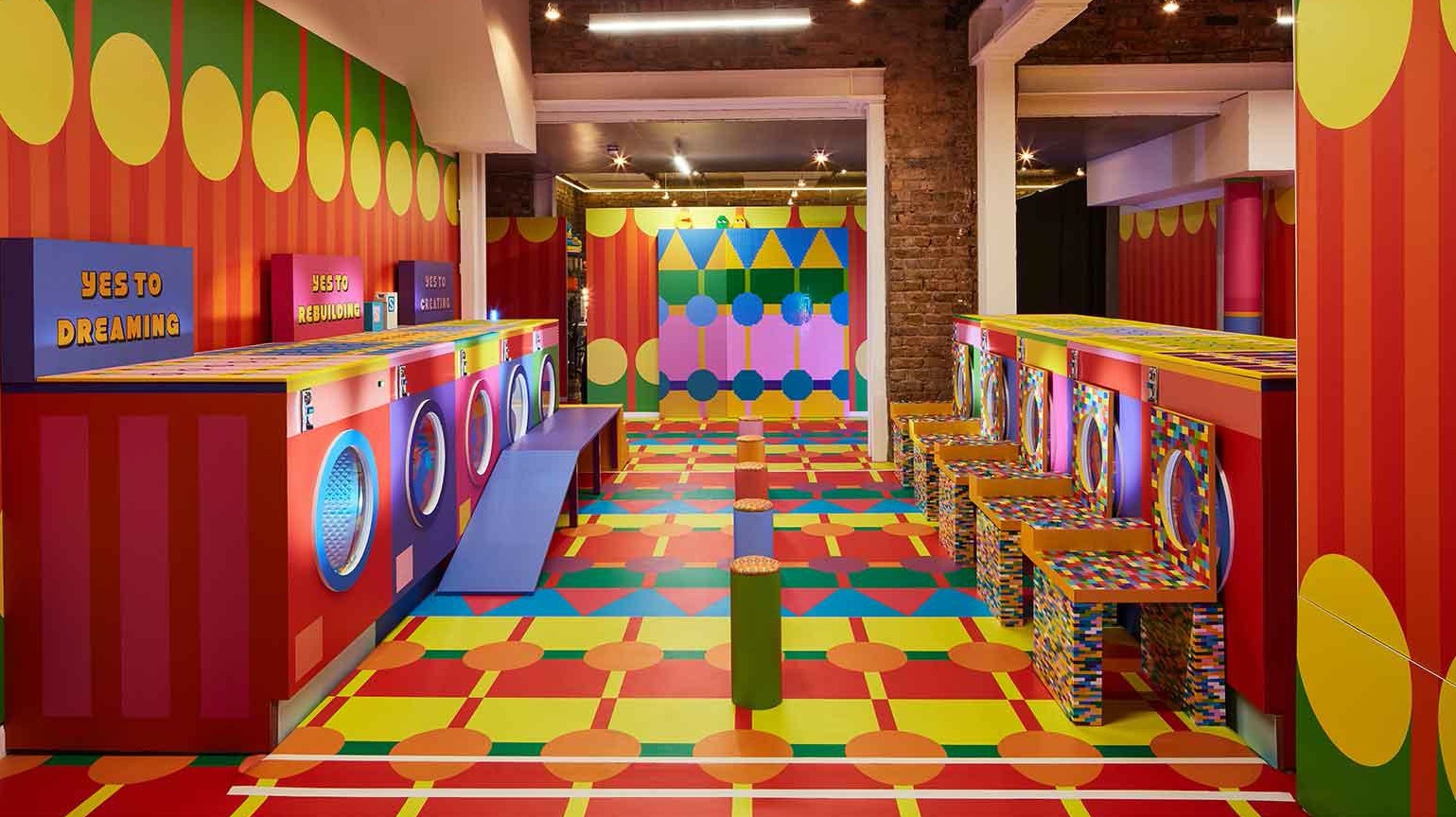 Lego x Yinka Ilori, Laundrette of Dreams
The laundrette is part of Lego's ongoing Rebuild the World campaign, launched in September 2019, which celebrates children as "the masters of creative problem solving". It also evolves the Danish toy giant's post-Covid brand strategy under vice-president of global brand development Alero Akuya. She joined earlier this year from Nike, where she created its purpose marketing division.
The 10-day installation was emblazoned with Ilori's signature vibrant geometric designs across the shopfront, walls, floors and 10 spinnable 'washing machines', which contained kaleidoscopic light installations and Lego creations.
The brand-building pop-up incorporated more than 200,000 Lego bricks, used both structurally and as play objects, including a mural that visitors could build, disassemble and rebuild. A vending machine dispensed small free Lego toys, while hopscotch patterns on the floor encouraged children to socialise.

Re-emphasising the project's message were small signs inverting well-known tropes discouraging play, such as a 'Yes to Ball Games' referencing the 'No Ball Games' signs often seen on British housing estates.
Ilori designed the Laundrette of Dreams in homage to the role laundrettes play as community and social spaces for children, who often have fun while distracted parents and carers do their washing. Tapping into children's innate creativity and optimism, he invited kids from his former primary school, east London's St Jude & St Paul's C of E, into the design process. Ilori visited a local laundrette with them, asking them to consider how they'd rebuild the space.
See also Lego Advocates for Gen Alpha in Brands Launch Eco-Comms for Cop26.