Gucci Partners with Snapchat for AR Try-On
Listen
Gucci has adopted Snapchat's AR (augmented reality) try-on lens to allow consumers to test how its sneakers look on their feet. With an integrated 'shop now' option, the Italian luxury mega brand is seeking both to make the path to purchase smoother, and to win new brand fans on the primarily Gen Z platform.
Gucci Partners with Snapchat for AR Try-On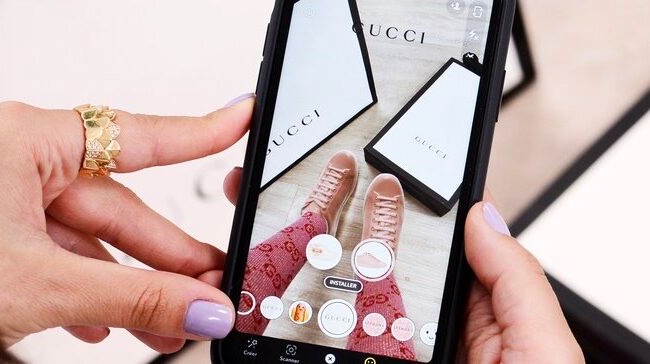 Gucci
To test out the shoes, users pick a trainer on Gucci's Snapchat, pointing their smartphone camera at their feet to view the shoe overlaid on their foot on-screen. Consumers can try on Gucci's Rhyton, Tennis 1977 and Screener shoes (all of which were released in 2019) and the ever-popular Gucci Ace (released in 2016). The lenses will be available to Snapchat users in the US and UK, as well as in Australia, France, Italy, Japan, Saudi Arabia and UAE.
While AR sneaker try-on is not new – US sneaker reseller GOAT has been offering it since July 2019 (see Maximising the Resales Opportunity: New Tools & Tactics) and Gucci itself offers the technology in its own app – it does hold renewed relevance. Lockdown has restricted physical retail and created residual consumer concerns over hygiene. Together with the growing resales market and the rerelease of 'archival collections' (increasingly used to sell previous season product without sacrificing cachet – see Strategies for Overcoming Overstock), this will combine to boost consumer demand for virtual try-on technologies.
AR try-on technologies have been found to increase conversion, with Canadian e-commerce platform Shopify claiming that consumers who viewed a product in AR were twice as likely to convert compared to those who didn't (Shopify, 2019).
Such tech also seeds brand loyalty in younger fans (who are as yet unable to afford luxury goods) by allowing them to both try on the product digitally and share it with followers. For more on fostering brand engagement via digital product launches, see Lockdown Launch Activations: Brand Lessons.