Galaxy, Vendoo & Esooko: Disruptive Gen Z Resales Start-Ups
Trading on an innovative mix of two key Covid-spurred trends – resales and livestream commerce – Galaxy is a new US e-commerce platform with major ambitions. We profile the key philosophy and features underscoring the retail-meets-media-based initiative, plus two other similarly Gen Z focussed early-stage resales disruptors – Vendoo and Esooko.
Galaxy, Vendoo & Esooko: Disruptive Gen Z Resales Start-Ups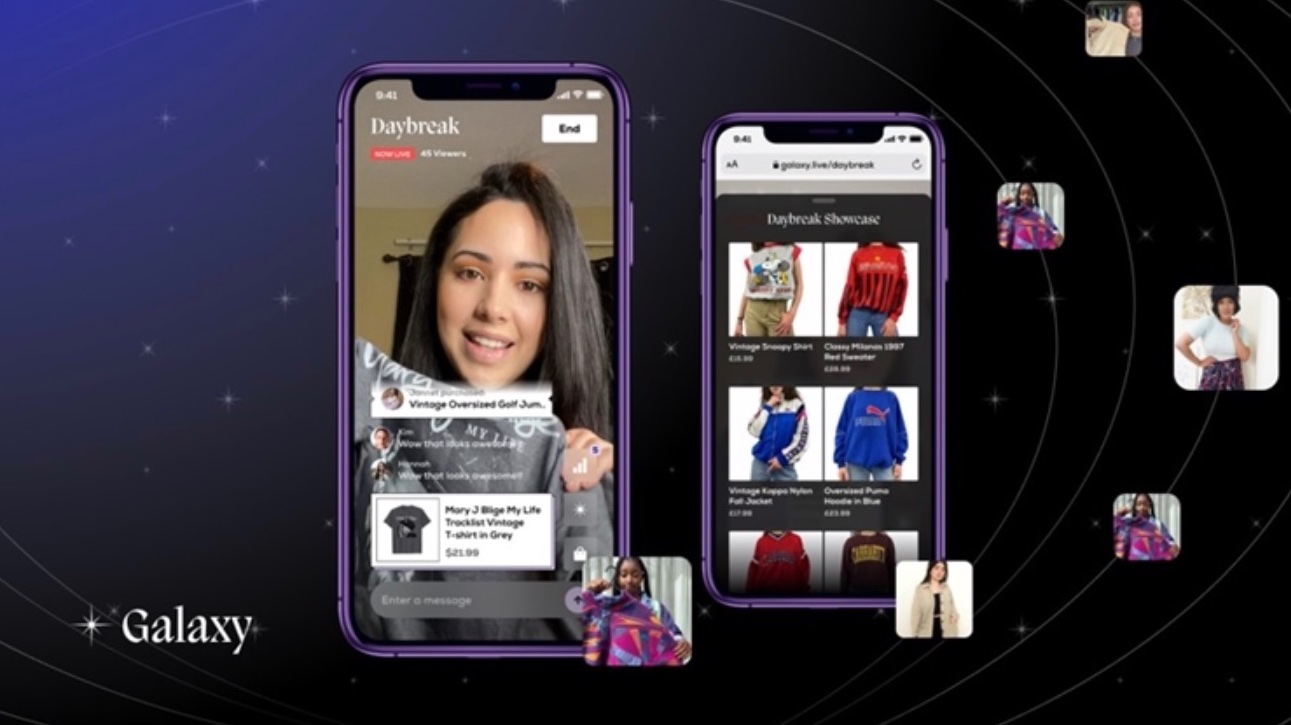 Galaxy
Galaxy: Brand of Me Broadcasters
Launched in May 2021, Galaxy hosts around 50 'merchants' – affording them individual broadcast channels from which to sell in real time and interactively, so viewers can chat to hosts. To build a credible platform, there are currently no charges to list a show, go live, or even sell. Fees will only apply from next year, via a subscription option for merchants wanting additional tools/feature upgrades.
Regular tools include a dashboard of metrics for viewing audience behaviours, an auction tool with self-set perimeters and, from summer 2021, the capacity to create collaborative videos with other sellers, cross-pollinating fanbases. Shows can be listed, or broadcast ad hoc.
Vendoo: Cross-Posting Pull
Targeting consumers keen to maximise their selling chances, Vendoo is an American online platform allowing sellers to swiftly cross-post items on over nine marketplaces, including eBay, Facebook Marketplace, Depop and Tradesy.

Vendoo made $1.1m profit in its first year (2020) via 26,838 users. Originally conceived for small businesses, it's now gunning for larger brands without a physical store that want to "sustainably liquidate excess inventory and minimise waste." See also Overcoming Overstocks.
Esooko: Eco-Conscious Fashion
Launched in June 2020, UK-based Esooko is a Depop-esque (Gen Z-focused) reselling platform, whose unique selling point is its accompanying eco-ethical initiatives. Further incentivising a fanbase already invested in buying pre-loved over brand new, the more product is bought and sold, the more Esooko donates (exact amounts still to be defined) to environmental projects including tree planting and coral reef restoration.
Making eco action a literal badge of honour, milestones such as planting 25 trees are visualised like medals on users' profiles.