Fashion's Virtual Launch Activations: Balenciaga and Pangaia
Published 17 December 2020
Listen
Building on the recent slew of fashion/gaming partnerships, exemplified by Gucci x The Sims and Louis Vuitton x League of Legends, forward-thinking brands are using gaming mechanics and/or engines to create more compelling online brand experiences that transcend standard e-tail. UK eco-materials collective Pangaia and French luxury house Balenciaga have both released easy-to-access immersive e-experiences primed for 2021.
Fashion's Virtual Launch Activations: Balenciaga and Pangaia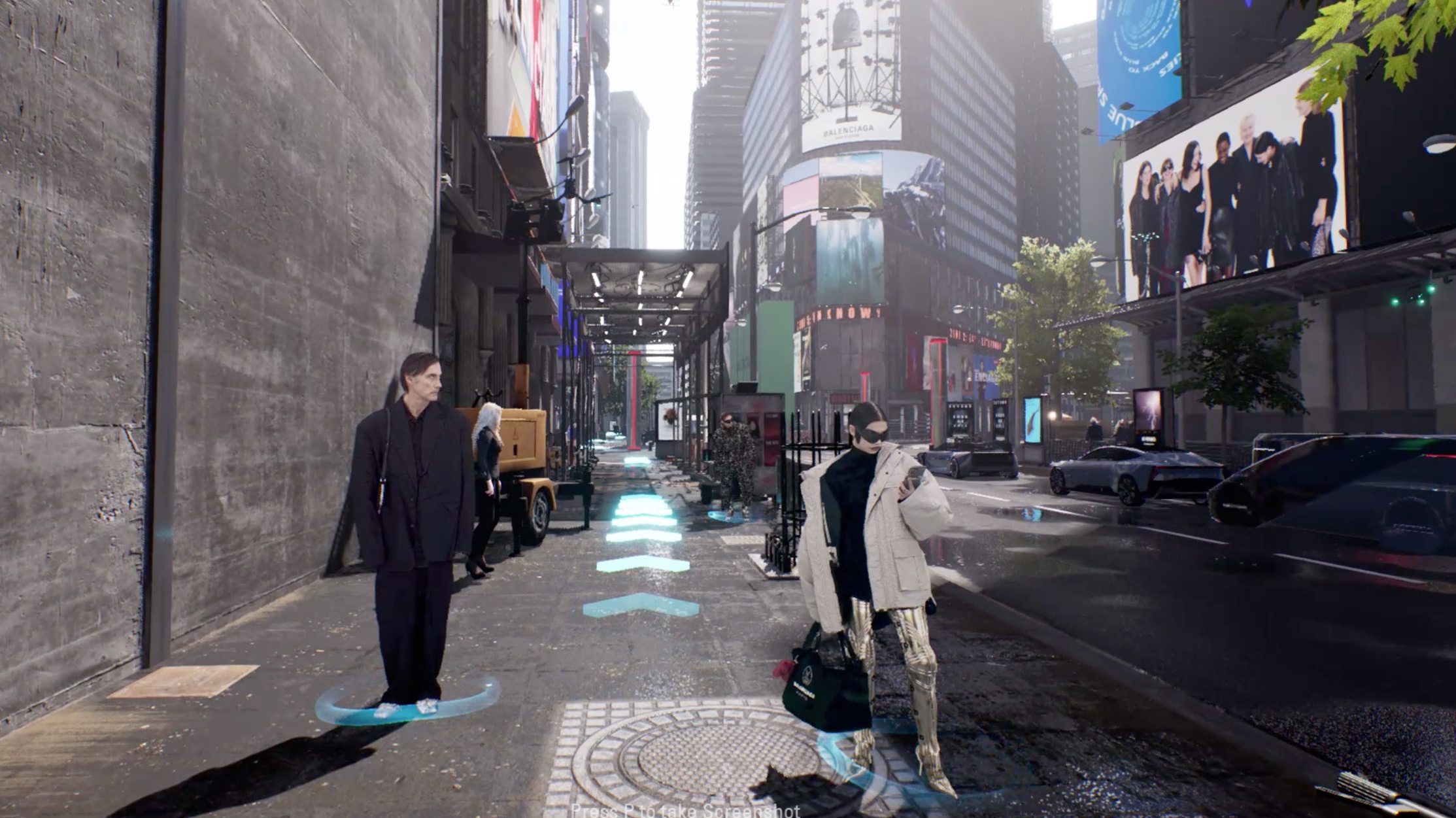 Balenciaga
Balenciaga's Post-Apocalyptic Utopia
Balenciaga's game, Afterworld: The Age of Tomorrow, is playable on desktop and mobile to maximise accessibility, although VIPs were invited to play the game via VR headsets instead of attending the brand's A/W 21 show (traditionally held in February 2021).
Set in the year 2031, users begin their journey in a Balenciaga store within an underground bunker before making their way through razor-sharp virtual cityscapes populated with Balenciaga-clad pedestrians, guided by blue arrows which showed the route through the game. Taking a bus to 'Afterworld' exchanges run-down streets for a forest-scape, replete with rave scenes. The game ends with an IRL breathing exercise set atop a mountain as the sun rises.
The microsite's look book allows consumers to view outfits in more detail; simple mouse movements manipulate angles and close-ups, as though examining an avatar in a video game. There is no capacity to buy or wish-list products, as of yet.
Pangaia Editorialises Hero Product
Pangaia has collaborated with London College of Fashion's Fashion Innovation Agencyand virtual immersive e-commerce specialists AnamXR to create a virtual world which showcases Pangaia's eco-ethical Flwrdwn puffer jackets (the filler of which is made of a biodegradable composite of wildflowers and a biopolymer instead of traditional goose and duck down).
Immersing users in both product performance and brand narrative, the experience is set in an Antarctic landscape. Using their mouse to navigate, users roam the landscape to examine the virtual Pangaia garments, accompanied by a synchronised soundtrack of whistling wind and snow crunching underfoot. Clicking on each item brings up a description and allows users to rotate the garments to examine them from multiple angles in hi-res. A 'Shop Now' button redirects users to Pangaia's e-commerce page, but both buying and wish-listing functions are slated to be available in-game by Q2 2021. The concept is built on the Unreal gaming engine.
For more details on the thinking behind this project see our Director of Brand Engagement, Katie Baron's full feature in Forbes.
See also Virtual Lockdown Launch Activations: Brand Lessons, and look out for our Virtual Flagships report, publishing on January 14.