Decentraland's Metaverse Fashion Week, 2022: Key Takeaways
Listen
The inaugural Metaverse Fashion Week (MVFW) (March 24-27) represents a new mainstreaming high for fashion's hyper-digital experimentation, with 108,000 attendees buying over 7,000 digital garments. Staged in virtual world platform Decentraland, it comprised catwalks, stores and showcases from designers, developers and retailers including Dolce & Gabbana, Yahoo and Selfridges. We break down the best projects.
Decentraland's Metaverse Fashion Week, 2022: Key Takeaways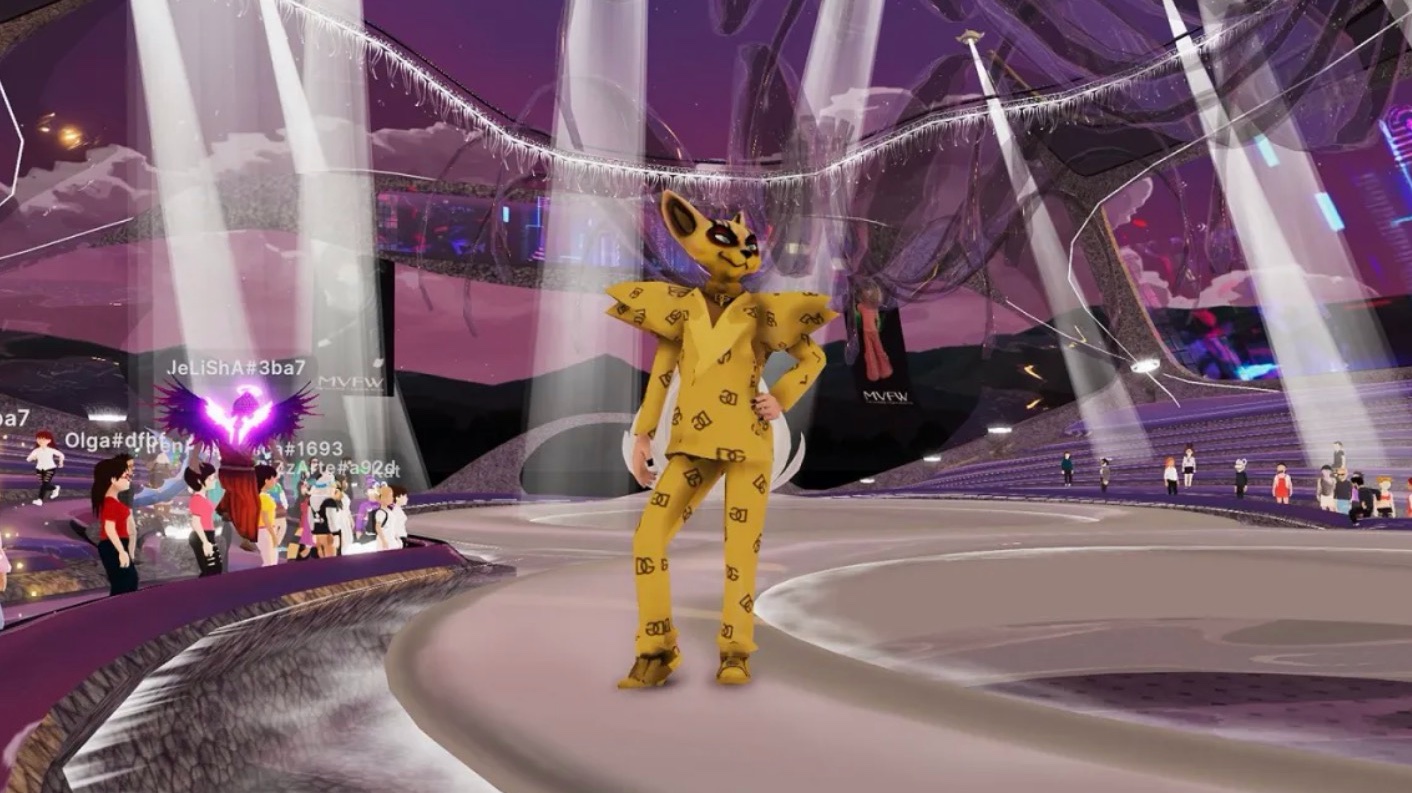 Dolce & Gabbana
Yahoo x Charli Cohen's Cyberpunk Alien Crash Site
Signalling its commitment to continued metaverse experimentation was global tech company Yahoo's immersive content arm, Yahoo Ryot Lab. It transported its immersive cyberpunk-style music, fashion and shopping environment Electric/City – originally a partnership with British department store Selfridges, London-based fashion designer Charli Cohen and Pokémon (see S/S 22 Shows: Best Brand Engagement Ideas) – into Decentraland.
The project, this time called 'The Initiation', again featured products from Cohen's co-creation-based digital fashion label RSTLSS. Visitors explored a mysterious alien artefact that had crash-landed in Electric/City DCL, and spawned limited-edition RSTLSS avatar clothing. They could also purchase the digital clothing, together with non-fungible-token (NFT) art. However (unlike the original Selfridges collaboration), the clothing was only wearable within Decentraland, and could not be ported to other environments – currently a key challenge for digital fashion and NFTs.
For more, see our upcoming report Retail & Media: Navigating NFTs, publishing on May 16.
Attendees could also view and buy NFTs of a gallery of artworks from Yahoo's Black Art. Black Stories. Black Voices programme, which aims to amplify the work of Black digital artists in the NFT space; and teleport to a live-coded rooftop set from American algorave artist DJ Dave.
Dolce & Gabbana's NFT Catwalk
One of the main events hosted in Decentraland's new luxury district, inspired by Paris' iconic Avenue Montaigne and created especially for MVFW, was Dolce & Gabbana's catwalk. It featured 20 designs created specifically for the occasion and modelled by cat avatars.
Consolidating its existing digital fashion strategy, the designs were only available for purchase as NFTs by members of DGFamily – people who have bought into the fashion label's NFT project, launched in February with NFT marketplace UNXD.
Selfridges Brings IRL Universe Project to the Metaverse
Bringing another existing programme with an IRL (in real life) component to Decentraland, Selfridges' Universe project (which formerly sold NFTs at its London flagship) displayed not-for-sale NFTs of dresses at MVFW. Its event space mirrored the iconic, spaceship-like curved facade of Selfridges' Birmingham store, which fitted seamlessly into MVFW's cyber aesthetic.
Selfridges' in-store Universe project comprised digital and IRL garments inspired by Parisian fashion house Paco Rabanne's 1966 collaboration with Hungarian-French op art trailblazer Victor Vasarely. For more, see The Brief.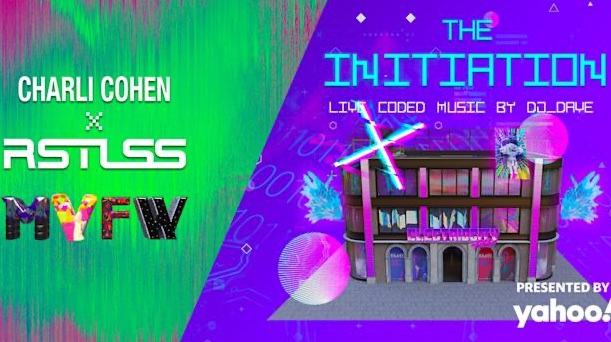 Charli Cohen x Yahoo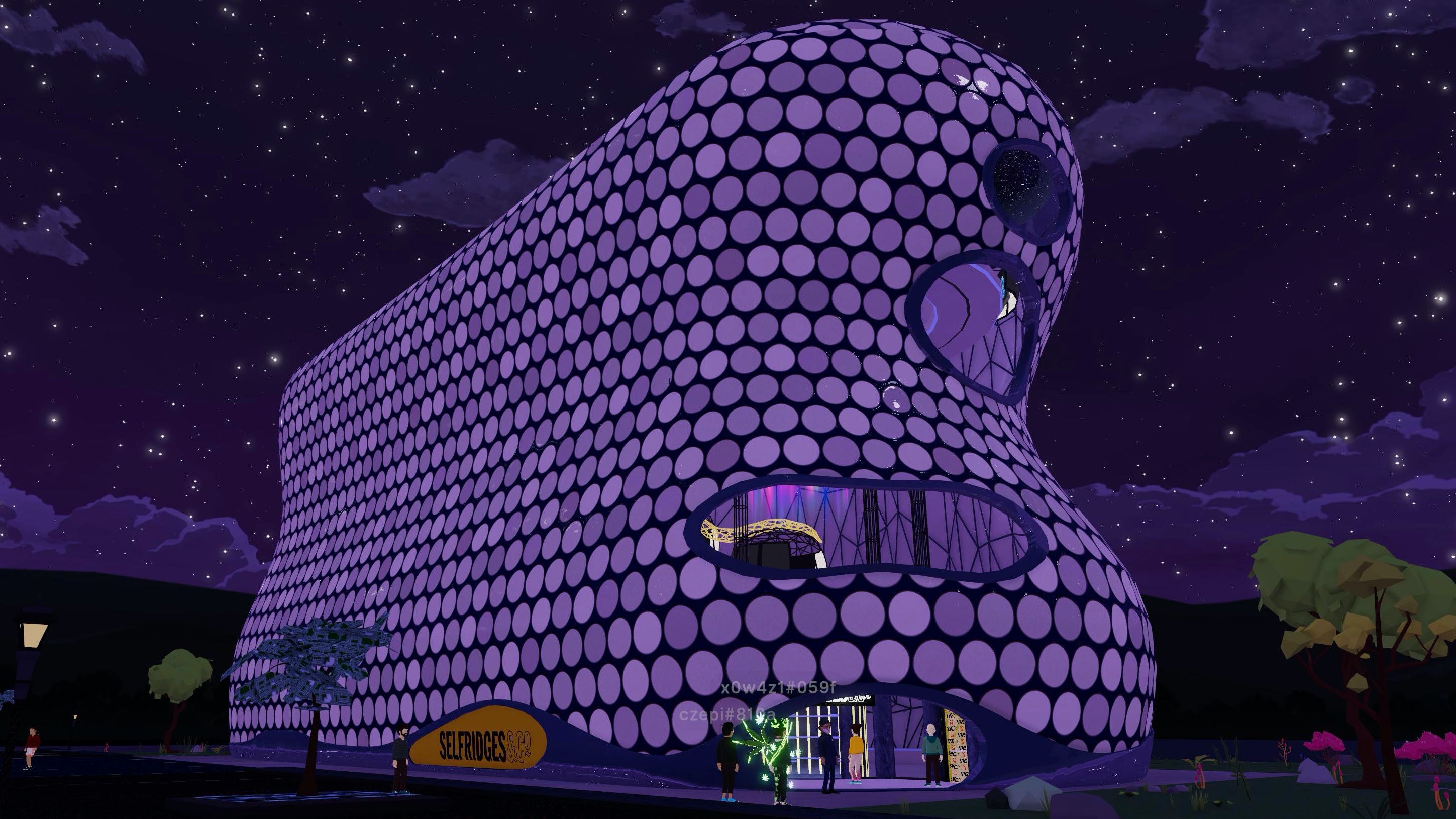 Selfridges
Tommy Hilfiger Pairs NFTs with Physical Fashion
Tying NFTs to real-life clothing, Tommy Hilfiger let visitors to its Decentraland flagship browse and buy NFTs of virtual versions of its Spring 2022 collection, including a varsity jacket and madras shirt. The tokens could then be redeemed for physical products, delivered to buyers' homes.
The clothes could also be purchased through Decentraland's main marketplace, which resembles a standard e-commerce page, albeit with items sold in cryptocurrencies; or via the Tommy Hilfiger virtual store, which avatars could 'walk' around and explore. This was located in the Boson Portal area, a metaverse marketplace enabling Decentraland users to buy NFTs, powered by Boson Protocol technology.
Hogan x Exclusible's 'Untraditional' Collaborative Exhibition
Tapping into the collaborative ethos at the heart of Web3, Italian luxury brand Hogan partnered with luxury NFT marketplace Exclusible and several digital artists to re-release its first ever sneaker as an NFT.
The 'Untraditional' project saw the white sneaker serve as a canvas for five digital creatives including Italian Silvio Rondelli and Montreal-based Yoann De Geetere, who each put their spin on the shoe. The NFTs are available at Exclusible.com, purchasable in ETH (the cryptocurrency of major blockchain Ethereum). While not wearable in metaverse-style environments, the NFTs provide proof of ownership and include an AR Snapchat filter.
For more on Exclusible, see Retail: New Luxury Frontiers 2022. Also look out for our four-report Spotlight, The Metaverse 360°, publishing on May 5.