/
/

Christmas 2010 Online Campaigns
/
/

Christmas 2010 Online Campaigns
Published 13 December 2010
Listen
Engaging online shoppers during the festive season now requires a clever tactical approach. E-commerce offers retailers a wealth of creative and functional tools to enhance their gifting proposition. Stylus investigates this year's most successful online Christmas treatments.
Christmas 2010 Online Campaigns: Best Of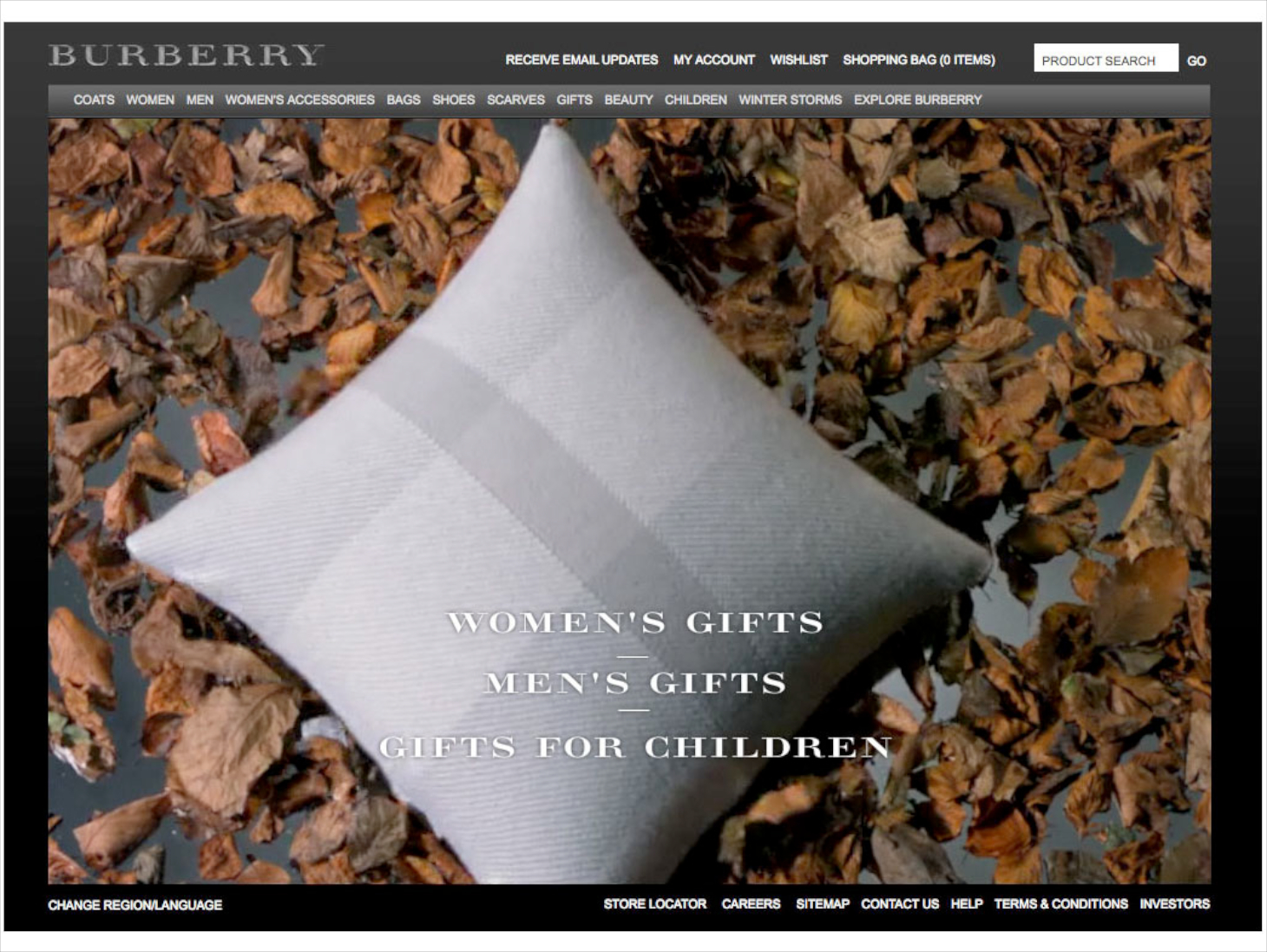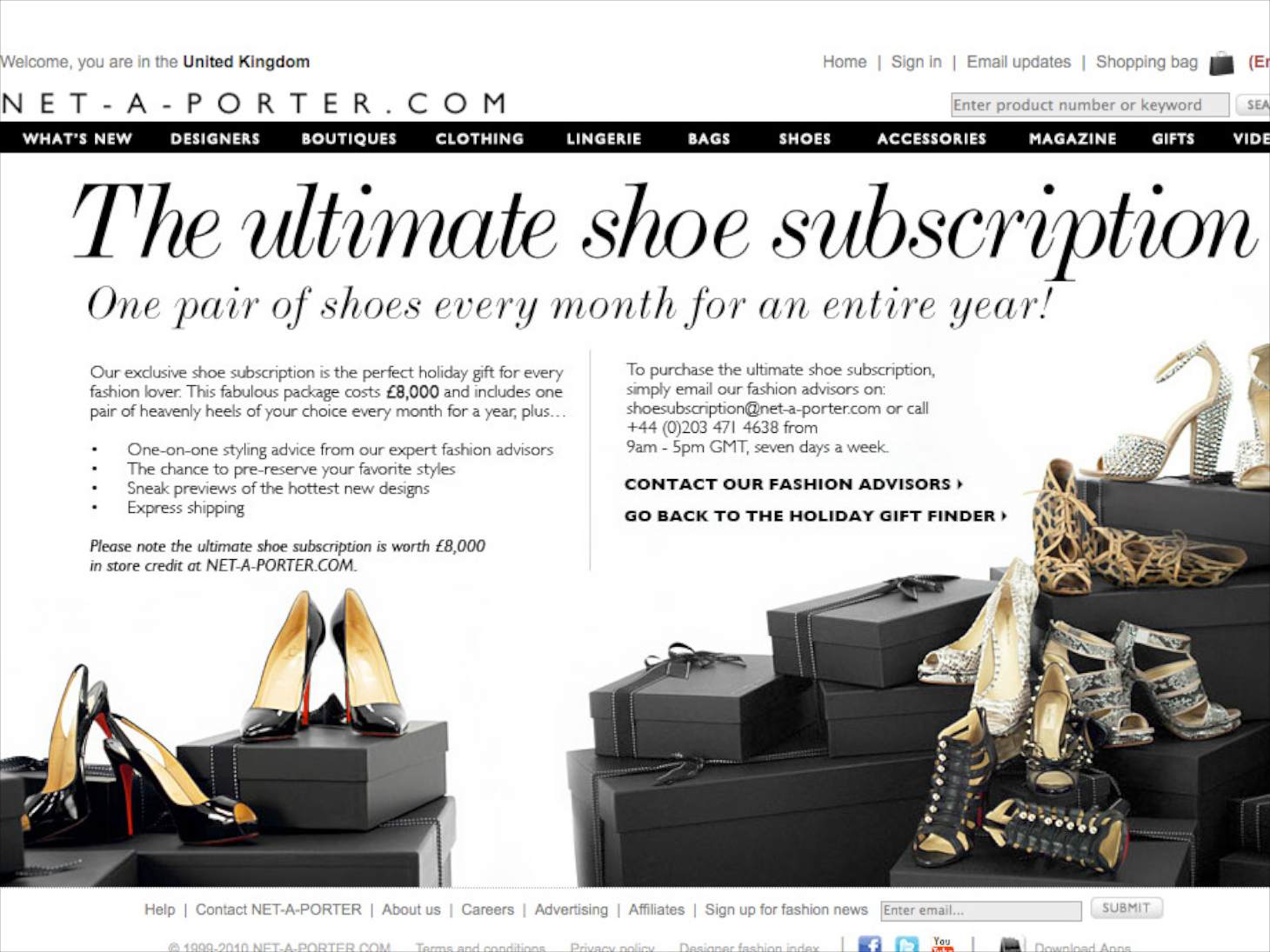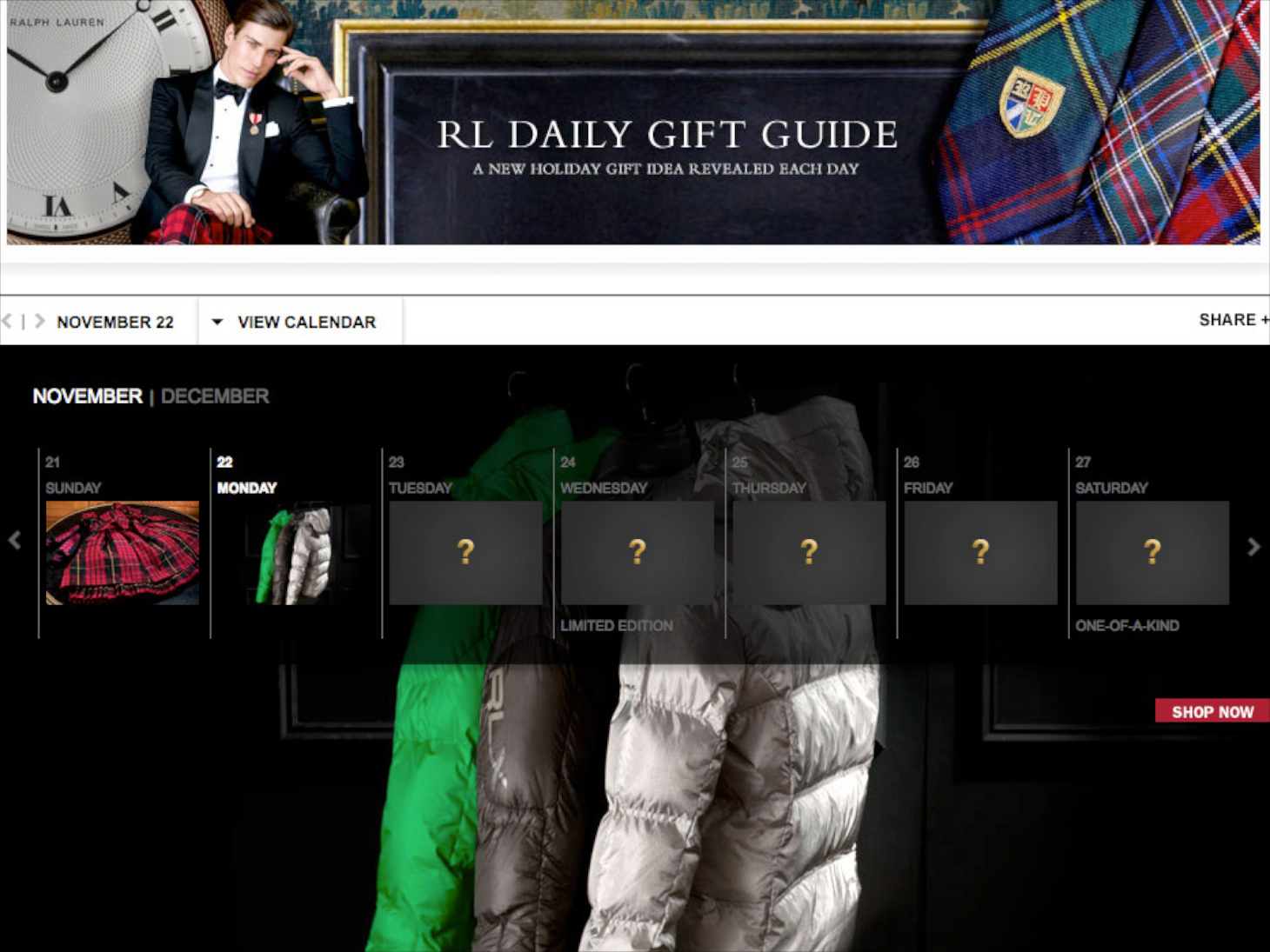 Net-a-Porter.com: Ease and Imagination
Net-a-Porter.com achieves a level of consumer engagement more commonly associated with an in-store, full sensory experience.
Navigating to the 'Gifts' section of the website, the consumer is offered a clearly sign-posted set of shopping options, including: 'Sensational shoes', 'Stocking Fillers', 'Can't Go Wrong' and 'Gift Cards', making it exceptionally easy to match the shopper with their objective.
They have also devised a slick and heavily branded video, which acts as the ultimate wish-list facilitator. Featuring a Cinderella figure dancing through a wonderland of fashion and accessories, it is designed to play on the sartorial fantasies of the site's consumers – carefully lingering on the most covetable products.
Elsewhere on the site, the seasonally re-branded 'Holiday Wish List' allows consumers to e-mail their dream stocking fillers directly to their nearest and dearest.
Another clever gifting option, 'The Ultimate Shoe Subscription', offers the lazy/generous shopper an easy escape route – a designer pair of shoes delivered to your loved-one each month for a whole year.
The Christmas directives typify the marketing efforts of the well-oiled machine orchestrated by founder Natalie Massenet, employing a strong editorial focus that can drive demand for featured products while also observing an in-depth understanding of how to guide customers around the site with ease.
The loudest message is this: think creatively, offer plenty of inviting, imaginative options, and make sure it's so easy it's hard to resist.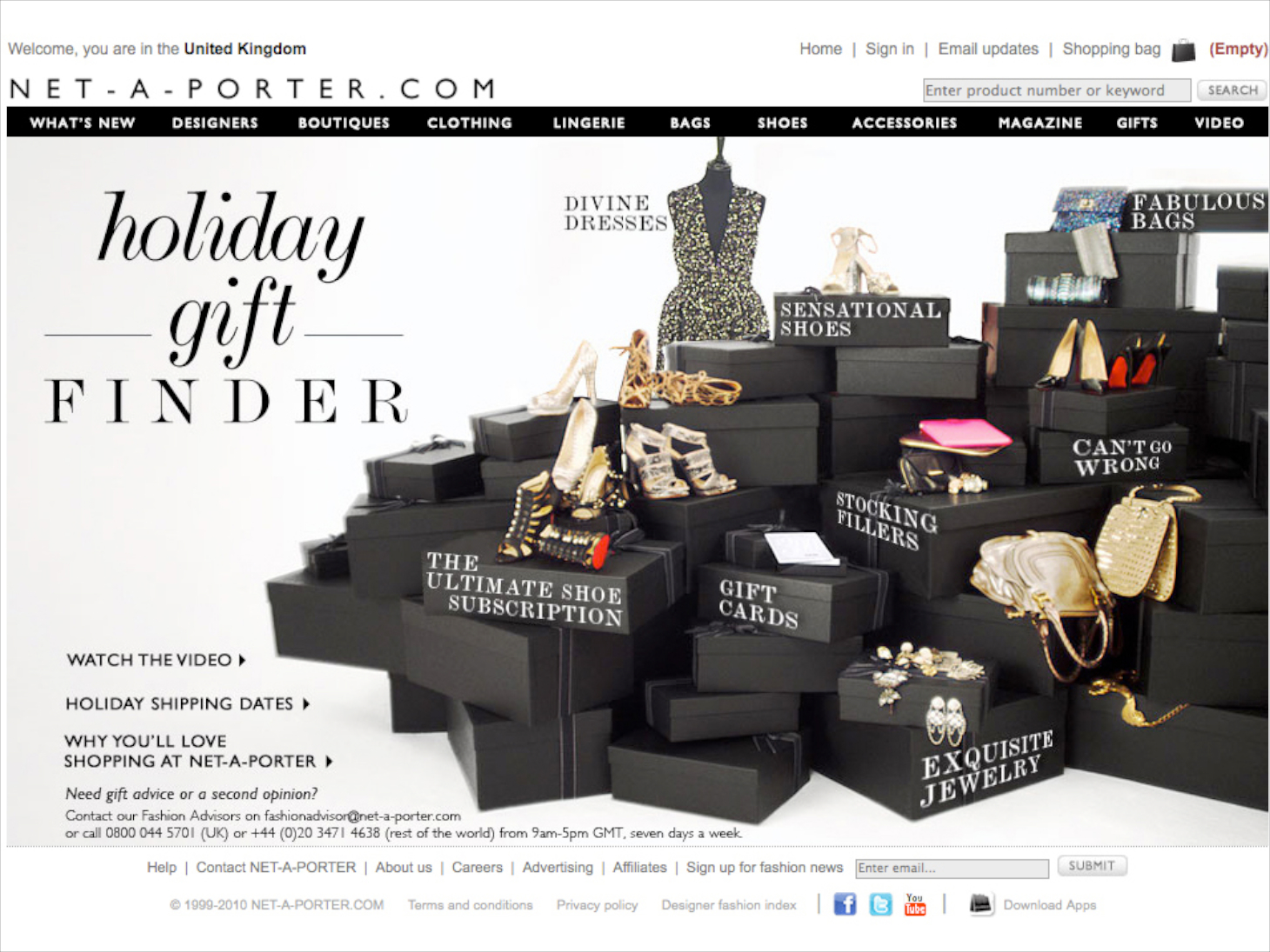 Burberry: Subtle As You Go
Less obviously festive is Burberry's winter-themed video to accompany the gifting index.
Its USP is that while it doesn't scream 'Christmas', it does scream 'beautiful gift opportunities'. Seasonal references are kept to a minimum, but the strong gifting emphasis usurps Burberry's usual preference for English understatement, and is a clear indicator of the name of the Christmas 2010 e-commerce game: buying online makes gifting easy.
This absence of traditional (more predictable) Christmas imagery still ties in with Burberry's elegant visual signature however, ensuring consumers aren't thrown off the brand's carefully cultivated message.
The lesson here is that seasonal marketing can be slotted into the main proposition as a temporary layer, forming a complementary accent with taste prioritised over theatrics for those consumers who are willing to spend big online.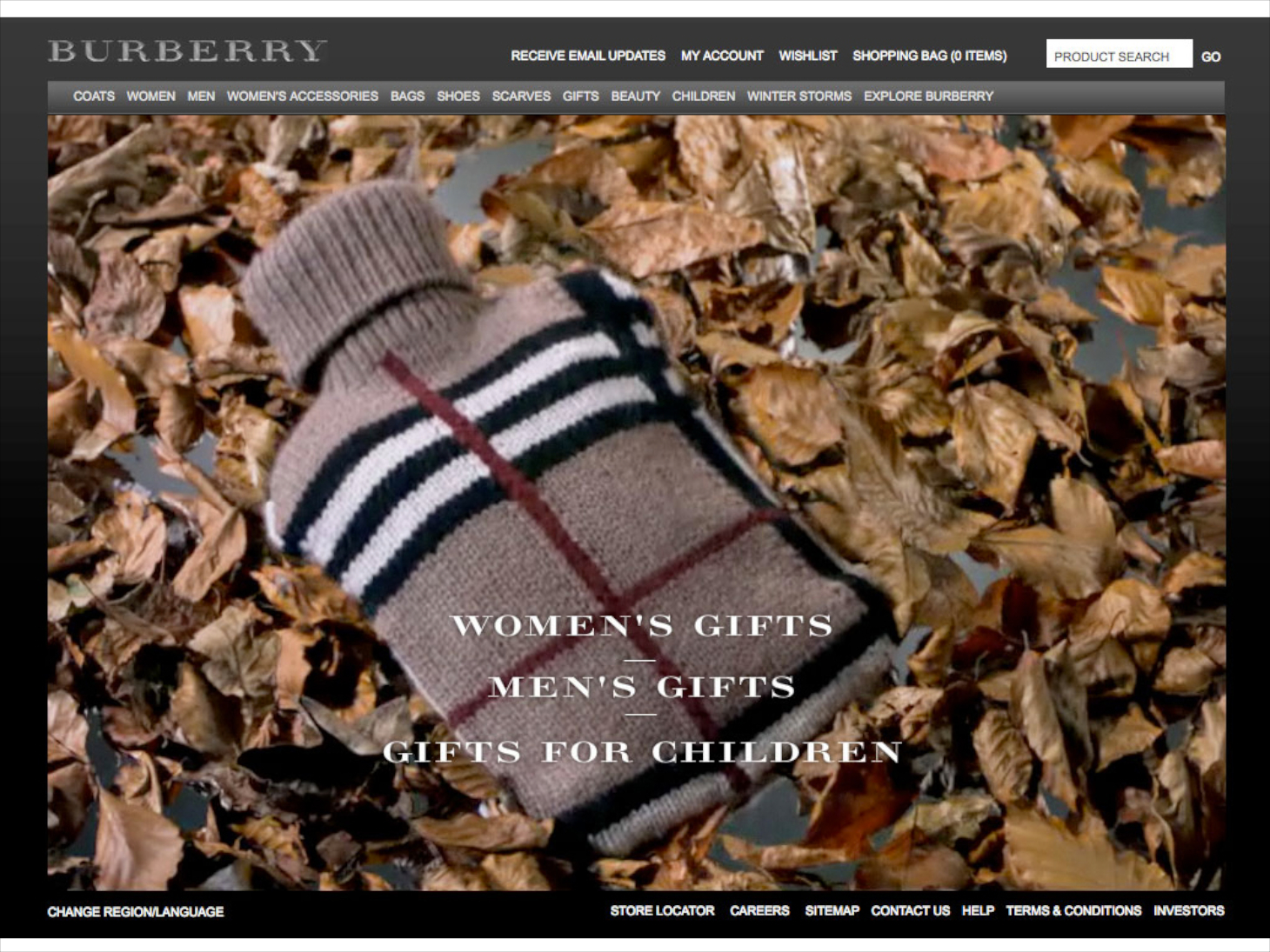 Marc Jacobs: Eyes on the Prize
Visit the Marc Jacobs website throughout the Christmas period, and you'll be greeted with a decidedly wintry scene: a snow-covered storefront complete with a festive jumper-wearing fellow offering free goodies with every purchase.
Despite not being carried throughout the site stylistically, this Christmas treatment fits with the cartoon graphic of the regular website, avoiding any disconnect in user experience.
Its main draw, however, is a free gift offer for seasonal shoppers which is exclusive to the website. A commonly used retail lure – proven to convert browsers to buyers – it is the ultimate hook to motivate an online purchase and will delight devotees and casual shoppers alike at minimal expense to the brand.
An additional enterprising touch is catwalk videos embedded into the winter graphics, up-selling the spring/summer 2011 collection – proving that the brand always has a savvy eye on the future.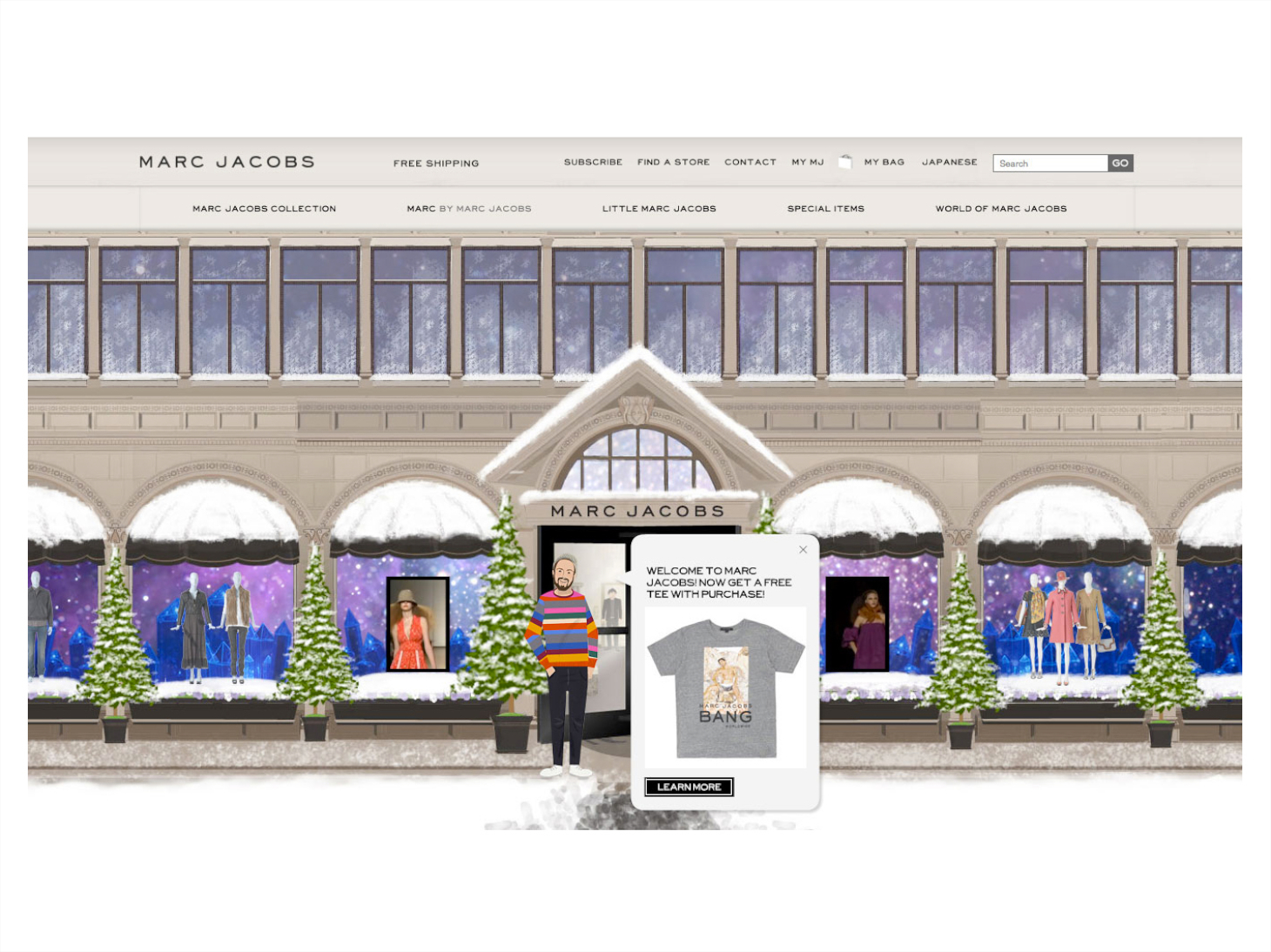 Ralph Lauren: Classic Revelations
Ralph Lauren's site provides a traditional and effective gift guide that maintains the brand's premium ethos through classically Christmassy imagery and a careful downplay of obvious gimmicks that may compromise its brand integrity.
What it does do is translate those marketing tricks to a more sophisticated language, most notably via a 'new holiday gift idea revealed each day' – ostensibly a fashion advent calendar – which highlights not only the brand's own product, but also limited edition and what they term as 'one-of-a-kind' pieces. These pieces are only available online, ensuring the site is the only point of sale for key seasonal items.
As with Net-a-Porter, an imaginative range of ideas that play on the brand's identity serves to enhance the allure. One such 'one-of-a-kind' offer outlays the opportunity to create a personalised collection of 12 polo shirts, packed into a unique Delavan trunk.
There's also good use of simple navigation to view previously featured gifts through an image-indexed calendar, while quick 'shop now' buttons with collapsible multi-navigation for pages with more than one product ensure a swift user journey from gift guide to purchase.
Acknowledging the powerful use of social media, a 'share' button located inconspicuously in the top right corner of the Ralph Lauren gift guide also offers enhanced user interactivity to those familiar with the social sharing concept, without infringing on the experience of the less web savvy.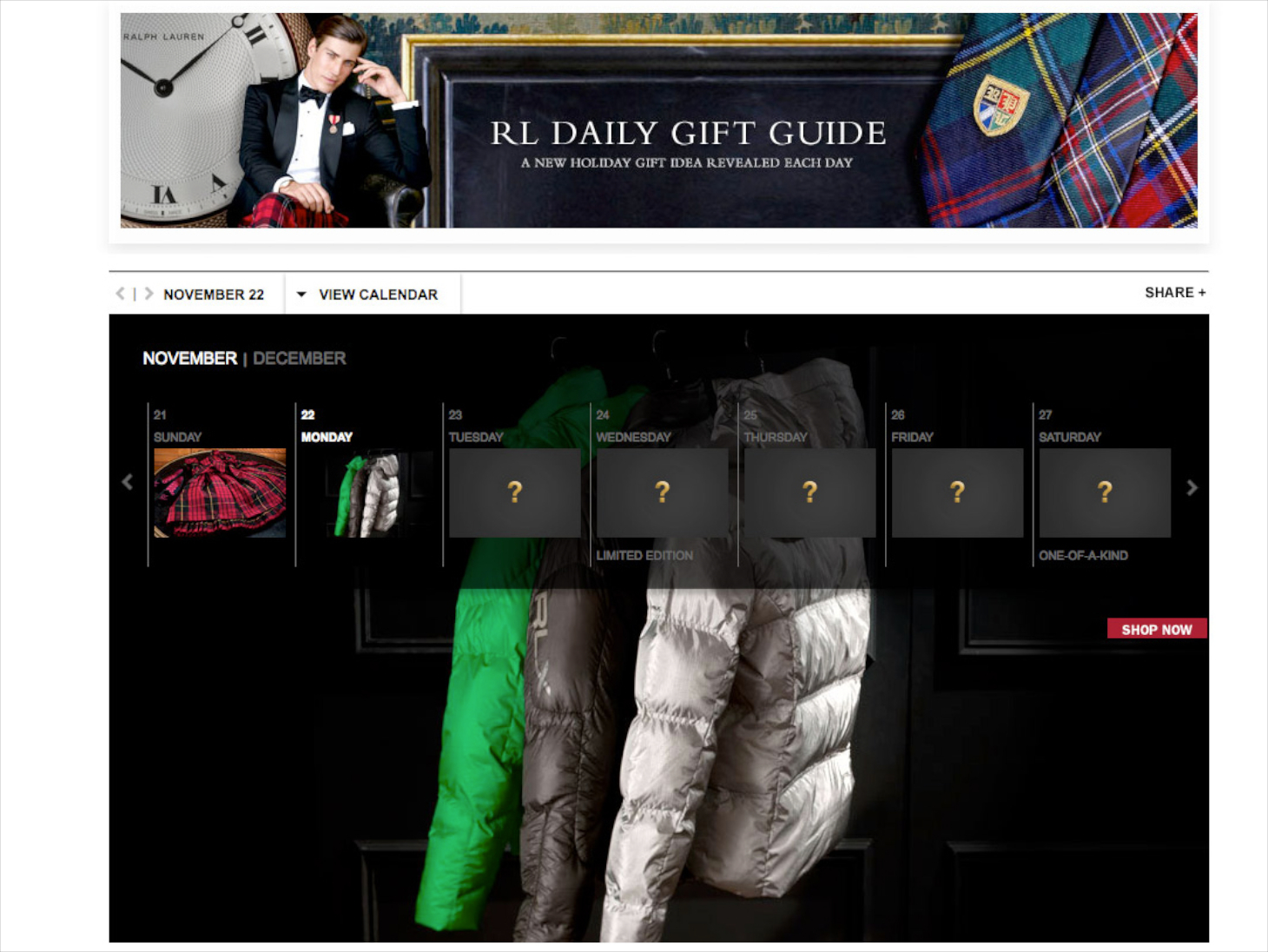 Bloomingdales: Surprise Me
Bloomingdales offers one of the smartest online translations of the department store shopping experience which pushes the concept of a 'Holiday Gift Guide' further in both design and concept terms.
Key points include:
A highly animated landing page with pop-up imagery and moving components which is fun and engaging, and motivates further exploration of the site.
A 'pop-up shops' section, which headlines selected brands as and when desired, delivers an online version of a particularly successful extension of the in-store experience, and gives Bloomingdales a great chance to push selected brands such as Marc By Marc Jacobs and Burberry. Although this product isn't exclusive, the use of pop-up shops plays on connotations of a fleeting shopping opportunity, and subtly instils a sense of urgency and excitement.
The option to browse gifts by price category via the navigation bar (Gifts Under $50 (£32), $100 (£64) and $250 (£160)) is clean and efficient, and shortens the user journey from entry to purchase.
The 'Speciality Shops' (in particular Love It List and Good Deeds) each offer a unique draw. The Love It List is a specially edited selection of the season's must-have gifts, while Good Deeds features products sold in connection with various charities – both twists on the usual shopping experience to re-engage browsers overwhelmed by the plethora of online gift guides.
A small rotating leader-board across all pages neatly informs users of special offers, free shipping and discounts, avoiding information overload in more valuable screen areas better used for compelling design.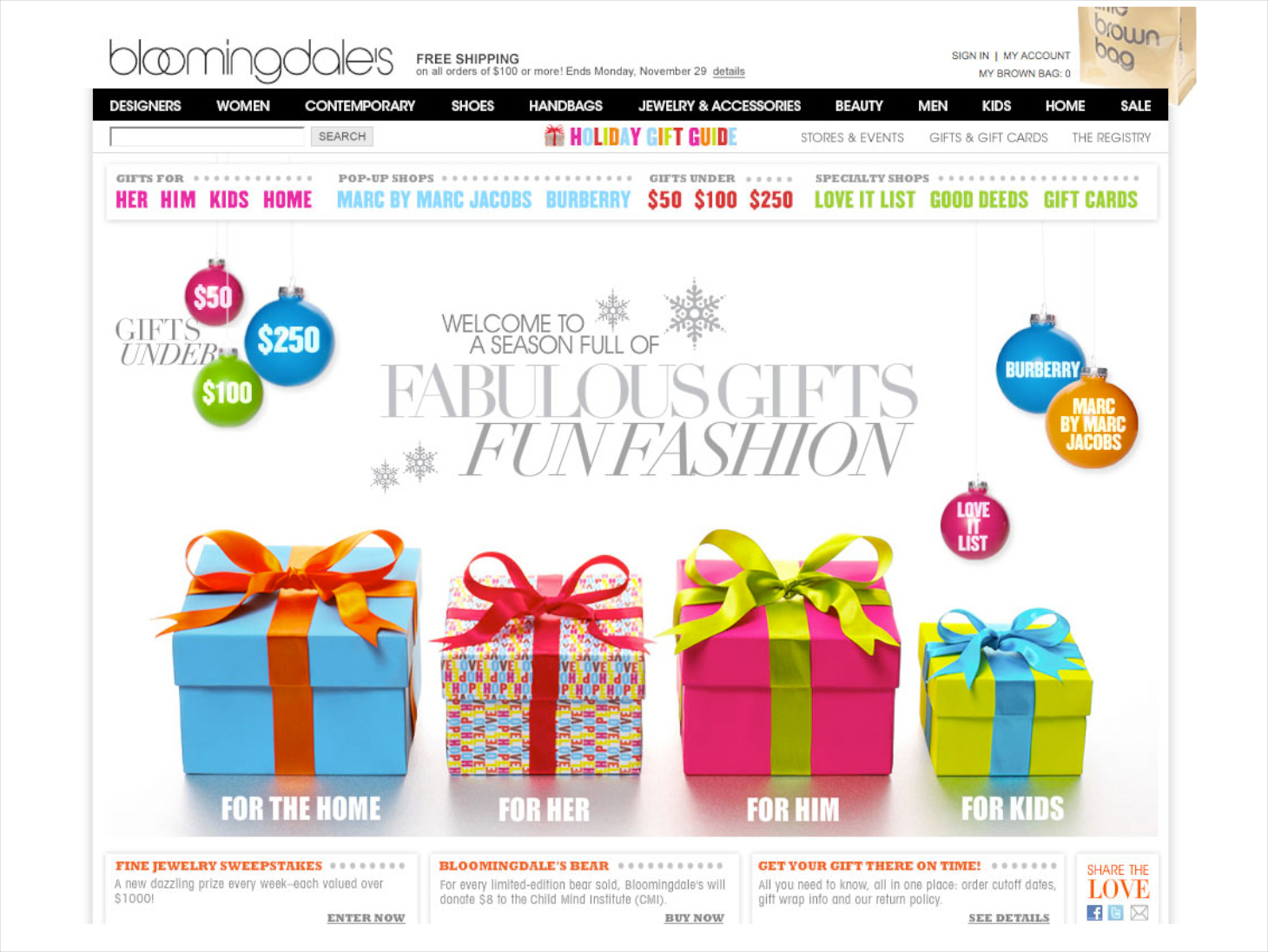 Heal's: Christmas Takeover
As one of the most comprehensive Christmas makeovers, Heals.co.uk's impressively detailed site is well-prepared for extra seasonal traffic, demonstrating a strong synergy between offline activities and the website, and a great navigational approach to increasing conversion.
Gifts and Christmas navigation have usurped the standard categories in the navigation bar, occupying the prime 'top left' spot (proven to be the first place most consumers will randomly click), thus ensuring even the least savvy online consumers will be engaged.
Editorial features highlight the colour trends of the season (Rule Britannia red, white and blue, green and silver, gold). These behave like carefully crafted in-store displays, and are a proven retail tactic that works just as effectively online as it does on the shop floor to drive cross-category sales.
According to Heal's head of e-commerce, Mike Traill, full business synchronicity underpinned the entire online campaign: "This Christmas one of our style trends is Rule Britannia; it features on the cover of our Christmas gift guide, within the Heal's store windows and also on our homepage," he says. "It is of the highest priority to us as a company to maintain a consistent product offering and tone of voice with the aim of providing a true multi-channel shopping experience.
"Currently around 30-40% of our online customers are 'new' to Heal's – extending our sales catchment area beyond the traditional South East heartland. We're attracting these customers via press coverage and through marketing campaigns all of which direct customers to the Heal's website."
A traditionally styled 32-page online flick-book gift guide showcases both gifts and interiors ideas, with simple 'click-to-shop' functionality. The brochure is a replication of those handed out in stores, affirming that synergy.
"Online retailing gives us the opportunity to marry traditional shopping methods with modern e-commerce tools," Traill explains. "Key trends that feature in the gift guide and in-store displays are translated via shopping navigational tools."