Brands Jump on the NFT Gold Rush
Listen
The current frenzy of excitement surrounding non-fungible tokens (NFTs) reveals a strong commercial opportunity for brands – particularly around hype-building and charitable initiatives. NFTs have potential across industries – from fast-food to fragrance, digital fashion, sports and art. We shine a spotlight on some of the key early concepts.
Stats

$338m

The market capitalisation (total trading value) of NFTs in 2020, up from $40.96m in 2018

$69m

One of the most prominent NFT sales was an artwork by digital artist Beeple, which sold for $69m at Christie's in March 2021

11

An April 2021 sale of fashion and sneaker NFTs on London-based digital marketplace The Dematerialised sold out in 11 minutes (direct from source)

30

American fast-food chain Taco Bell's NFT artworks sold out in 30 minutes – with their complimentary $500 Taco Bell gift cards a key draw

30

If the cryptocurrency Bitcoin was a country, it would be in the top 30 of energy users worldwide, placing between Norway and Argentina, highlighting the negative consequences of the NFT boom
Brands Jump on the NFT Gold Rush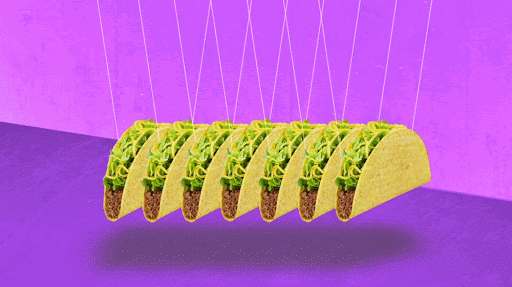 An animated GIF by Taco Bell, sold as an NFT
NFTs allow consumers to trade digital goods, the ownership of which is trackable via blockchain, an immutable digital ledger. Digital products are not new per se ('skins' in gaming for instance) and the wider appetite for digital garments to wear on social media has been growing for some time – see Digital Hoodie Released for Isolated Consumers and Fashion for Virtual Alter Egos. However, the tradable nature of NFTs – and their limited supply – is maximising consumer hype.
For more, see our Three-Minute Trend: Are NFT's the Future of Art?, as well as our podcast, The NFT Opportunity.
Consumer Demand: Earlier this month, in-beta London-based digital marketplace The Dematerialised held an NFT fashion sale. The clothing and sneakers collection, a collaboration between Franco-American digital sneaker designer RTFKT and Dutch digital fashion house The Fabricant was originally intended to be on sale for 48 hours but sold out in 11 minutes, highlighting consumer demand for NFTs. However, indicating that such transactions are not yet fully robust, the trio had to refund consumers and compensate them with a new NFT due to minting issues during the original drop.
NFT/IRL Pairing: Both The Fabricant and RTFKT have NFT form. In February 2021, The Fabricant partnered with Adidas to run a competition to find the next generation of digital artists with entrants creating digital interpretations of an Adidas parka coat. The 20 best were auctioned as NFTs. In the same month, RTFKT sold over 600 pairs of NFT sneakers, each of which was paired with a physical counterpart.
Fragrance's Digital Counterpart: Berlin beauty studio Look Labs is also experimenting with pairing digital and physical products. In April 2021, it created a digital accompaniment to its new perfume, Cyber, by recording the fragrance's molecular wavelengths to make 10 digital artworks, backed by NFTs.
Digital Tacos Act as Gift Cards: In March 2021, American fast-food chain Taco Bell created 25 taco-themed artworks which sold out in 30 minutes on NFT marketplace Rarible. The $1 artworks came with a $500 Taco Bell gift card for the original owner – maximising appeal to consumers other than NFT aficionados.
Appealing to the 83% of US millennials who prefer to do business with brands that align with their values (5w PR, 2020), the (admittedly negligible) proceeds went to the brand's Live Más Scholarship, which provides ongoing support to people pursuing higher education.
However, the burgeoning NFT industry has been criticised for poor environmental practices. This reliance on highly energy-intensive cryptocurrencies (see Key Stats) means that NFTs are not uncontroversial – the most commonly traded cryptocurrency, Bitcoin, was recently found to consume more energy annually than Argentina (MSNBC, March 2021).
Payment methods vary across marketplaces with some accepting credit cards but many others expecting consumers to use cryptocurrencies, prohibiting current engagement.