Allbirds Calls Out Industry, Opens Access to Carbon Tool
Harnessing unconventional marketing tactics including newspaper call-outs to the likes of H&M, Gucci and Nike, American sustainable footwear brand Allbirds has made its Carbon Footprint Calculator available to the rest of the fashion industry. The Earth Day (April 22) initiative also invites consumers to sign a petition for brands to label products with carbon footprint data.
Allbirds Calls Out Industry, Opens Access to Carbon Tool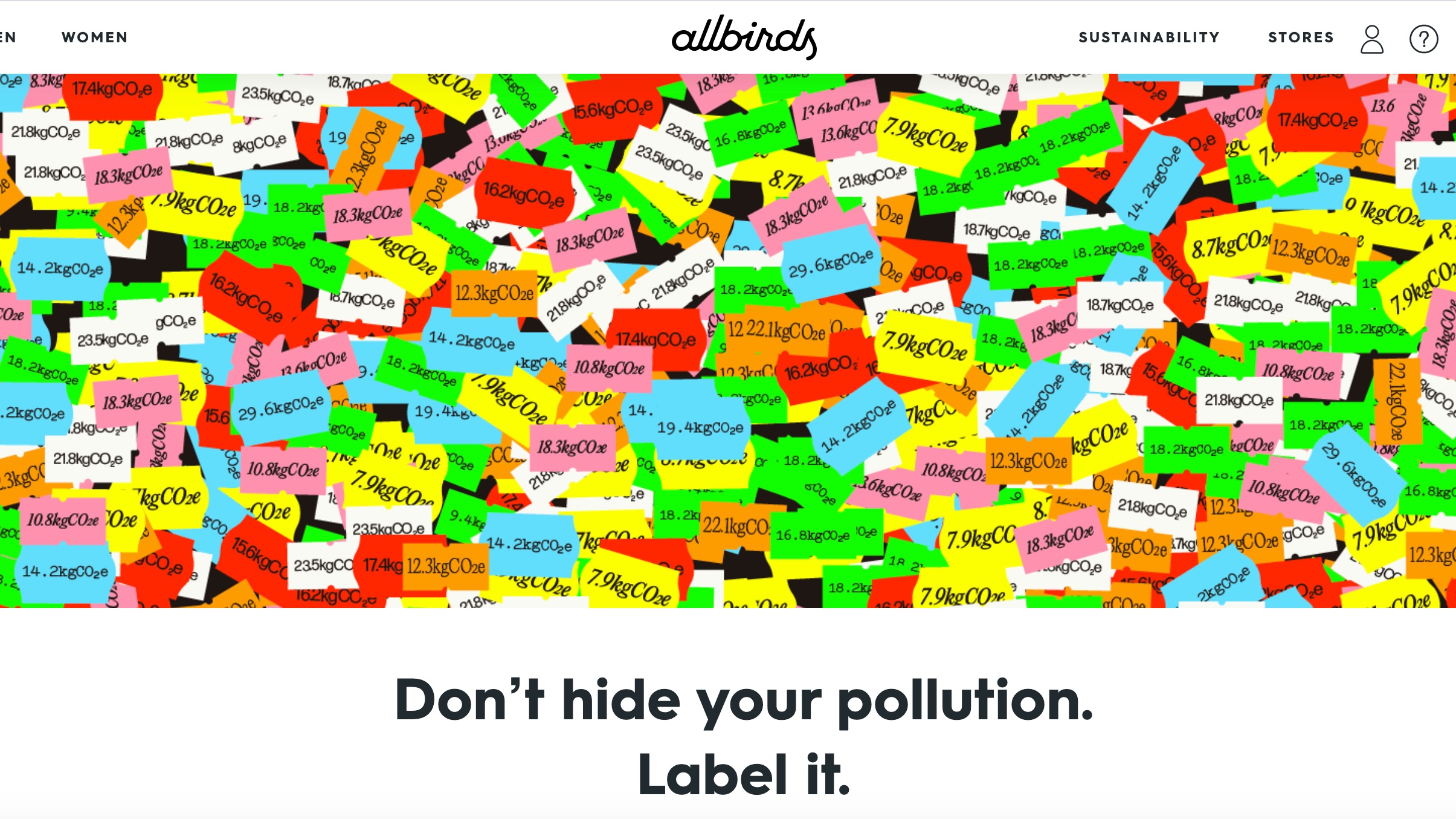 Allbirds
Allbirds' Carbon Footprint Calculator, launched in April 2020, allows consumers to check the carbon footprint of their fashion choices in the same way they scrutinise nutrition labels on food. Developed to help consumers understand the impact of their purchases on climate change while nudging them to behave more sustainably, labels show the carbon footprint generated by the four stages of their life cycle: materials, manufacturing, use (based on likely customer care such as washing), and disposal (assumed recycled). For more, see The Brief.
Allbirds emailed brands including Adidas (with which it is already creating a sustainable sneaker – see The Brief), Lululemon, Burberry, Louis Vuitton, Levi's and Zara with details of how to use its carbon footprint tools. It then published that e-mail, including (generic) company e-mail addresses within the 'To:' box on social media and in newspapers including The New York Times and UK broadsheet The Sunday Times.
Titled 'Our Earth Day Gift to You', it directed brands to its FreeTheFootprint microsite, where they can access the life-cycle assessment tool along with a manual and a PDF download of a carbon footprint label. In addition, Allbirds e-mailed its newsletter subscribers with news of its open access project and a petition, hosted on Change.org, calling on the fashion industry to adopt carbon footprint labelling.
For more on eco monitoring tools, see the section Tapping into Tracker Life in Digital Commerce: 10 Trends & Opportunities.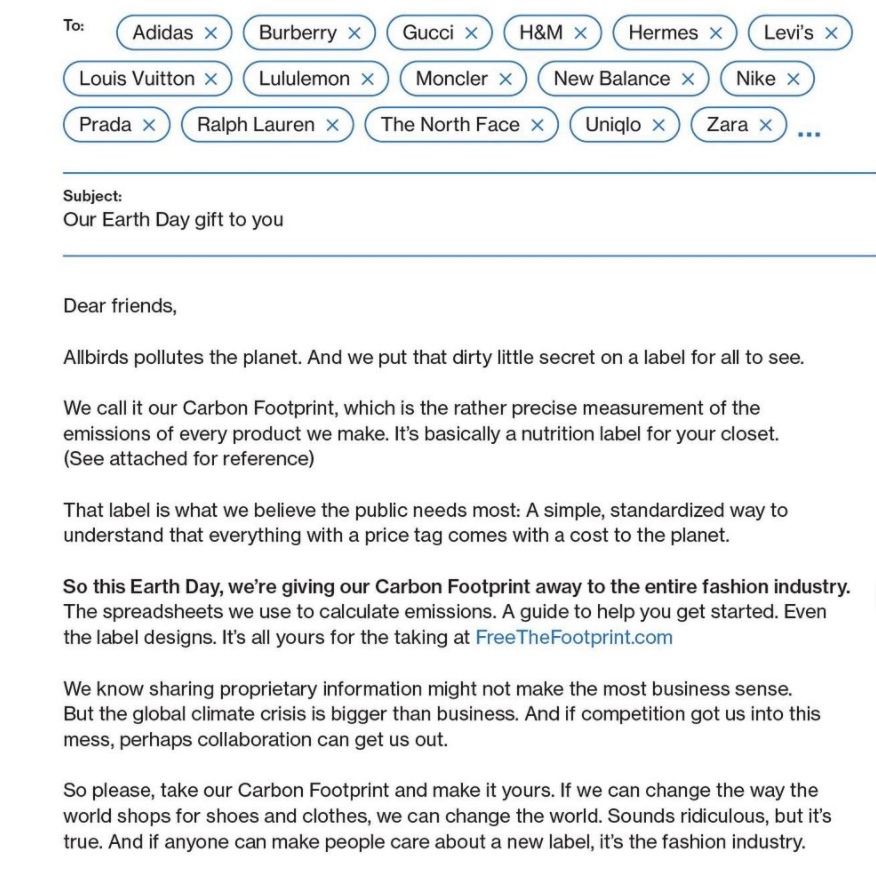 Allbirds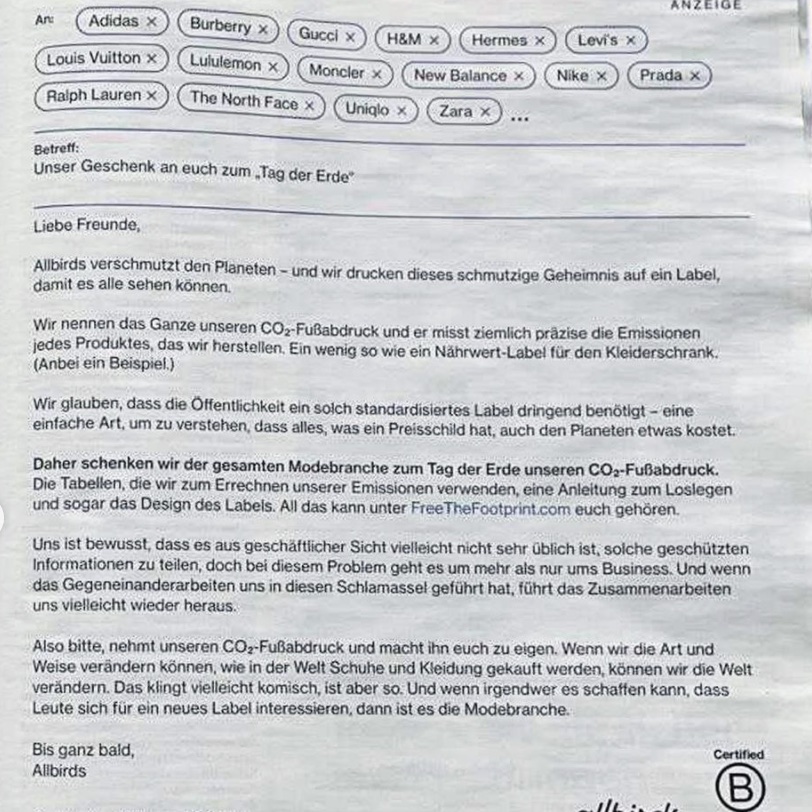 Allbirds