Snap Expands Audio Features to Rival TikTok
Published 25 November 2021
Snap's new partnerships with Sony Music and NBCUniversal make music from the label and audio from the US media company's popular shows and movies available for users to sample. By growing its audio offerings, Snap hopes to rival TikTok's growing popularity.
Snap Expands Audio Features to Rival TikTok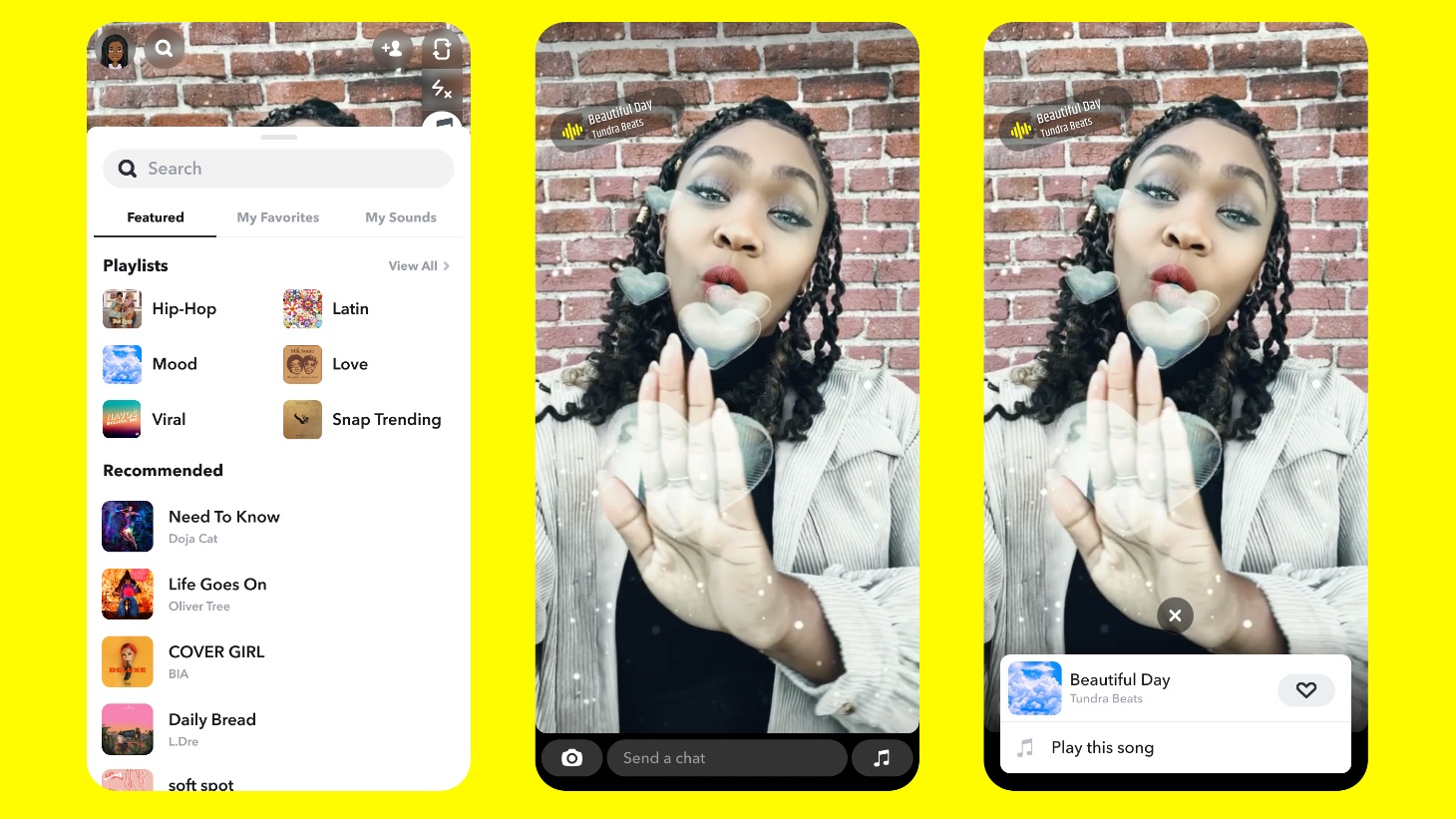 Snap
Since launching Sounds (October 2020) – which lets Snapchat users add audio clips to their videos – 1.2 billion videos have been created using the feature, resulting in 77 billion views; and Snap is now partnered with all three major music labels (Sony, Universal and Warner).
The feature gives artists new ways to share music on Snapchat, and further the platform as a music discovery tool able to rival TikTok, where 80% of users come to unearth new artists (see also The Brief). In the US, TikTok is also projected to surpass Snapchat for users by 2023.
The Sony deal sees licensed Sounds (audio clips users can add to their videos) from its artists added to augmented reality Lenses, available in the Lens Carousel. Also coming soon are Sounds Lenses, which will feature pre-selected songs and visual effects that make the user look like they're singing. Socialising the experience, Snap is also planning Cameo Lenses, which will let two users appear together in an on-screen animated music video.
Meanwhile, the NBCUniversal partnership lets Snapchatters express themselves by adding famous quotes and theme songs to their snaps from a host of popular titles, including Shrek, Scarface and The Office. When receiving a photo or video featuring one of the Sounds, a swipe up reveals the artwork and title of the movie or series from which the audio clip is derived. A 'Play This Sound' link opens an in-app browser linking to where the relevant content is available on NBCUniversal's streaming platforms.
For more on audio engagement, see Audio: The New Social Platform and The New Means of Music Creation.