Kaws Exhibition Extends Reality via Fortnite Digital Twin
Published 26 January 2022
American artist Kaws' latest exhibition at London's Serpentine Gallery uses digital doubles and extended reality to supplement real-world events and experiences. New Fiction (running from January 18 to February 27) features augmented reality (AR) sculptures courtesy of Acute Art's app, and boasts a virtual equivalent in gaming behemoth Fortnite.
Kaws Exhibition Extends Reality via Fortnite Digital Twin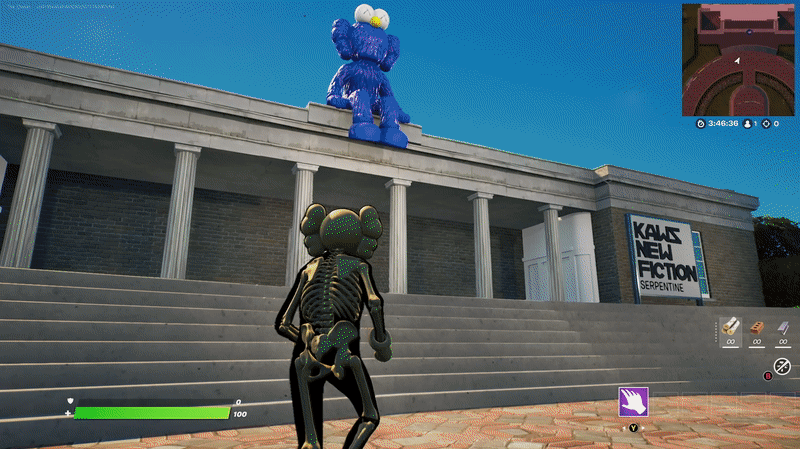 Kaws, New Fiction (within Fortnite)
Inspired by pop art, it's fitting that Kaws chose Fortnite as a virtual home for his work, having previously partnered with the title on virtual outfits for Travis Scott's in-game music concerts and its Fortnitemares events (see Galvanising Gaming Fandoms in Halloween 2021: Retail & Media Trends & Tactics). With 80.4 million monthly active players (Techacake, 2022), Fortnite's reach far surpasses the Serpentine's average show attendance of 35,000 visitors (Telegraph, 2022).
New Fiction is presented as a full-scale in-game recreation of the Serpentine Gallery building and grounds. During the first week of the exhibition, this space will serve as the landing hub for all users of Fortnite's Creative Mode, enticing virtual visitors into the experience with a giant red version of Kaws' well-recognised Companion sculptures.
Back at the physical Serpentine, London-based mixed-reality art collective Acute Art transforms the exhibition into a sharable activation that invites visitors to explore multichannel immersion. The gallery's first plinth appears empty, until visitors open Acute's smartphone app to reveal an AR rendering of a floating balloon companion figure that Kaws first produced for Macy's Thanksgiving Day Parade in 2012. This initial invitation to explore the space through AR leads users to additional virtual sculptures geolocated around the gallery – which can also be viewed in-app by art fans around the world.
To read more about how brands can activate the new ground between physical and digital experiences, check out Pop Culture Primer: 10 Trends for 2022. For more on geolocated AR, see Creating the Connected Festival and The Brief.
See also Digital Twinning: E-Tours Upgrade E-Comm and Access All Areas: Desktop Immersion & Monetised Metaverses in Virtual Flagships.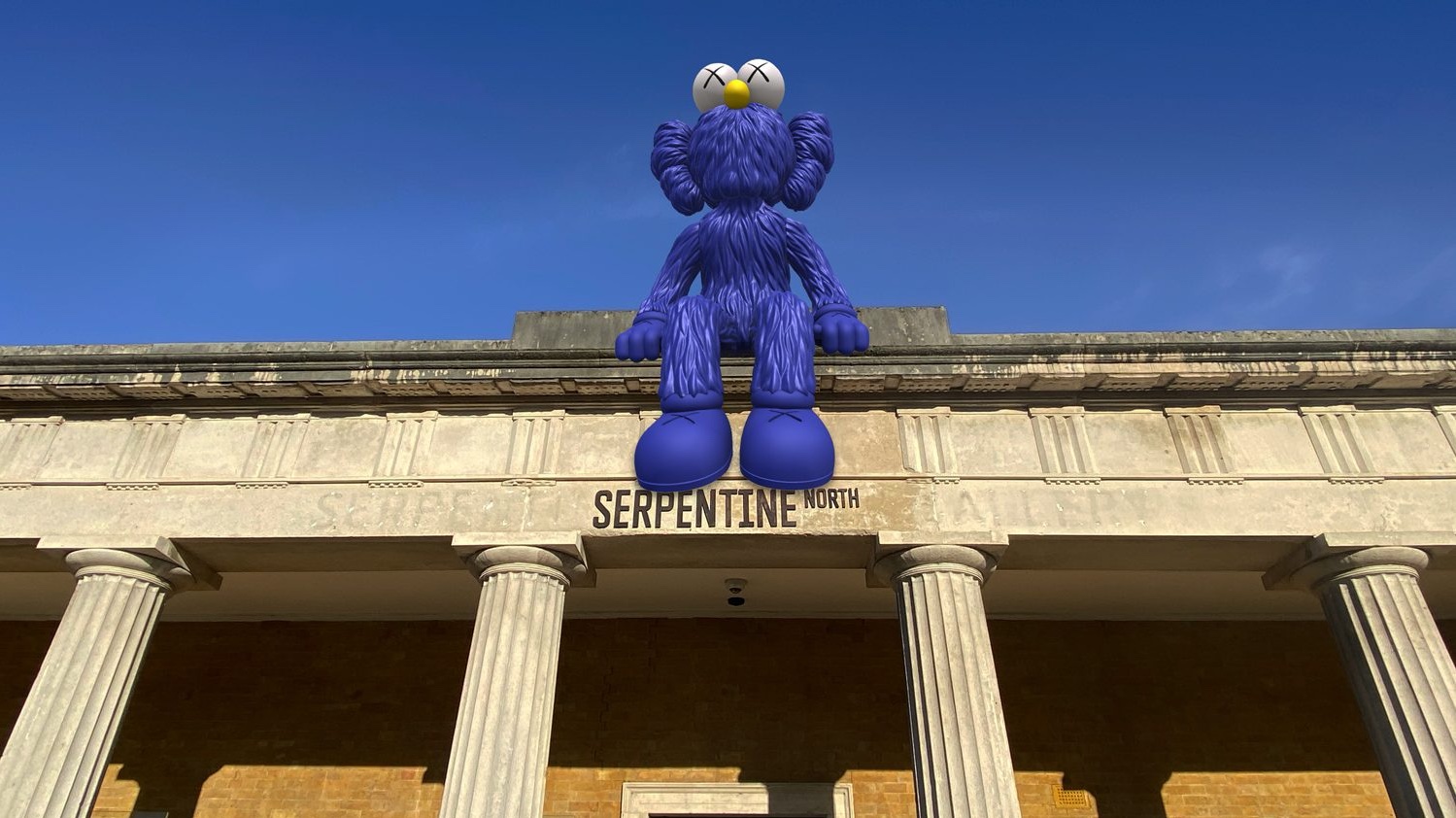 A Kaws Companion sculpture on the gallery's roof (in AR)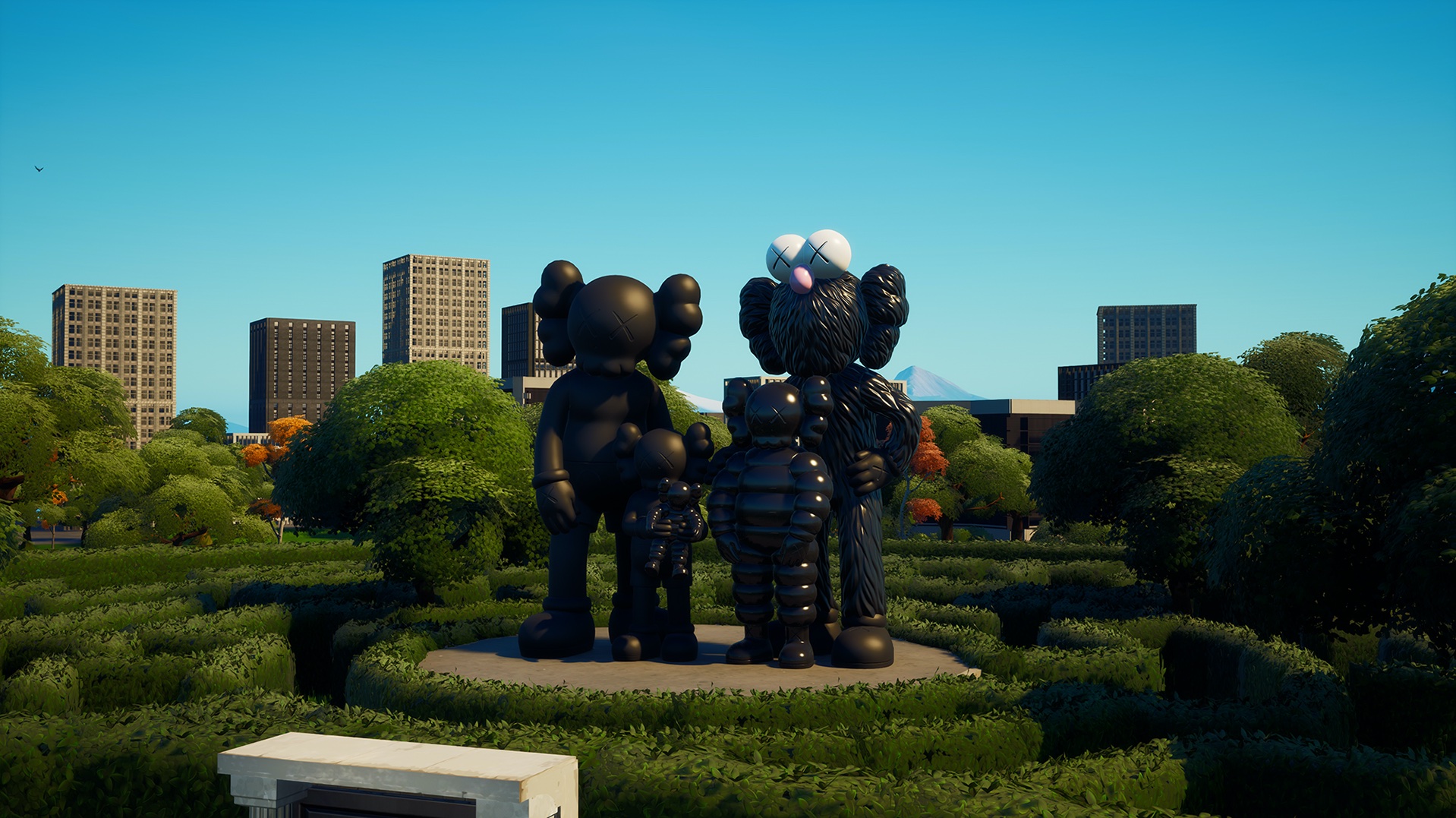 Kaws, New Fiction (within Fortnite)