Hilton Debuts Its First Net-Zero Hotel in the US
Listen
Global hospitality chain Hilton is opening one of the US's first net-zero hotels, Hotel Marcel. Located in New Haven, Connecticut, it covers its energy costs via triple-glazed windows and rooftop solar panels. As the hospitality sector works to reduce its considerable carbon footprint, Hotel Marcel offers a model to follow.
Hilton Debuts Its First Net-Zero Hotel in the US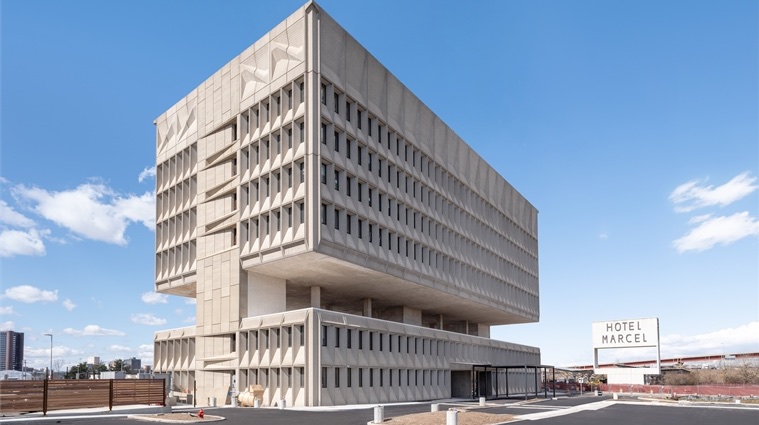 Hilton
Hotel Marcel occupies a Brutalist building, designed by Hungarian-born architect Marcel Breuer in 1967 as the headquarters for a tyre manufacturer. The structure is landmarked, which required the update to pair preservation with renovation.
For its new life as a hotel, Connecticut-based architecture firm Becker & Becker ensured every upgrade supported a net-zero emissions goal. The solar panels deliver roughly 700,000 kWh of energy during the year – enough to cover the hotel's annual expenditure. The layered windows are inset, keeping rooms shaded and cool throughout the day, while electric laundry and cooking systems as well as energy-efficient POE lighting also help minimise the need for internal temperature controls.
Such updates are invisible to guests – and that's the point. When visitors realise they can have a boutique experience at an eco-friendly hotel, they'll be more likely to book climate-conscious properties in the future. Unfortunately, many sustainable properties today are expensive, luxury resorts (see 10 Trends: Luxury Travel). Even Hotel Marcel's rates are out of reach for most guests, starting at around $300 per night for a standard room.
To reduce their widespread environmental impact, hotel operators should adopt sustainable strategies across their portfolios. The basics are accessible: repurpose existing properties, install solar panels, switch to electric. The more hotels boast these features, the more travellers will expect them.
For more on eco-minded travel brands, see Fast-Tracking Sustainable Travel and Travel & Hospitality in Curbing Carbon.