Siggi's 'Palate Training Kit' Educates on Sugar Reduction
Published 25 February 2021
Listen
NYC Icelandic dairy brand Siggi's has released a "Palate Training Kit" (available for $30 on the brand's website) to enable consumers to gain more of an understanding about how sugar impacts their everyday diets and taste experiences. The kit comes with a "flavour desensitisation reversal guide", eye mask, timer, journal, spoon and 30-days' worth of Siggi's yoghurt.
Siggi's 'Palate Training Kit' Educates on Sugar Reduction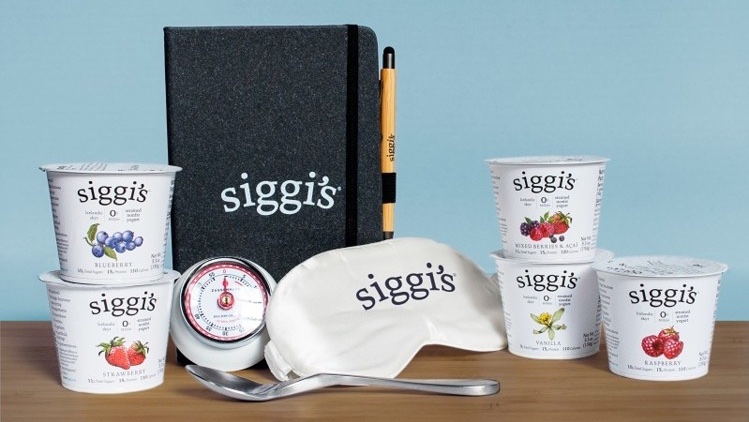 Siggi's
The "flavour reversal desensitisation guide" advises consumers to start their sugar-reduction journey by reading more labels on foods and drinks in order to make more nutritionally balanced choices. It also encourages users to undertake experiments that help them develop a more rounded understanding of flavour, like closing their eyes when eating to activate multiple senses (or using the branded eye mask provided). In addition to this, consumers are advised to time themselves for 15 seconds while eating Siggi's yoghurt in order to appreciate the product's taste and textural nuances.
The idea is that after undertaking a series of experiments, the consumer will become more cognisant of sugar usage in products – and how it impacts flavour. The brand hopes that consumers who commit to these exercises, will ultimately start to find sugar-loaded products too sweet.
While the kit provides fun and brand engagement for consumers, the underlying message is an important one: too many consumers are consuming excessive levels of sugar daily. Towards this, product developers have been working on sugar alternatives, as we explore in Reinventing Food's Baddies: Sugar, Salt & Fat and, more recently, in Evolving Sugar: Four Breakout Sweeteners for 2021.
For more context around pandemic-fuelled food anxiety and dietary concerns, read The New Food Anxiety and Men + Food 2021: What's Changed?. For more on dairy industry developments, see Dairy 2021: Sector Outlook.