Ikea's Vacation Boxes Tap Long-Term Travel Planning
With travel still off-limits for many consumers, Ikea United Arab Emirates has released a holiday-themed series of décor collections, dubbed Vacations in a Box. It's a smart move that mobilises wanderlust-deprived shoppers and leverages the emotional engagement of long-term travel planning – themes we explore in How to Win Future Travellers.
Ikea's Vacation Boxes Tap Long-Term Travel Planning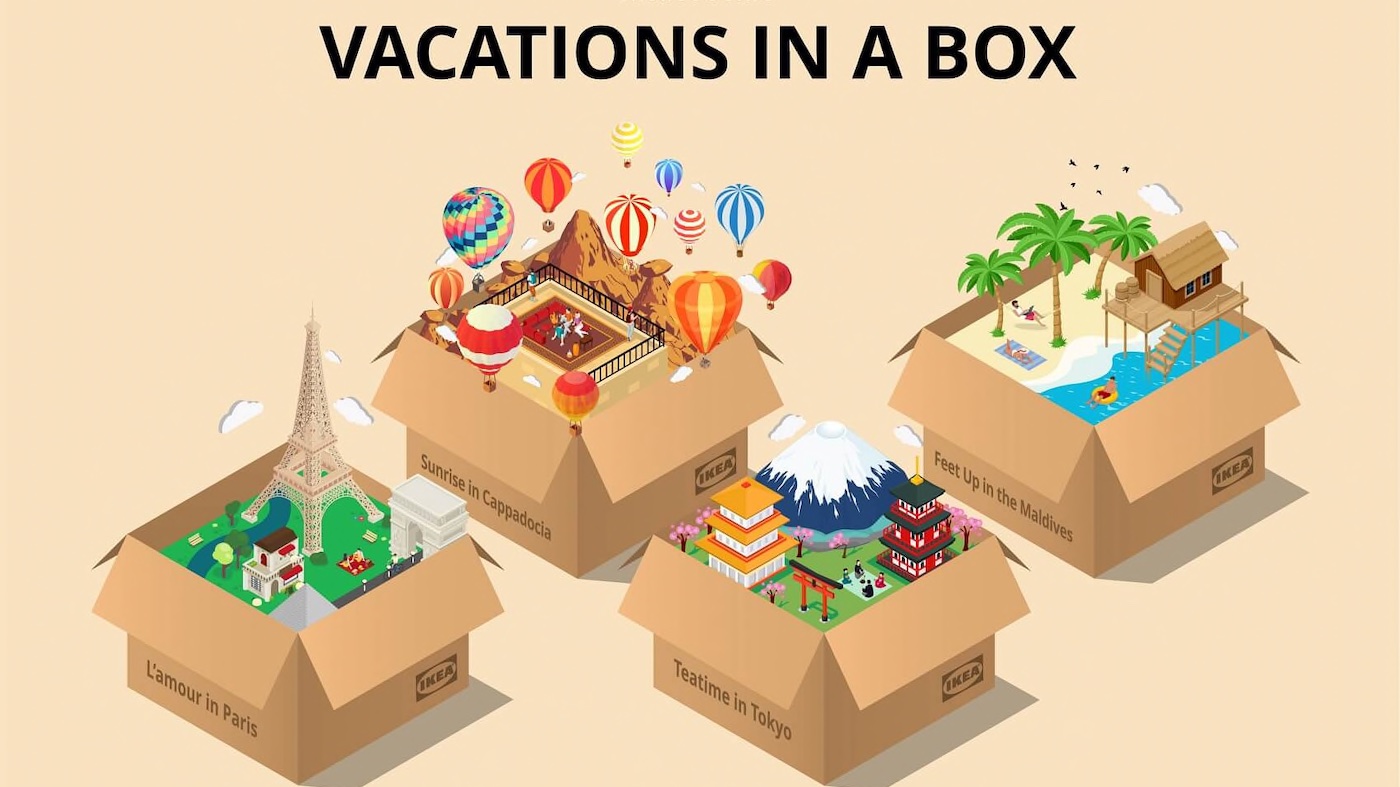 Ikea
The four themed boxes aim to transport users to Cappadocia, the Maldives, Paris or Tokyo –highly desired destinations for local shoppers – with each box containing a selection of items to transform the home into a mini-escape.
The Cappadocia box includes a gold coffee measure and espresso cups (referencing Turkey's well-known coffee culture), while the Tokyo box contains a tea infuser and stoneware drinking vessels (referencing the country's tea culture). The Paris box features a rattan bread basket and bowls for drinking coffee. And the Maldives box has a fake potted palm and blue fairy lights for an island atmosphere.
Shoppers can preview the items inside each box to prevent duplicate purchases of common items, or to purchase them separately. In lieu of Ikea's assembly instruction booklet comes an activity book that includes recipes, playlists and even dances to offer people a foreign culture sampler. It's a format that largely resembles the surprise packages from British company Holiday in a Box – see Monetising the Full Travel Lifecycle for more.
As people figure out how to recreate pre-pandemic pastimes, Ikea's trip-themed boxes suggest that it's no longer just travel companies that should be looking to entertain consumers with escapism. With at-home exploration becoming a prominent theme for summer 2020 – a trend we unpick in Reimagining the Staycation – brands have a clear opportunity to provide services that supercharge at-home exploration alternatives. This empathetic approach also references the 'in it with you' brand strategies we feature in Brand Initiatives for Life Interrupted.
Moving forward, we expect such travel-adjacent service to become increasingly appealing for customers. We've profiled similar vacation-simulation strategies on The Brief, such as holiday-themed soundtracks to pair with beer, at-home cinema meal kits and brand-led virtual summer camps.