/

Travel & Hospitality

/

25hours Hotels' Christoph Hoffmann
/

Travel & Hospitality

/

25hours Hotels' Christoph Hoffmann
Rooms that tell stories about locals, hotels that use shipbuilding materials and cater to bleisure travellers – the German 25hours Lifestyle Hotel Group is nothing if not quirky. Stylus interviews CEO and founding partner Christoph Hoffmann.
25hours Hotels' Christoph Hoffmann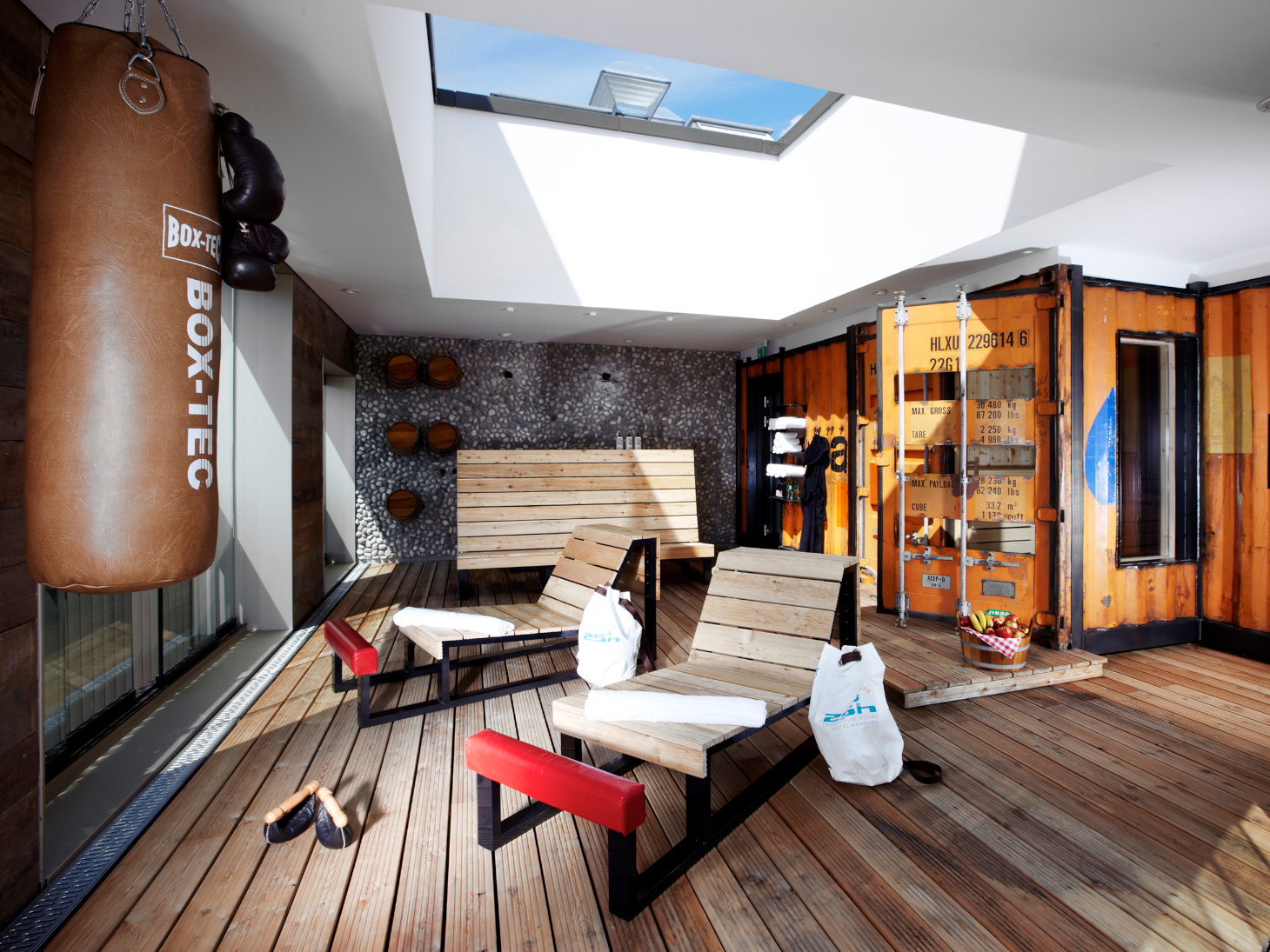 25hours Hotel Hamburg HafenCity Sauna
Christoph Hoffmann founded 25hours in 2005, opening the Hamburg No. 1 in Germany. Since then, he has opened a further six hotels and built a reputation for innovative experiential venues.
"
More important to us is the emotional story of a hotel. Form follows emotion, not function. We are keen to create a story for the hotel… Our hotels offer a curated experience. We don't want them to just be a fad. We want them to have longevity.
Christoph Hoffmann, CEO 25hours Hotels.
Individualised Design, Curated Stories
Hoffmann is keen to distinguish his small hotel group from larger international hotel chains. How does 25hours differentiate itself from style-focused competitor hotel brands such as Aloft, created by hotel giant Starwood? "We are different because we do not standardise," says Hoffmann. "We individualise. Every time we develop a hotel we reinvent the idea of a hotel based on its destination."
But Hoffmann believes individualisation cannot rely upon unique design alone – he believes the 'story' is of equal importance. "Design is not our main focus. More important to us is the emotional story of a hotel. Form follows emotion not function. We are keen to create a story for the hotel. We believe guests realise we go into more depth creating a hotel and that our hotels offer a curated experience. We don't want them to just be a fad. We want them to have longevity."
These curated stories are best summed up in the company's Hotel Hamburg HafenCity. Eventlabs, architects Stephen Williams Associates and interior designer Conni Kotte were inspired to design a hotel based around the story or concept of a seaman's club, utilising materials from the shipbuilding industry and inspired by the stories of locals.
By contrast, Hoffmann's original hotel – the Hamburg No. 1 – saw creative team and planning agency Dreimeta's Armin Fischer creating an ultra-contemporary theme with a nod to the retro interiors of the 1960s and 1970s.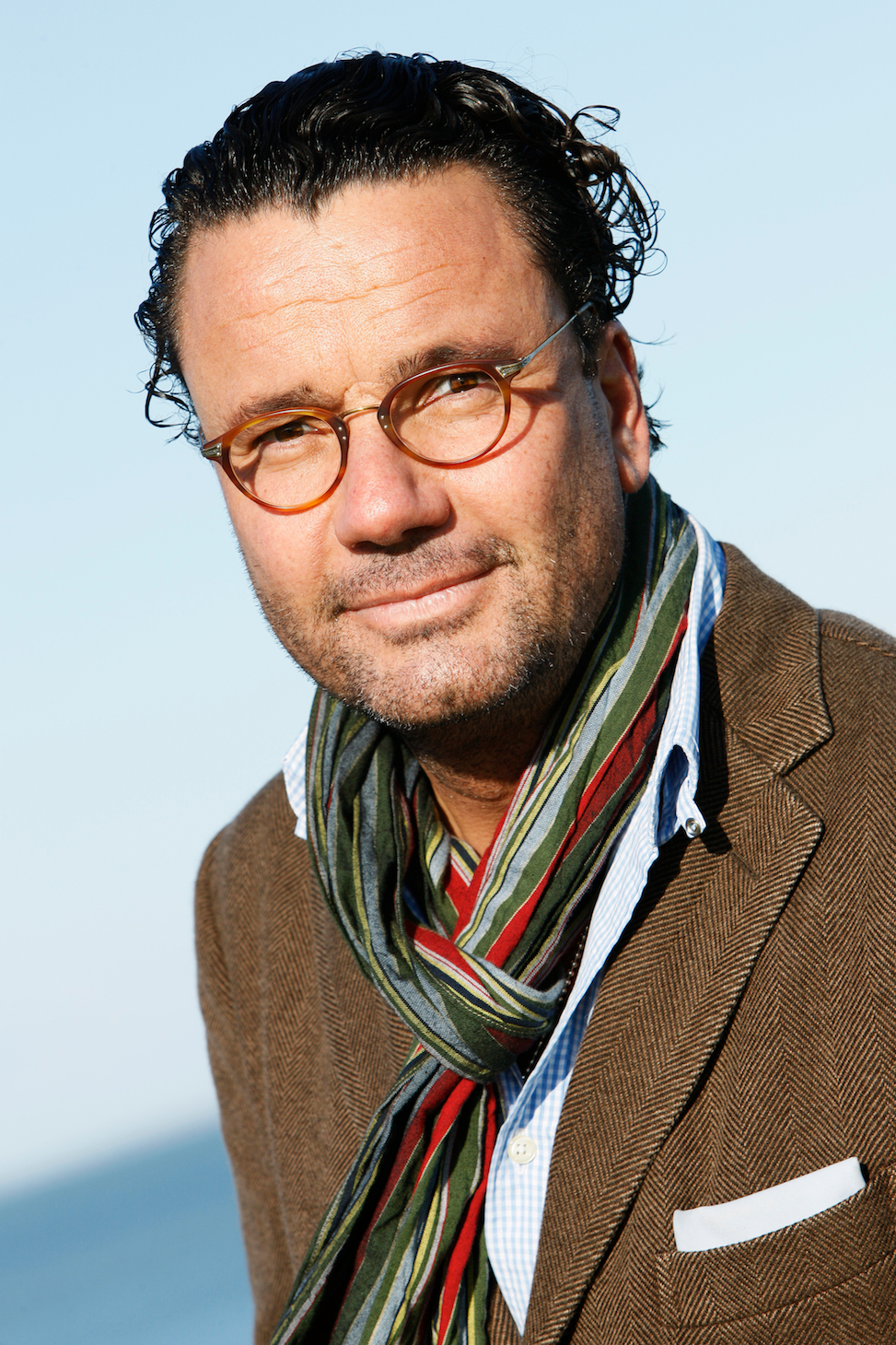 Christoph Hoffmann CEO 25hours Hotels
In order to achieve a unique package, Hoffmann believes that collaboration is key. "For each project we try to find a different team. The combination of people is important. On one project we may work with the likes of Mateo Kries – curator at the Vitra Design Museum – and on another, product designer Alfredo Haberli. We need a strong interior designer as much as we need storytellers."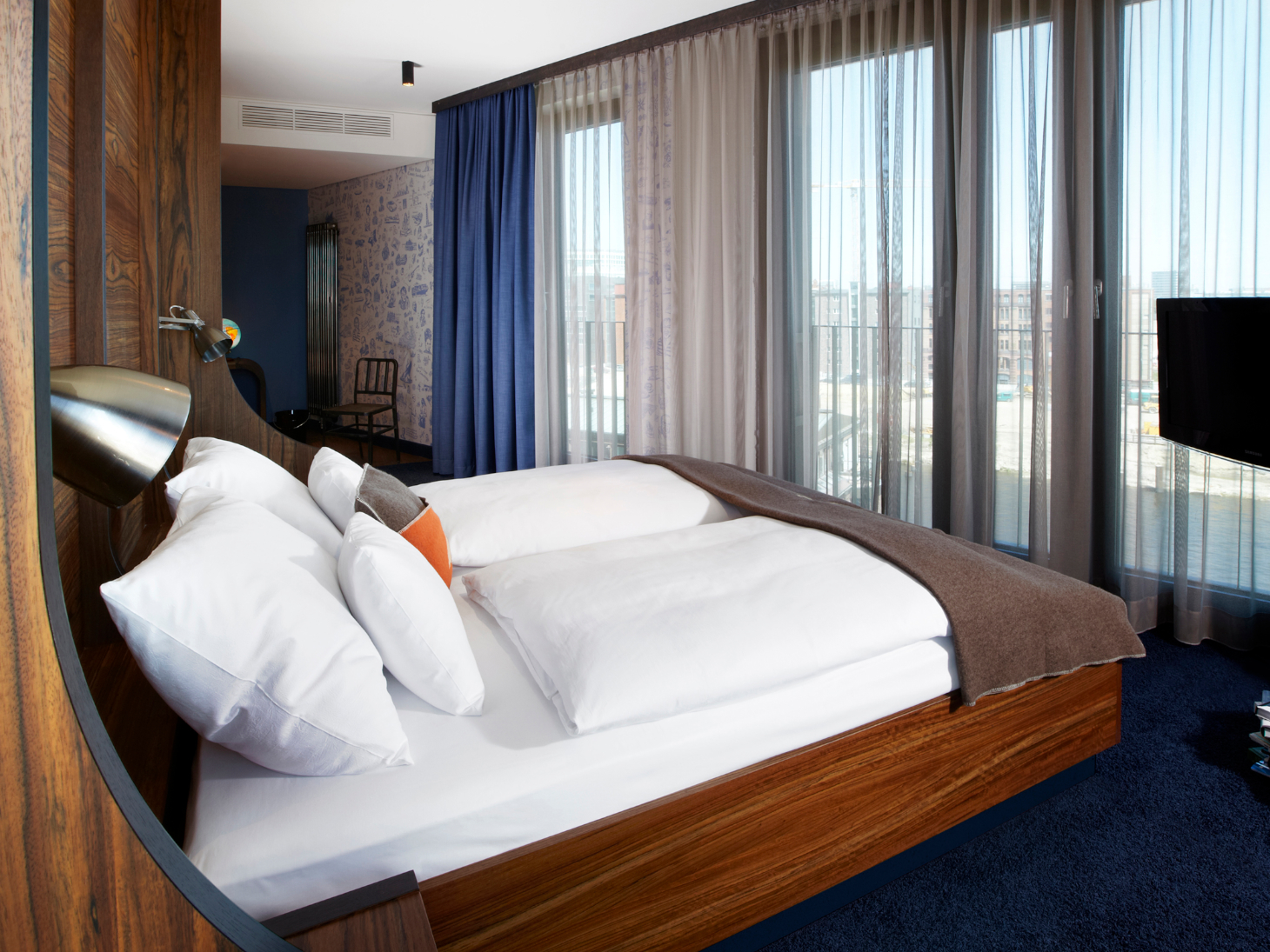 25hours Hotel Hamburg HafenCity Captain's Cabin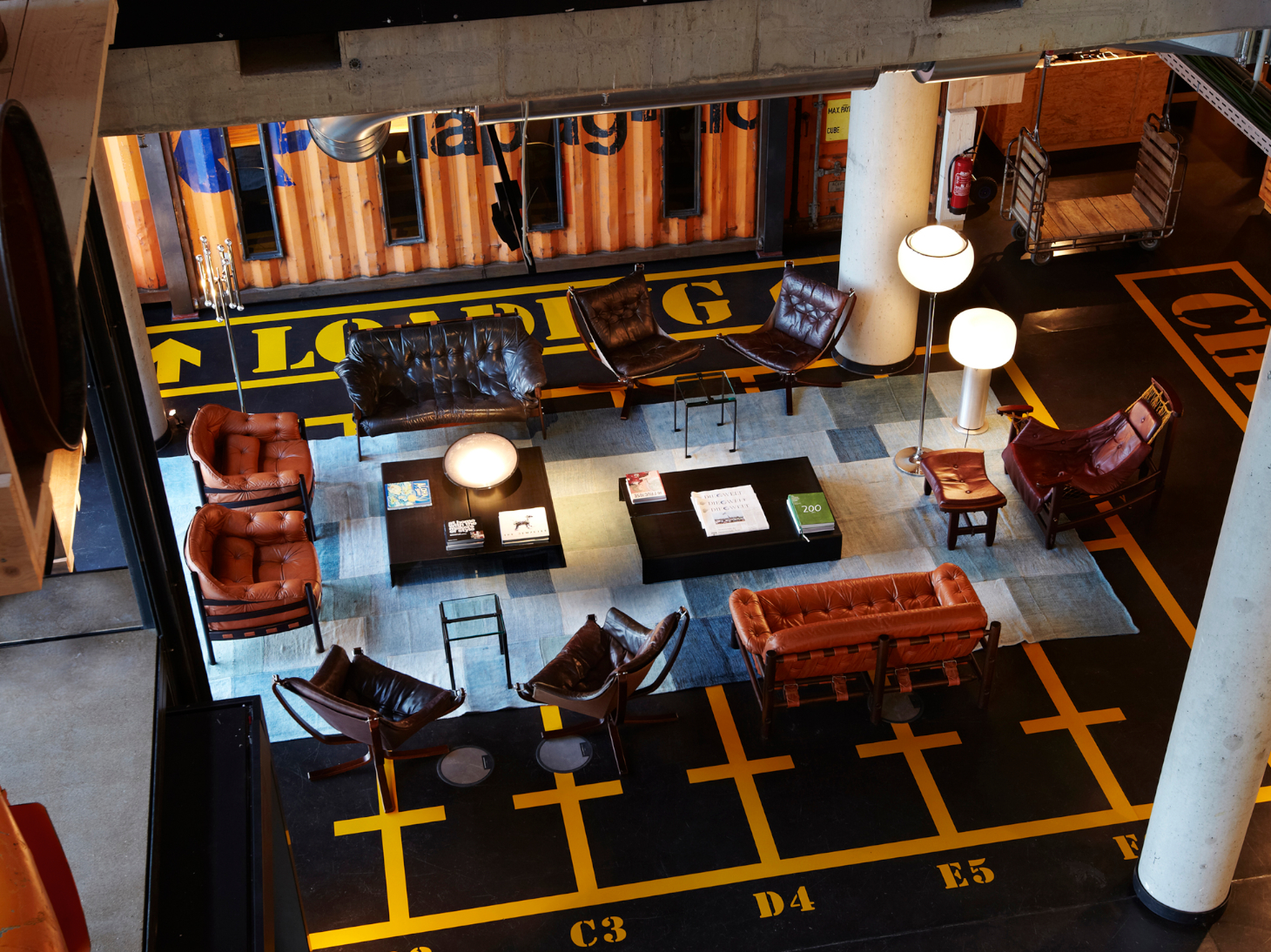 25hours Hotel Hamburg HafenCity Lobby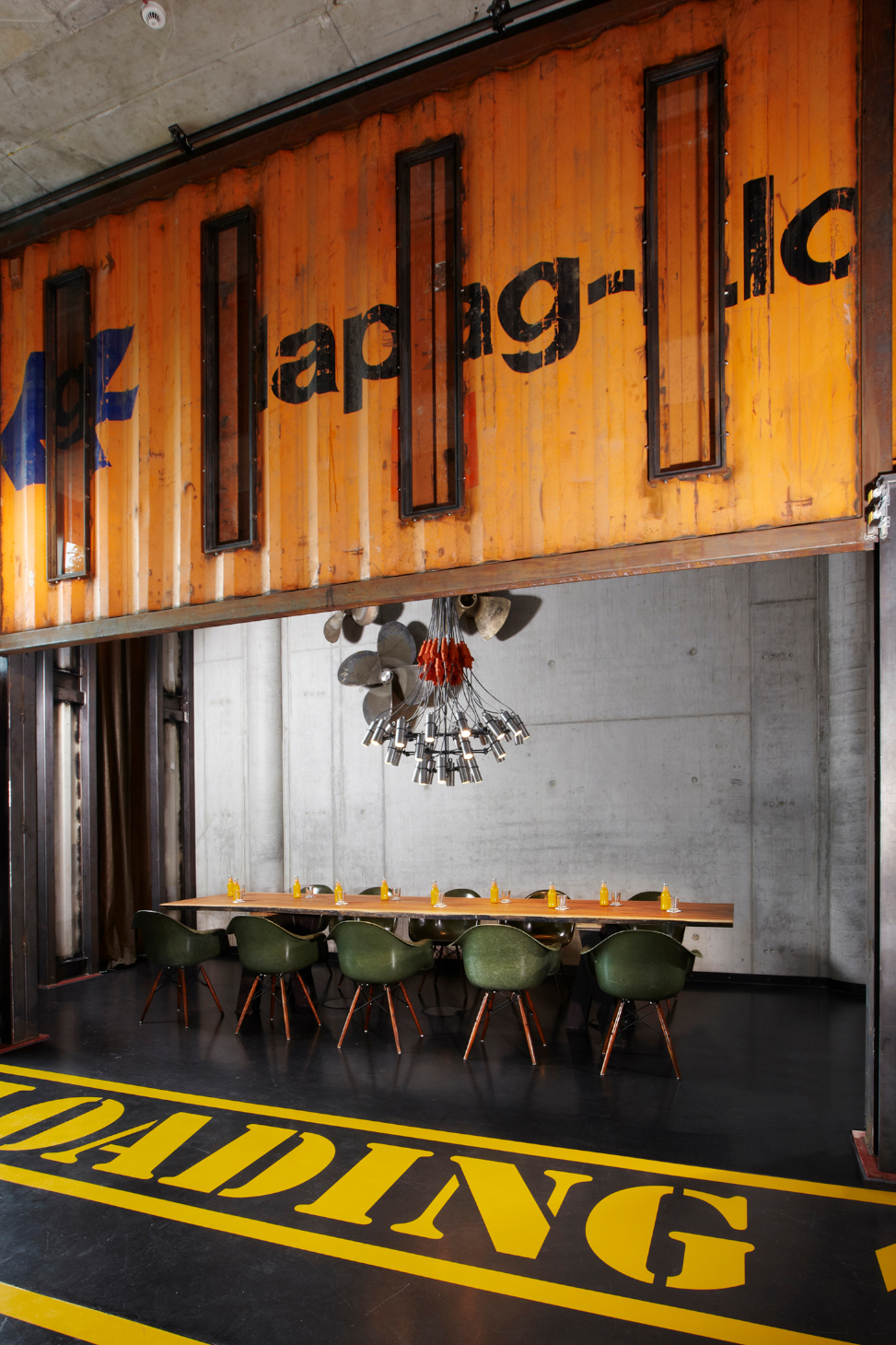 25hours Hotel Hamburg HafenCity Container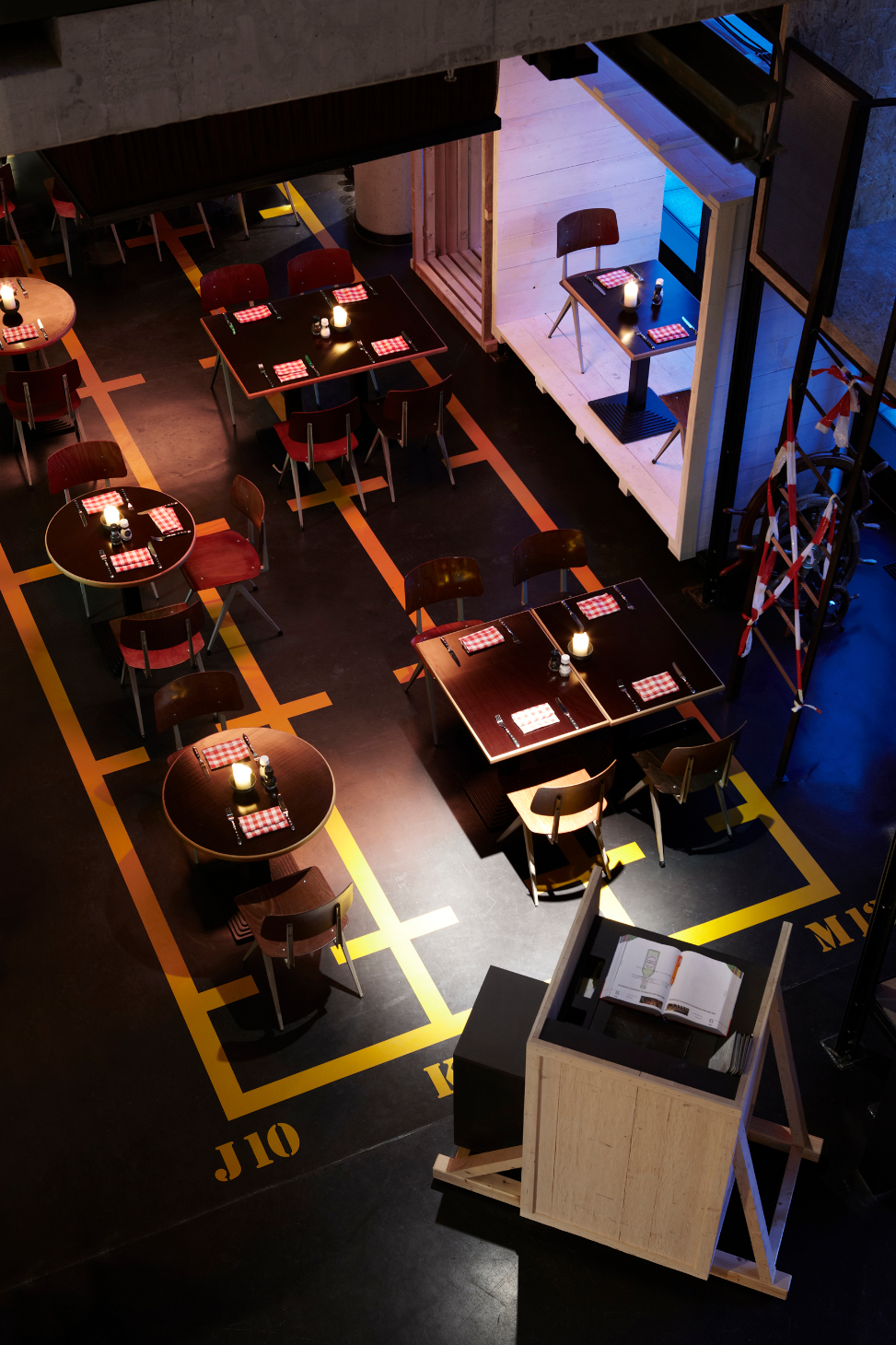 25hours Hotel Hamburg HafenCity Heimat Restaurant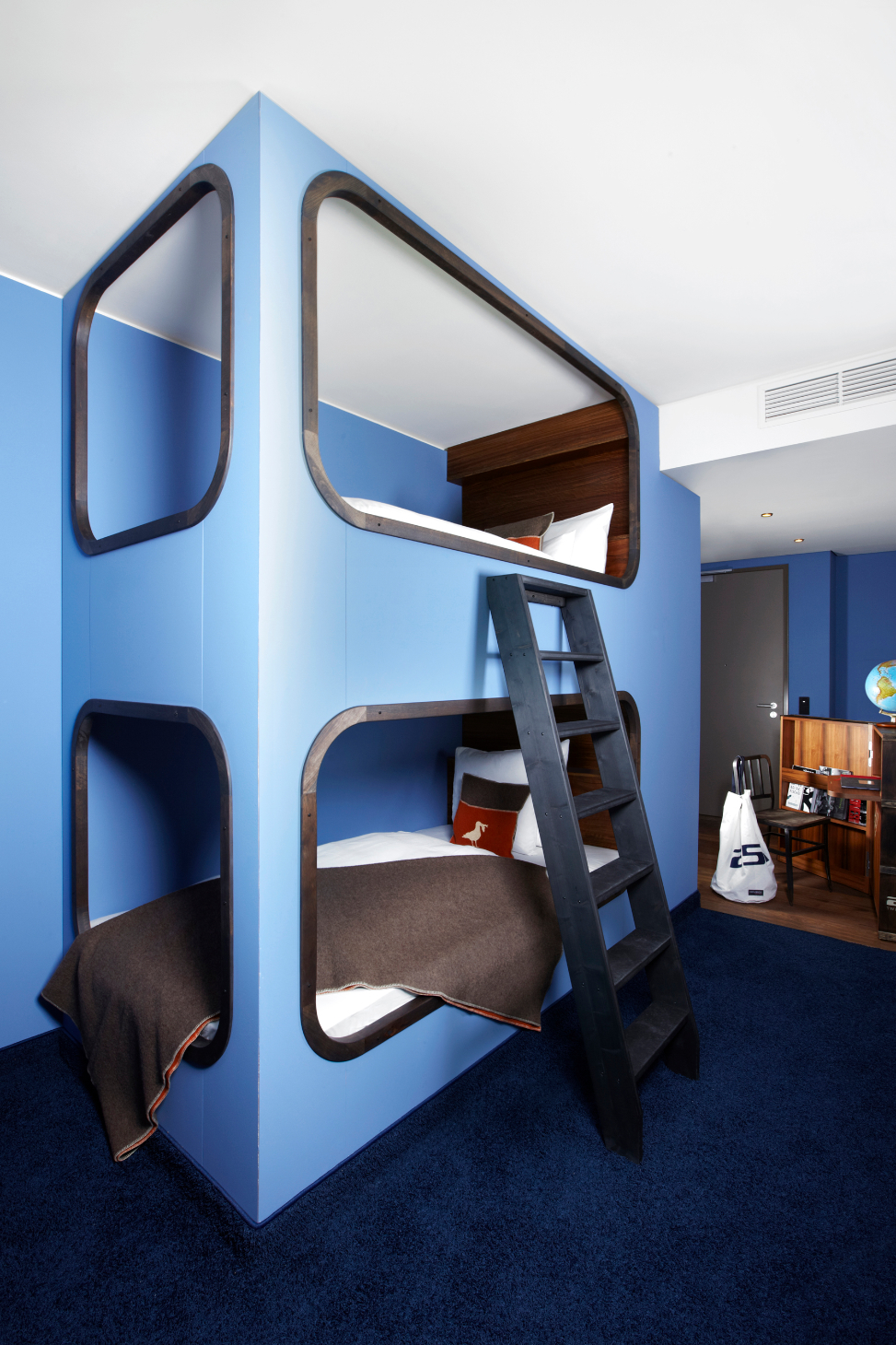 25hours Hotel Hamburg HafenCity Bunk Bed Cabin
Attracting Generation Y
Building up a loyal clientele is a challenge for modern hoteliers: Generation Y is considered a fickle kind of traveller, showing little brand loyalty, easily swayed by the internet. Hoffmann acknowledges the scale of that challenge: "Going back to the '90s, people chose hotels in a completely different way. There was no internet. It was about brands and names. Now people can get word of mouth information on the internet rather than relying on specific brands. People have a greater variety of hotel experiences available to them and they want to go to the most hip or latest hotel to open."
25hours Hotel Hamburg No.1 Living Room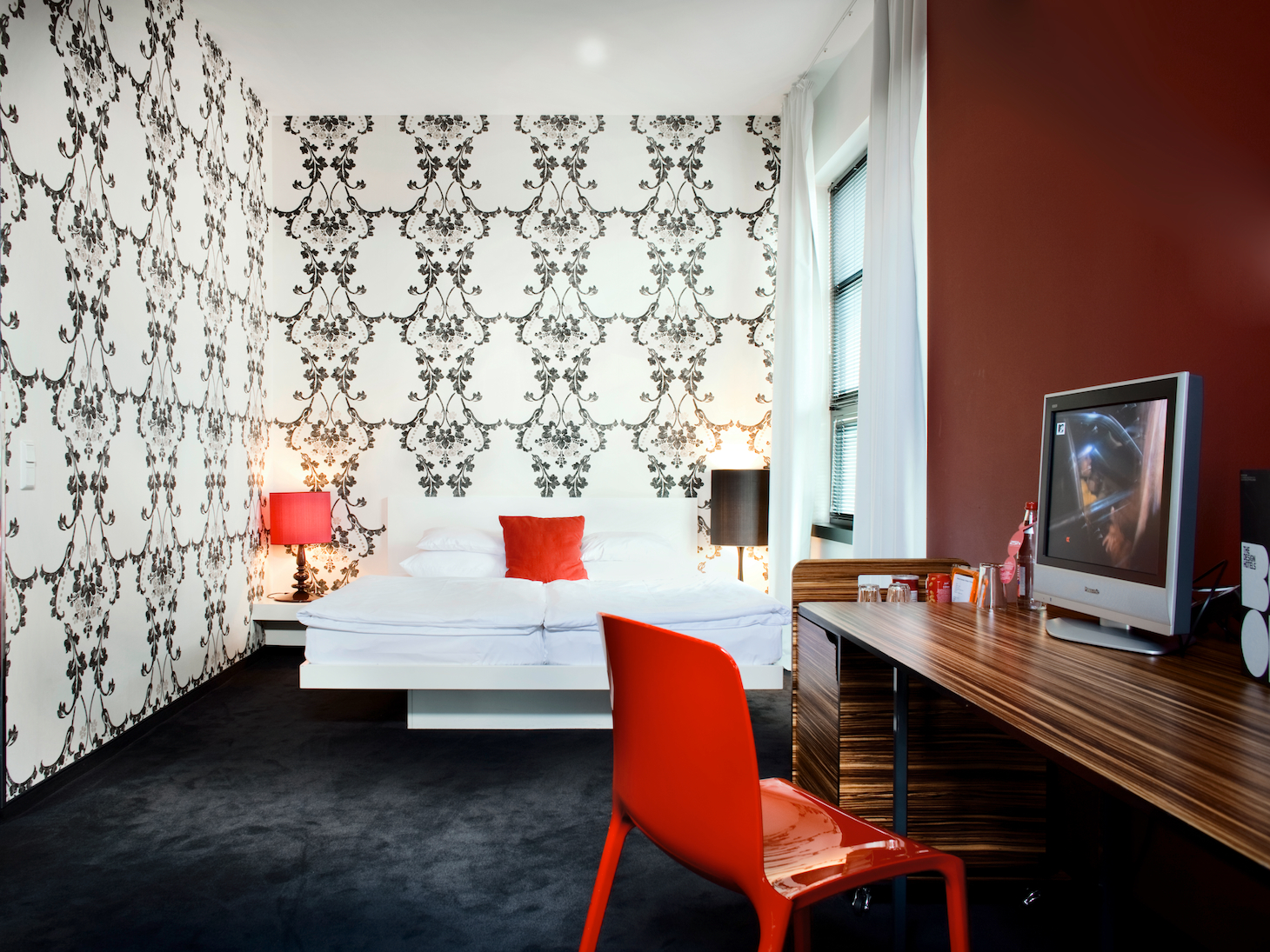 25hours Hotel Hamburg No.1 XL Room
Hoffmann has used discounts for guests aged 25 and under as a key marketing tool for the brand. "We want to make a statement to our target audience of young businesspeople and entrepreneurs who place an importance upon value for money. While they may not be able to afford us at this time, [they] could prove to be an important client in the future."
While discounts may prove initially attractive, they cannot be relied upon to ensure repeat clients. Hoffmann believes that the only way to drive repeat business is by constantly reinventing the idea of a hotel. "We have to stay innovative. We have reserves for innovation and for reinventing. We are quicker to make a change than a large chain. We do not have a high level of bureaucracy across our modest portfolio. We can be more flexible."
Then there are environmentally friendly initiatives – which some players in the market believe are key to attracting and retaining travellers. 25hours has become known for using local produce in its restaurants. While Hoffmann considers sustainability to be important, he is quick to state that it should never be the overall defining feature of a hotel. "When it comes to sustainability, either you do it 100 per cent or not at all and it should not be a marketing strategy that defines the brand. We are certainly trying to be sustainable but there is a limit. Some technology or building refurbishments could not be considered sustainable."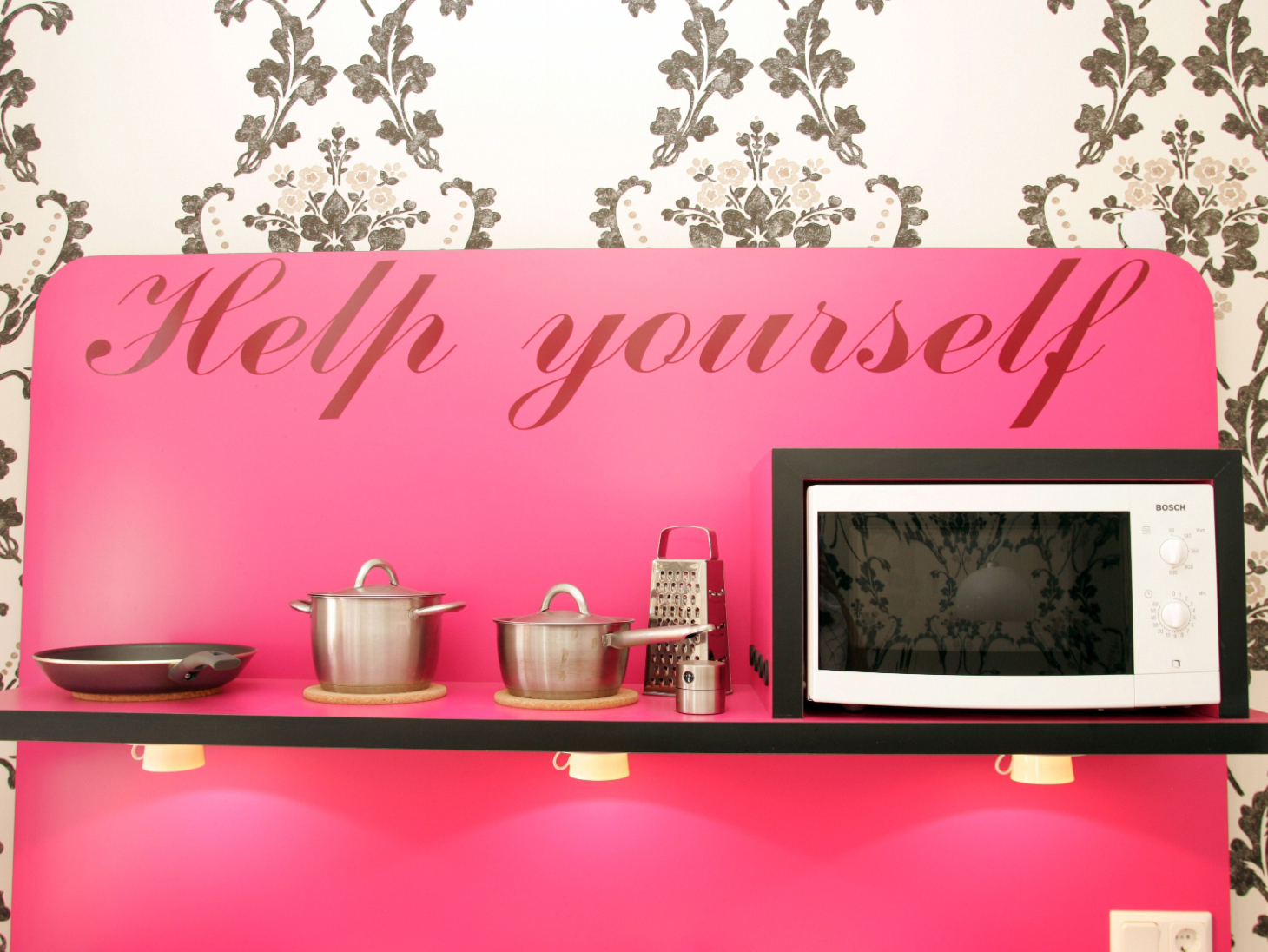 25hours Hotel Hamburg No.1 Guesthouse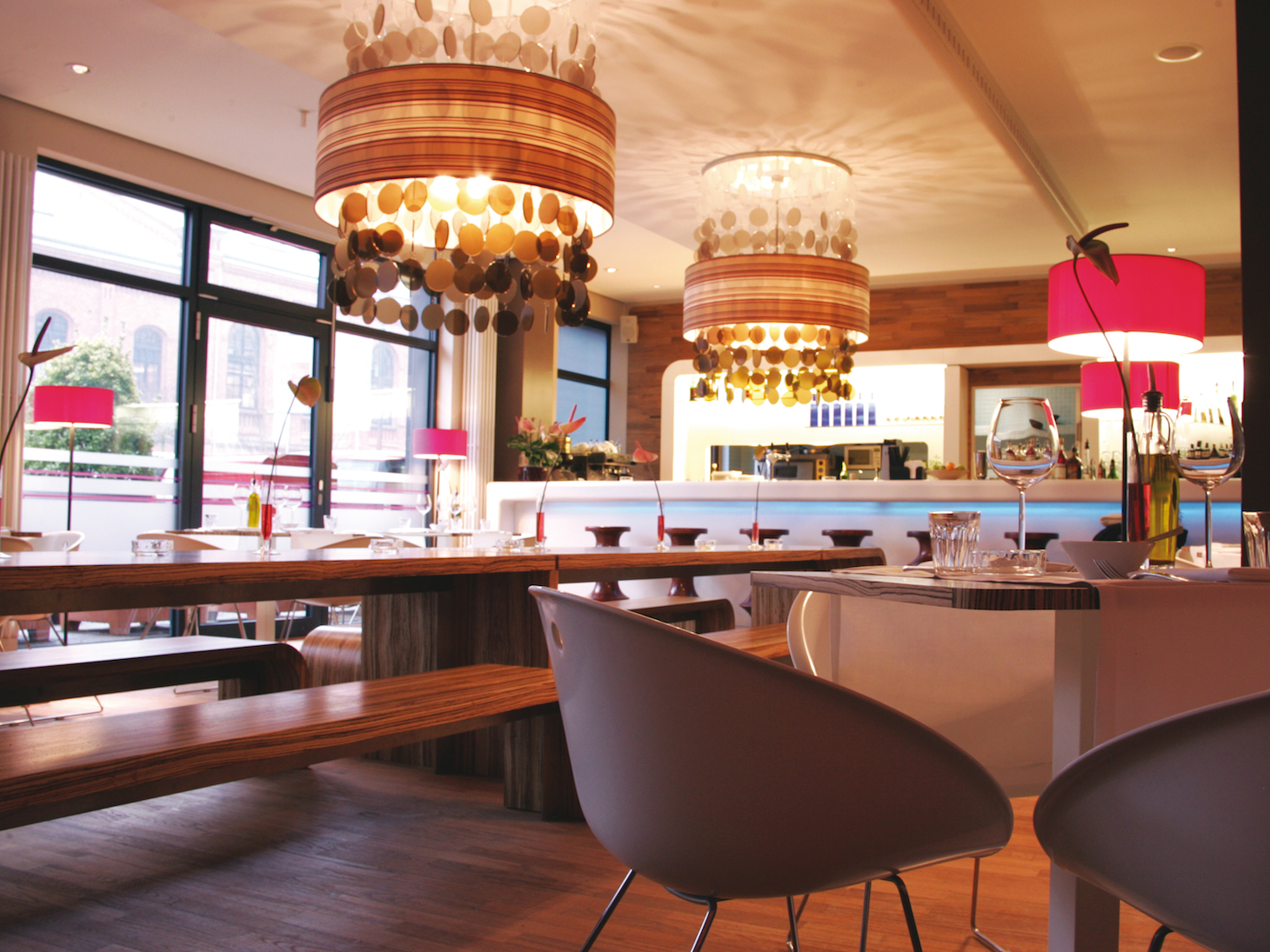 25hours Hotel Hamburg No.1 Esszimmer
Intelligent Technology
Although not a luxury brand, 25hours is renowned for its high level of service. Hoffmann suggests that technology has a great role to play in improving service levels. "There is a great deal of desire for anything that improves convenience such as an automated concierge. Free wifi is essential."
Hoffmann recognises that technology must be intelligent. He insists that despite travellers' reliance upon technology, they will always favour an element of human interaction. "People want choice. The latest trend we have noted is the demand for hotels to be relaxed, homely environments. We want to create spaces in our hotels where people can meet, talk and relax. The chimney in our Zurich hotel is representative of an old fashioned focal point where people could sit together, feel the warmth of the fire, and take care of each other."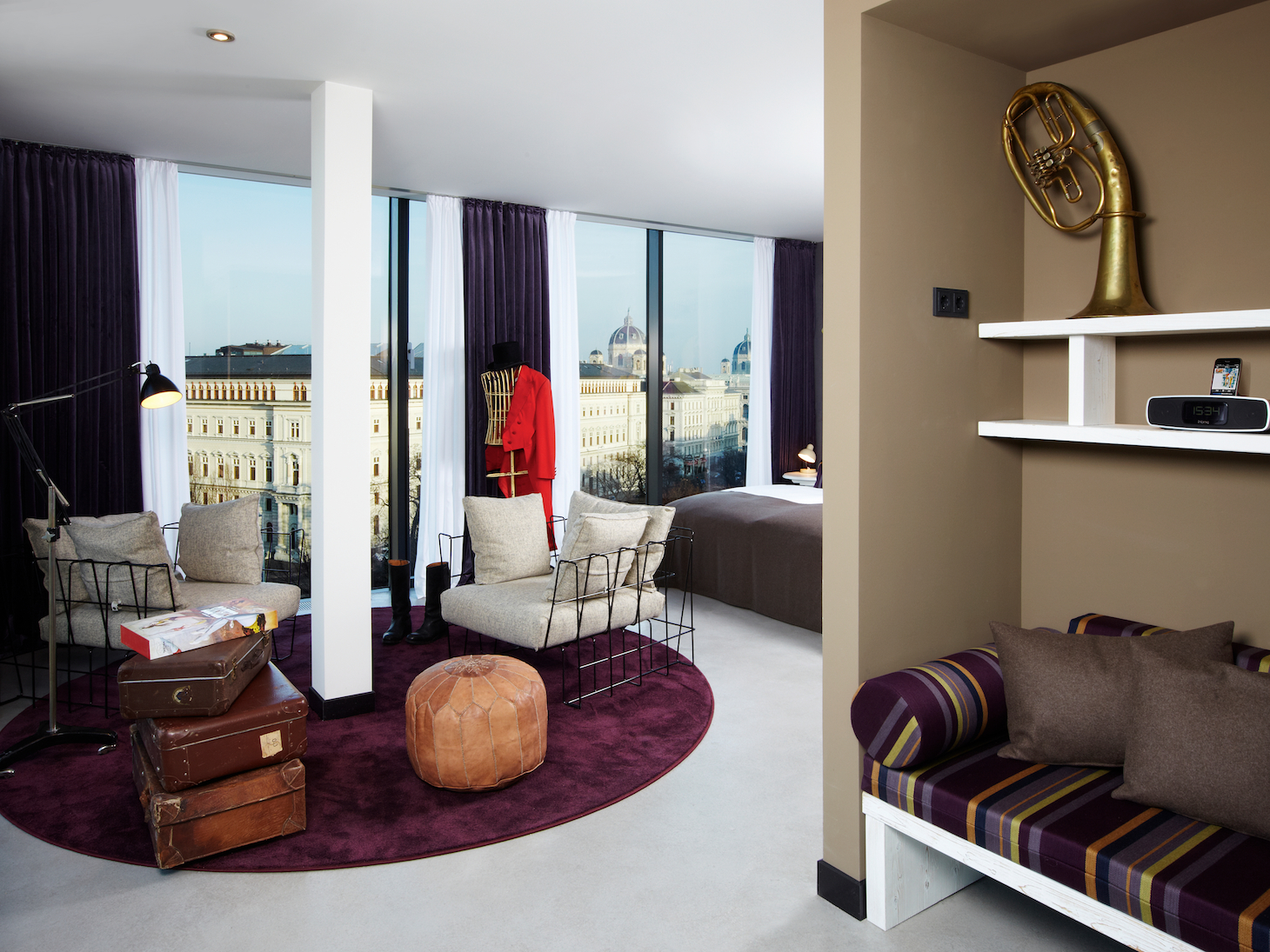 25hours Hotel Wien Room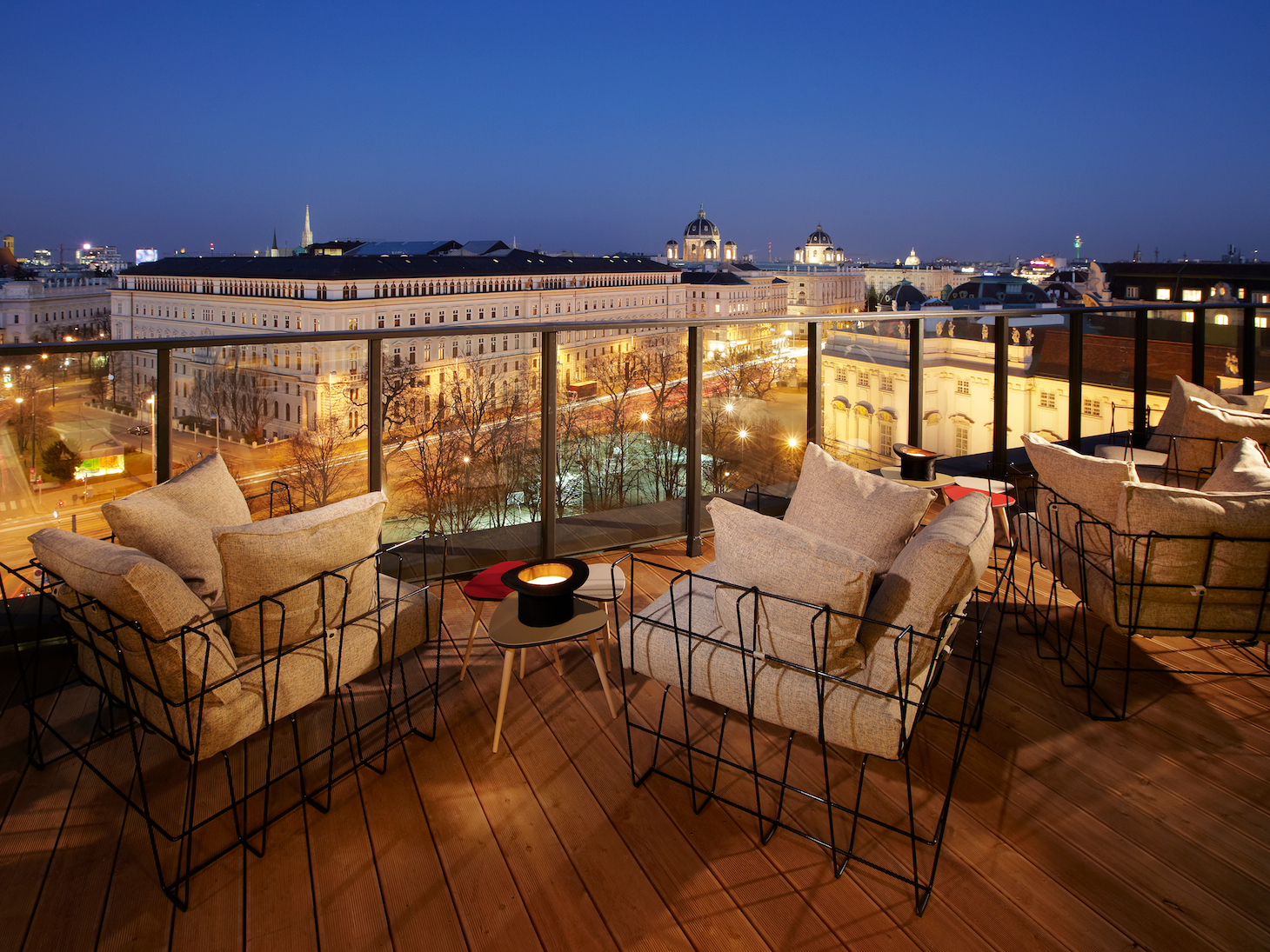 25hours Hotel Wien View
25houts Hotel Wien Pouh
The Rise of the Health Conscious Bleisure Traveller
Hoffmann describes his guests as predominantly "bleisure travellers", who may be travelling on business but want to include certain leisure activities in their trip. "Urban hotels now experience guests who are not there purely for business. They are more flexible when it comes to their office hours and they are often health-conscious. This has to be taken into consideration. Hotels have to offer services based around these whims."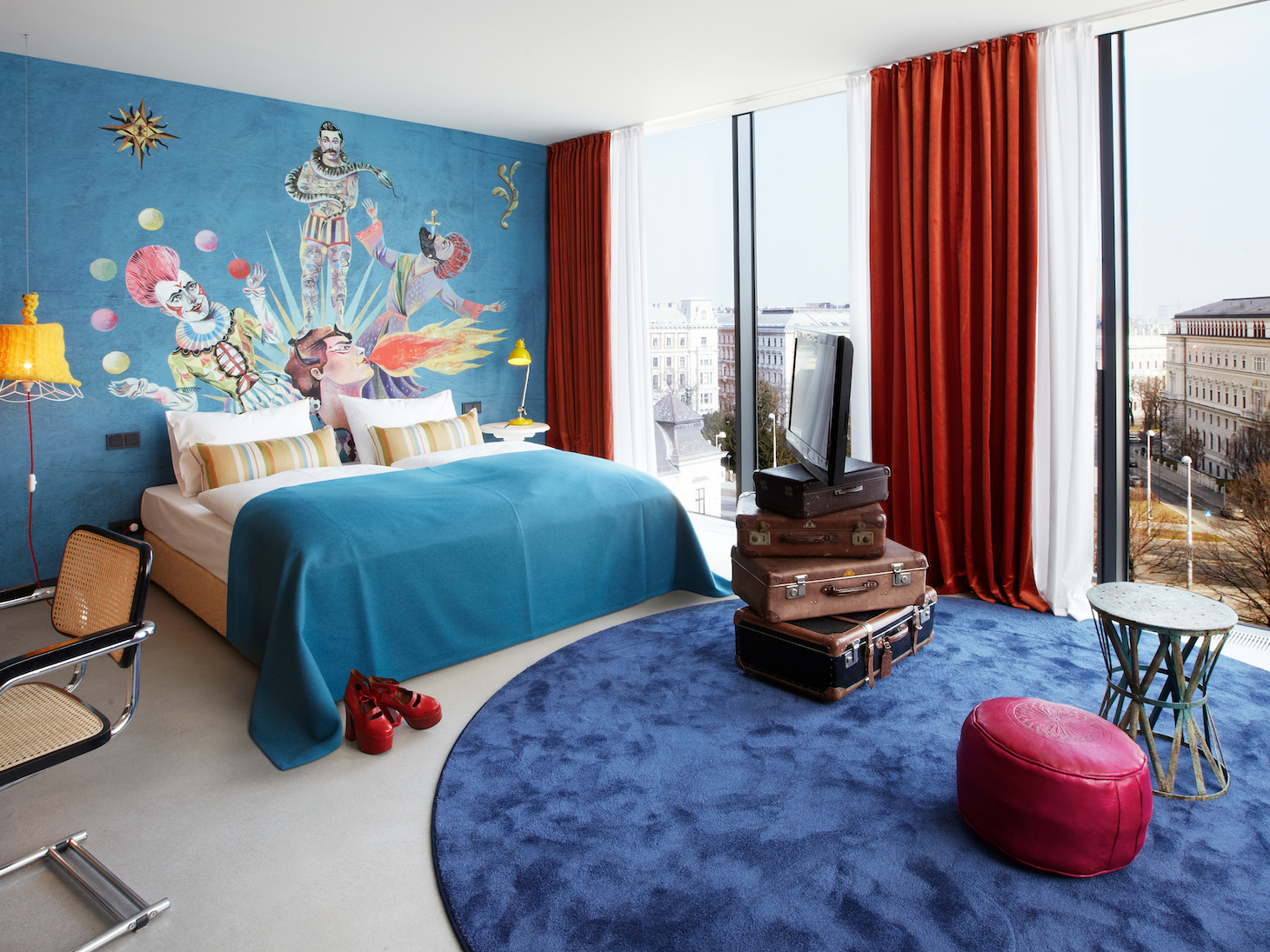 25hours Hotel Wien L Suite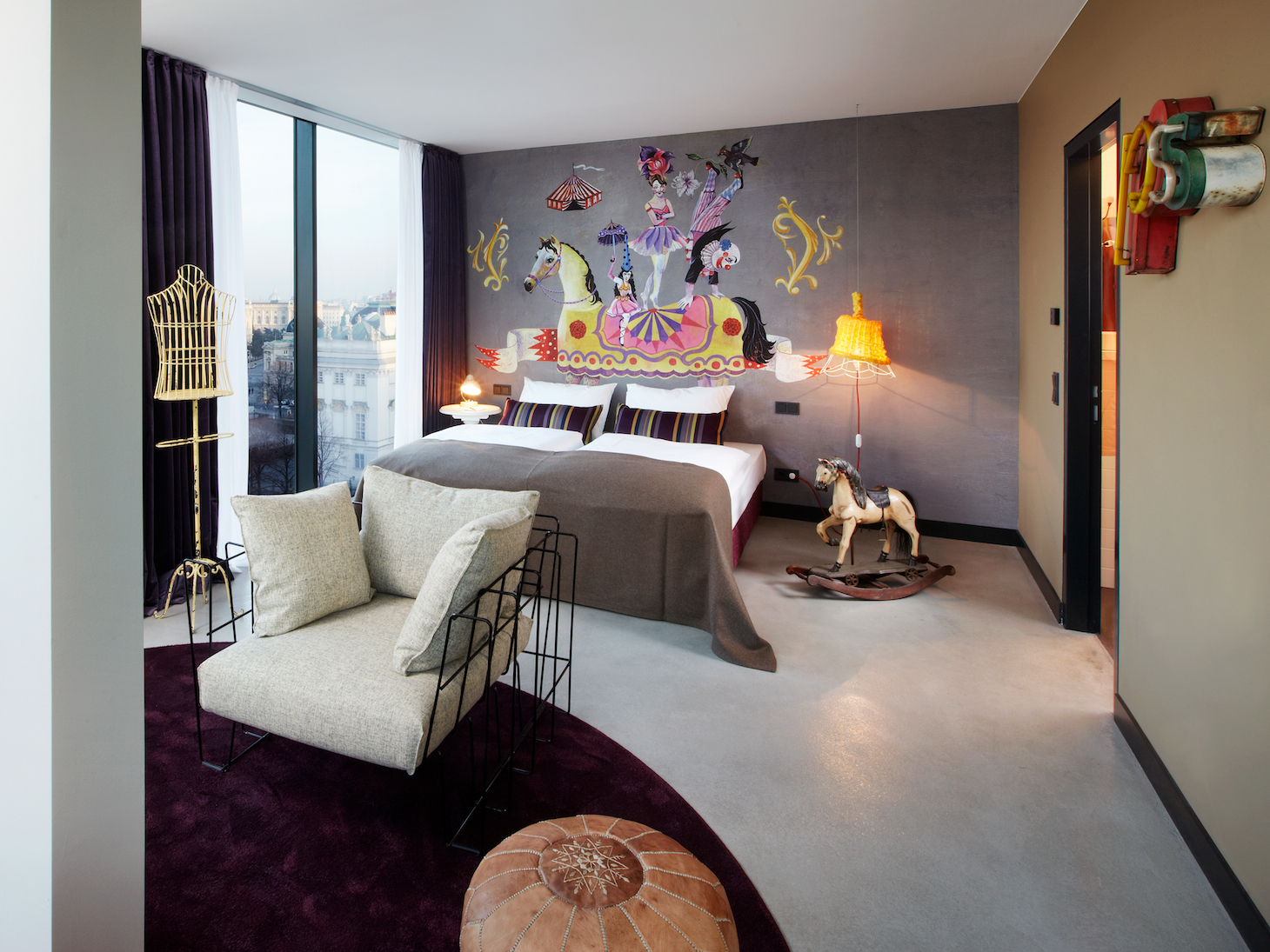 25hours Hotel Wien Ringmaster Suite
What about the affluent Bleisure Traveller? One major change Hoffmann predicts for the future is a move away from the likes of, say, London's Savoy or Claridges in favour of venues such as Soho House Hotels or 25hours. Hoffmann argues that travellers now seek a more casual type of luxury. "The atmosphere [at 25hours] is more relaxed and casual. Casual luxury will be quite important in the future. People want to go to a three Michelin star restaurant without stiff conservative formality. The same goes for hotels."
Nevertheless, the affluent bleisure traveller will expect a certain level of service. Novel fitness facilities are a specific feature of 25hotels, notes Hoffmann. "Every hotel has a jogging corner with sweatbands and jogging maps. When a guest returns from a run, staff welcome them back with a handkerchief and bottle of mineral water. They may know that from luxury hotels, but not from those in our sector. We are trying to take a service element from the luxury industry."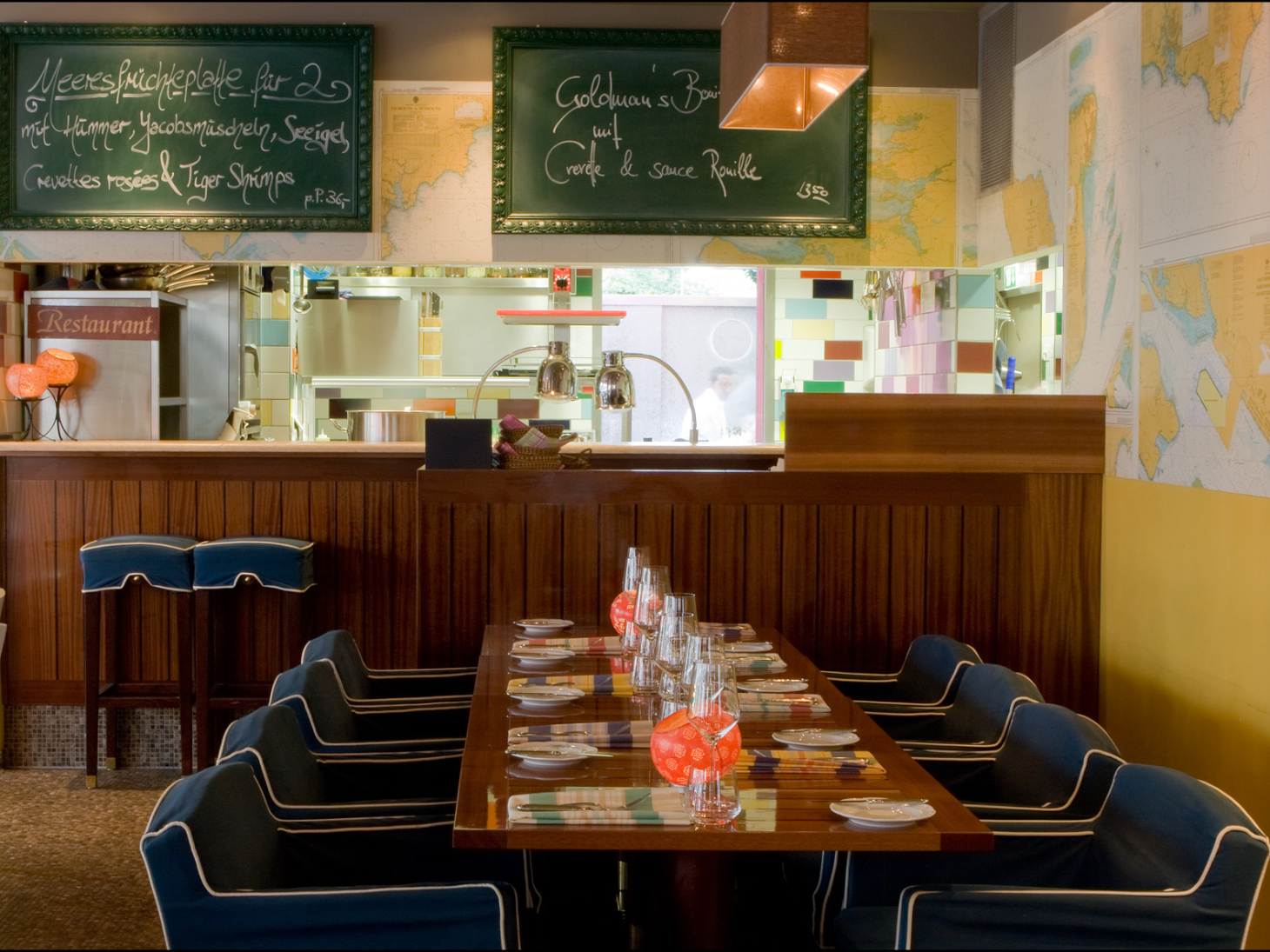 Goldman 25hours Hotel Frankfurt Goldman Restaurant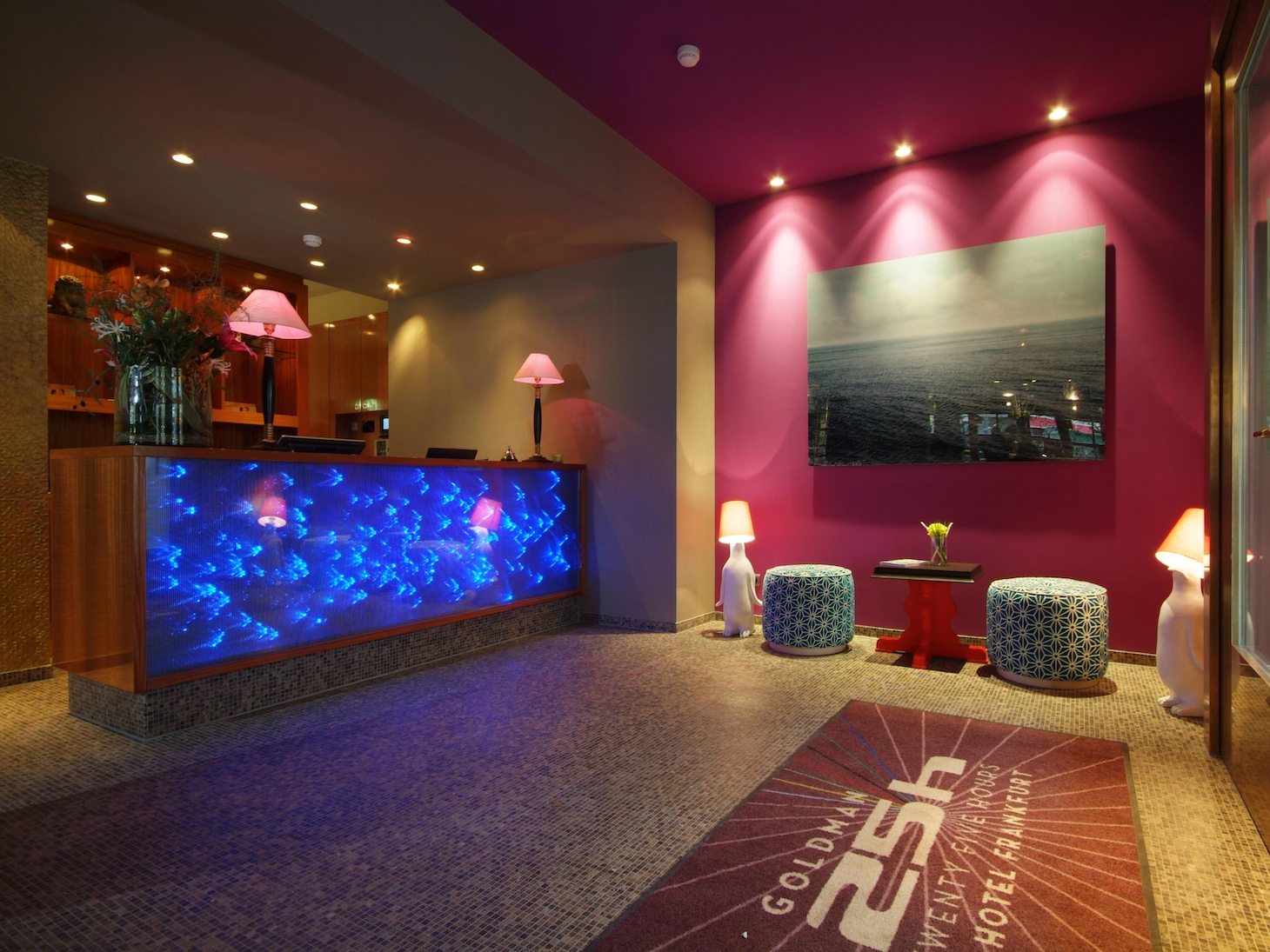 Goldman 25hours Hotel Frankfurt Reception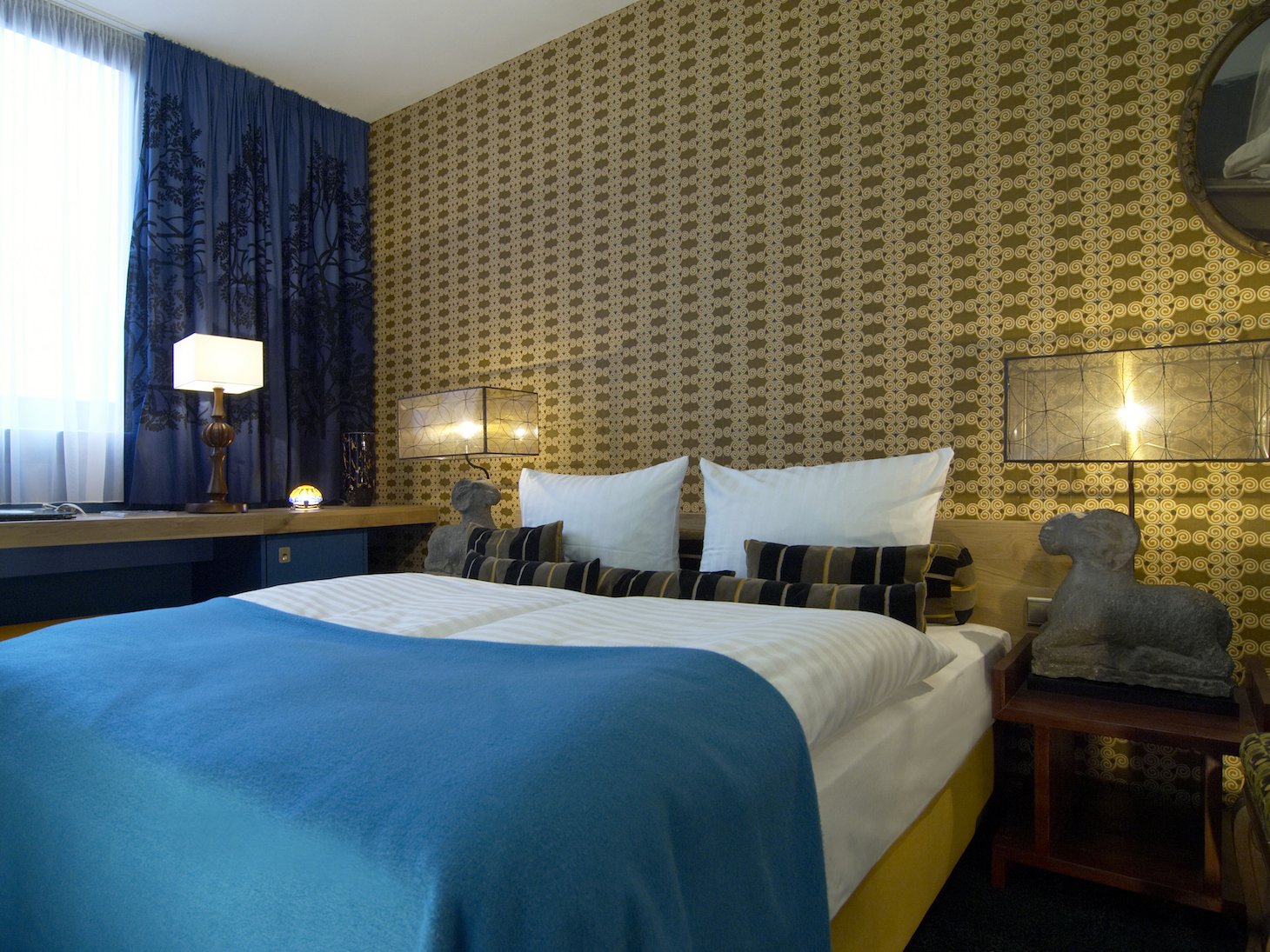 Goldman 25hours Hotel Frankfurt M Room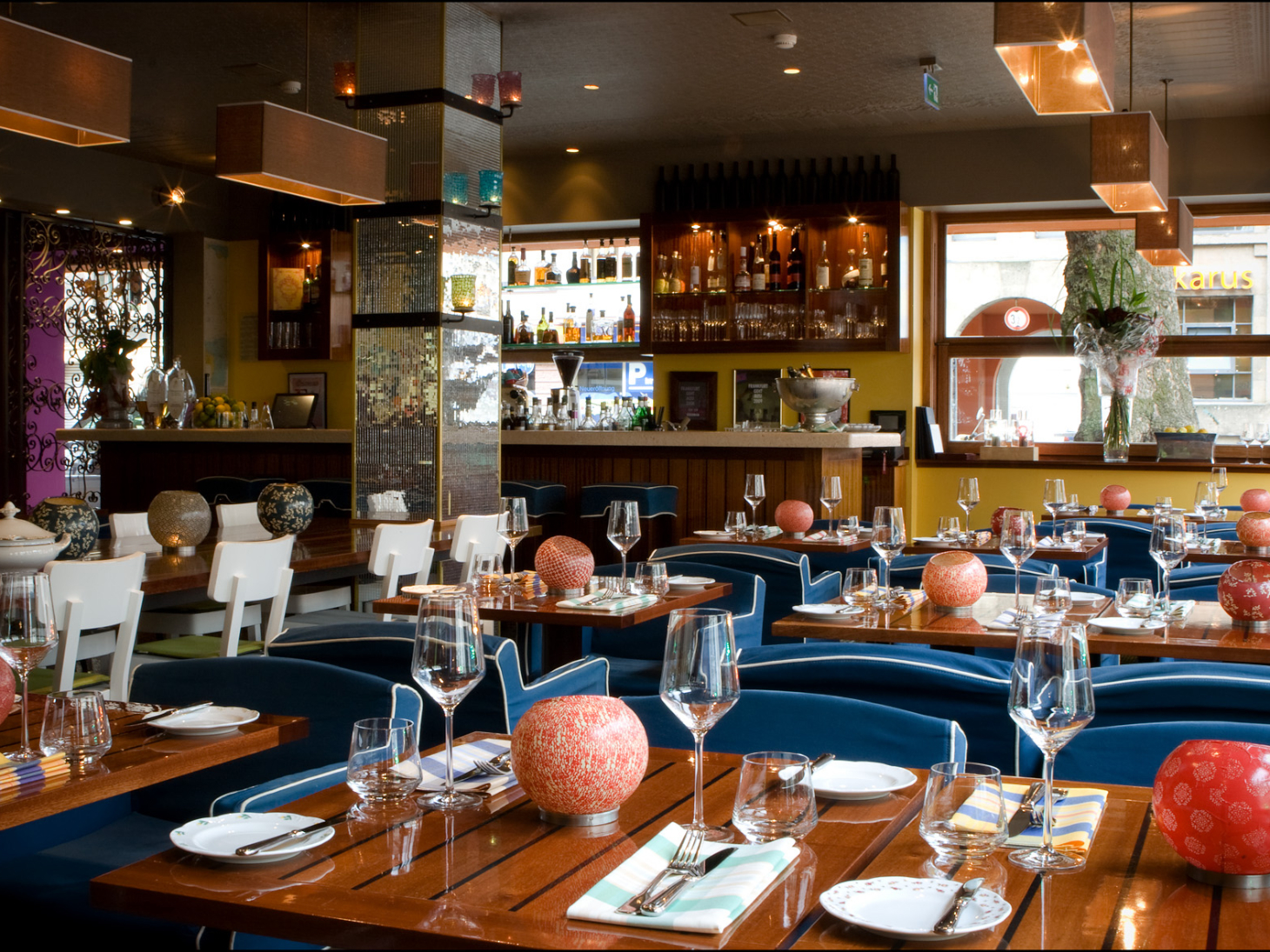 Goldman 25houts Hotel Frankfurt Goldman Restaurant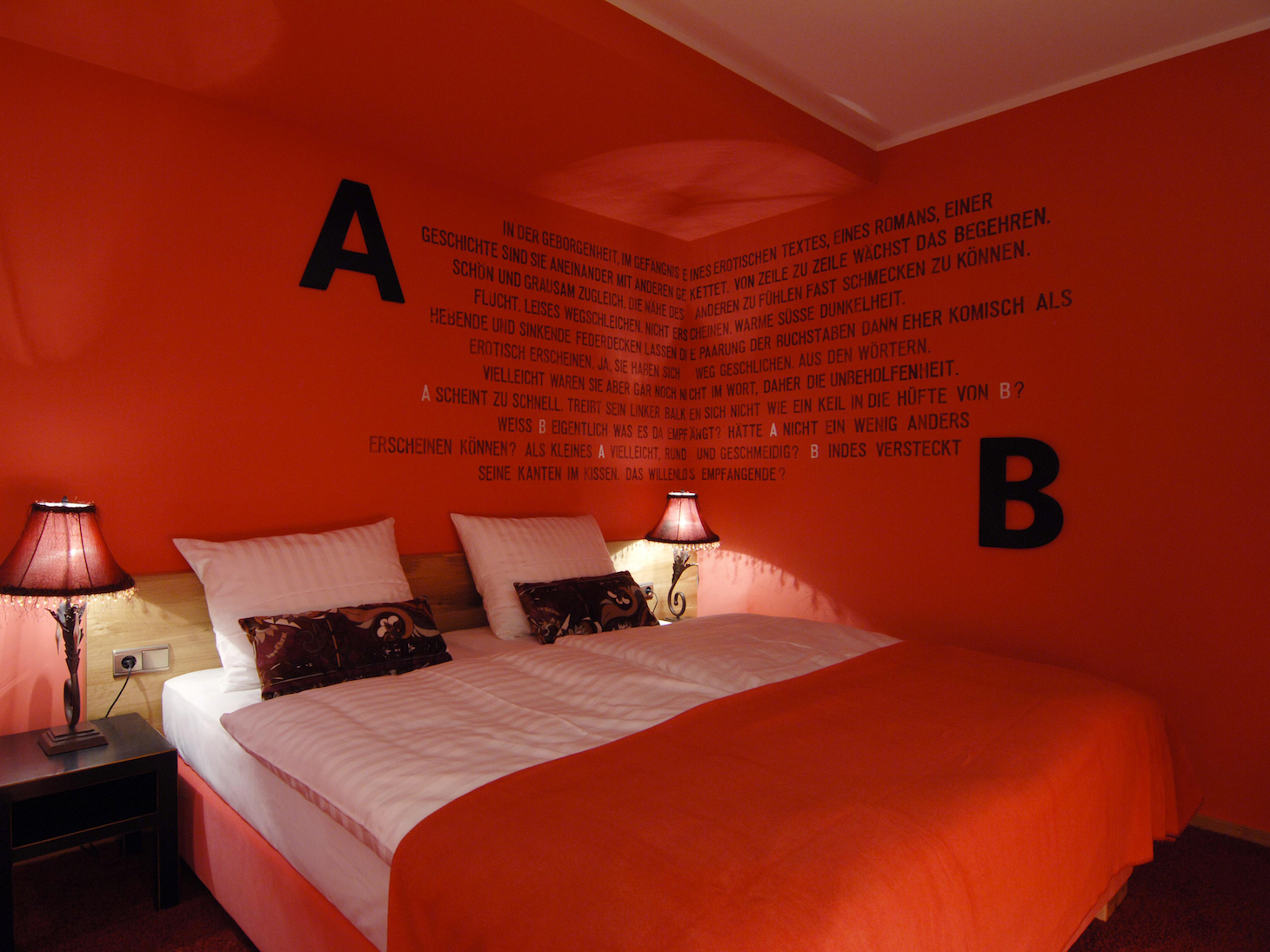 Goldman 25hours Hotel Frankfurt Room M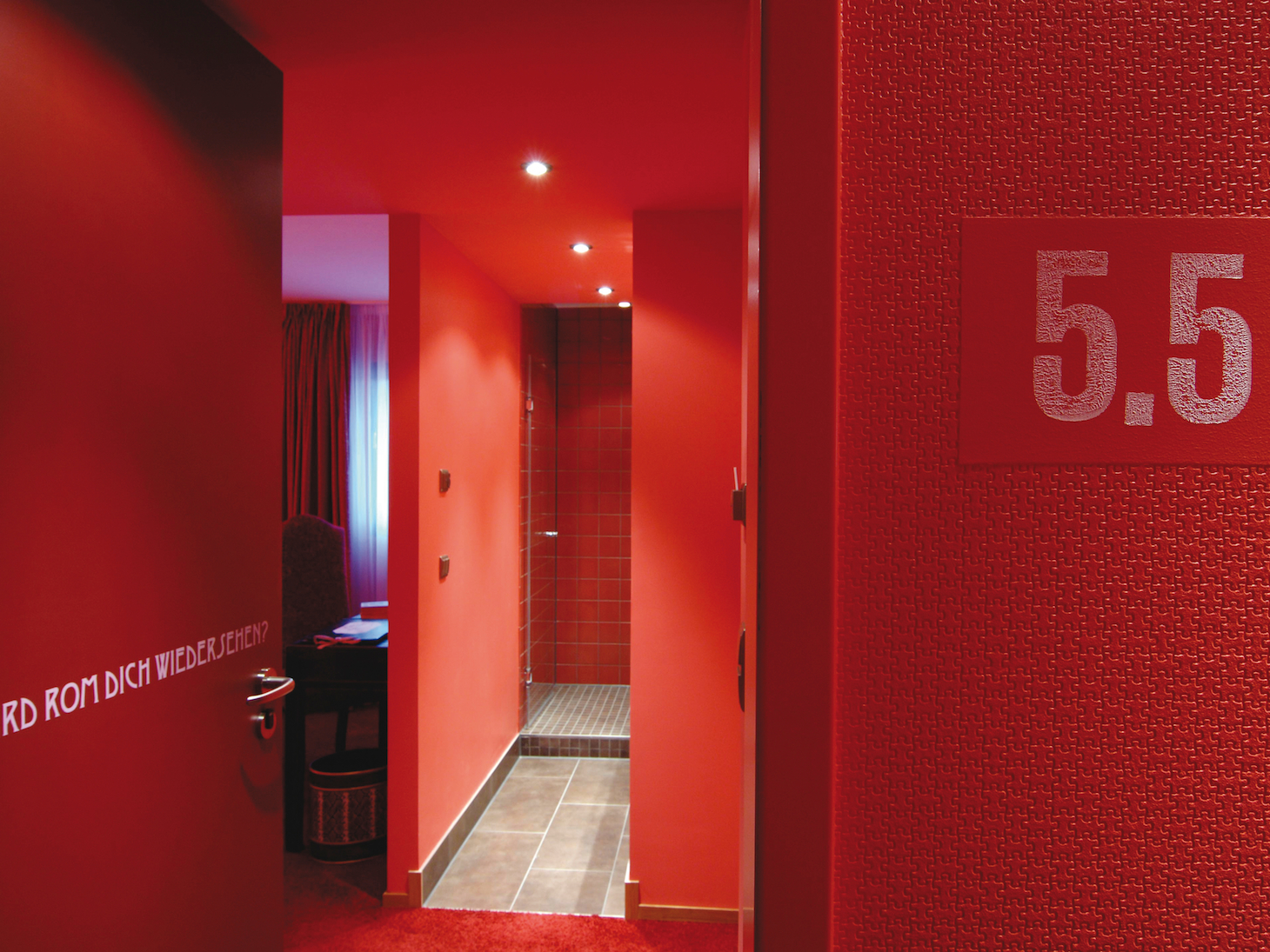 Goldman 25hours Hotel Frankfurt Goldman Room M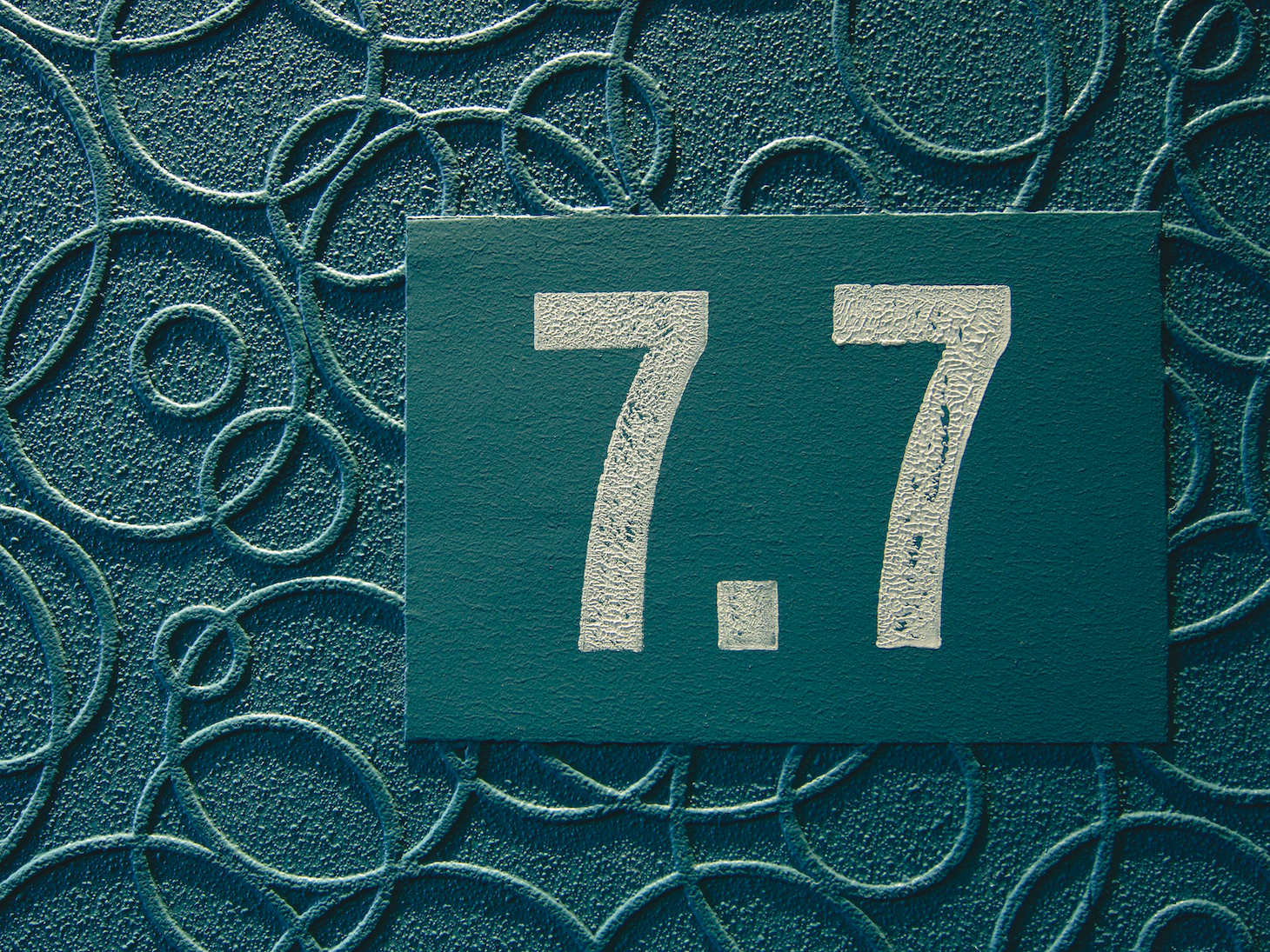 Goldman 25hours Hotel Frankfurt Goldman Room Number
Transport & Tie-Ups
The HafenCity hotel has partnered with local firm Two Wheels Good to provide guests with free bicycle rental. "Cycling is very important to us," says Hoffmann. "It works well in certain cities. We are even considering opening a hotel which pays homage to the bicycle in Berlin."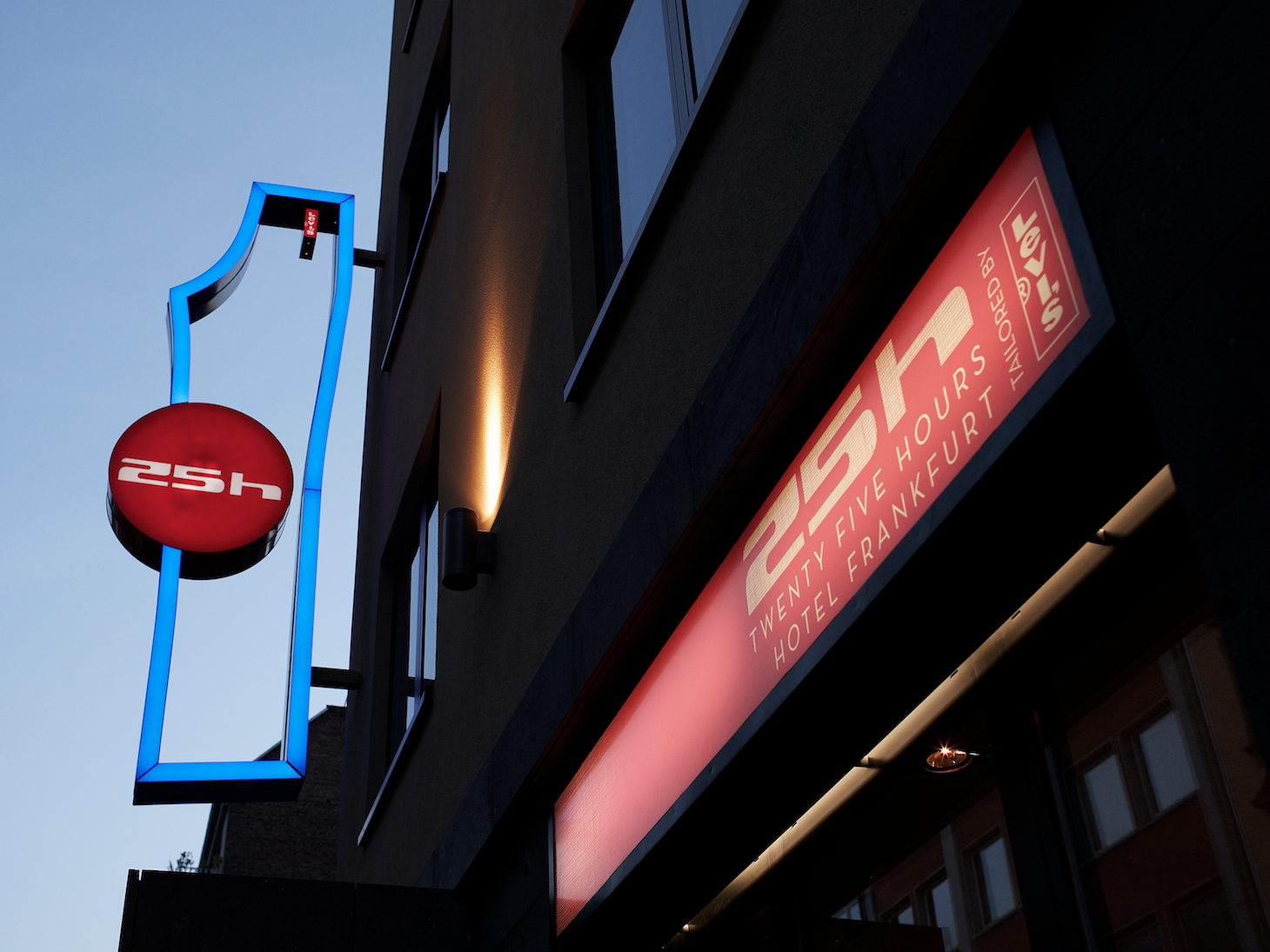 25hours Hotel by Levi's Frankfurt Exterior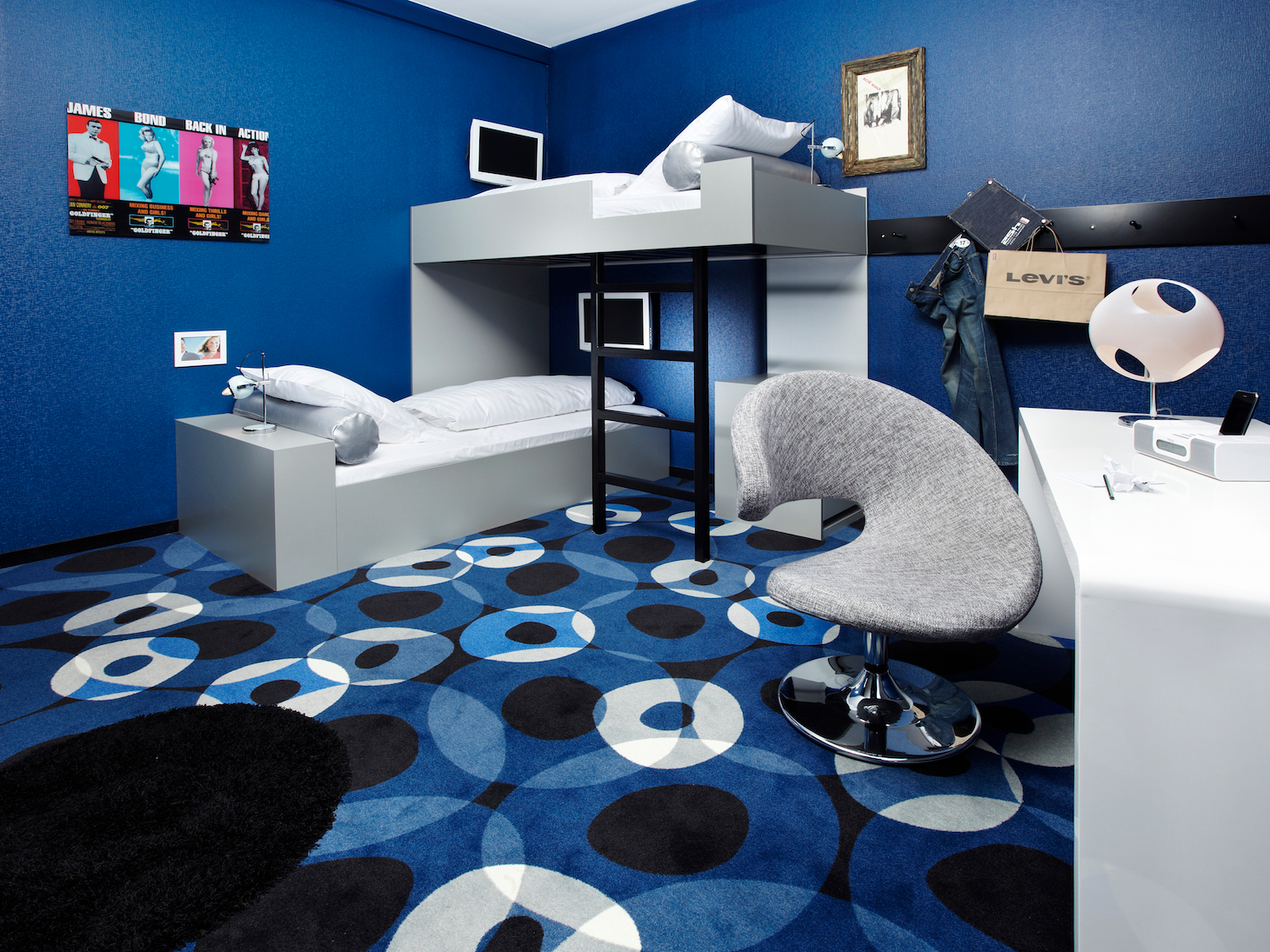 25hours Hotel by Levi's Frankfurt L Room with Bunk Bed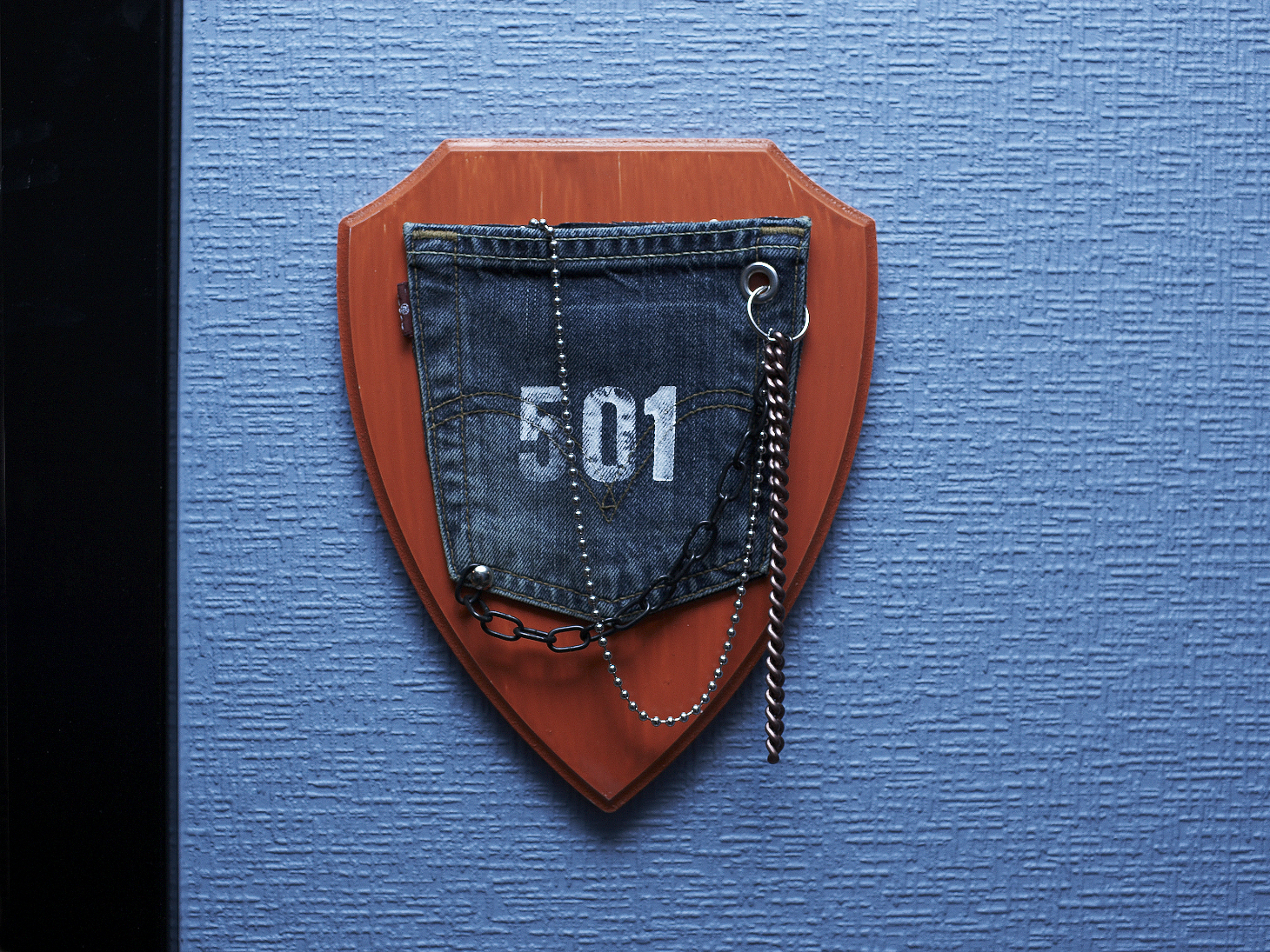 25hours Hotel by Levi's Frankfurt Room Number 501
However, transport options don't just come on two feet or two wheels. The brand's German outposts all offer guests reduced rental price of a Mini car – a brand tie-up that has proven lucrative. "As a young hotel brand, this tie-up opened us up to their already established market. It also helps us market ourselves. It's a global brand with a global presence. It helps us gain exposure all over the world."
Hoffmann is no stranger to the benefits of an automotive-hospitality deal. In 2005, shortly before launching 25hotels, he conceived Project Fox, a tie-up which linked Copenhagen's Fox Hotel with the launch of Volkswagen's Fox model to the benefit of both parties.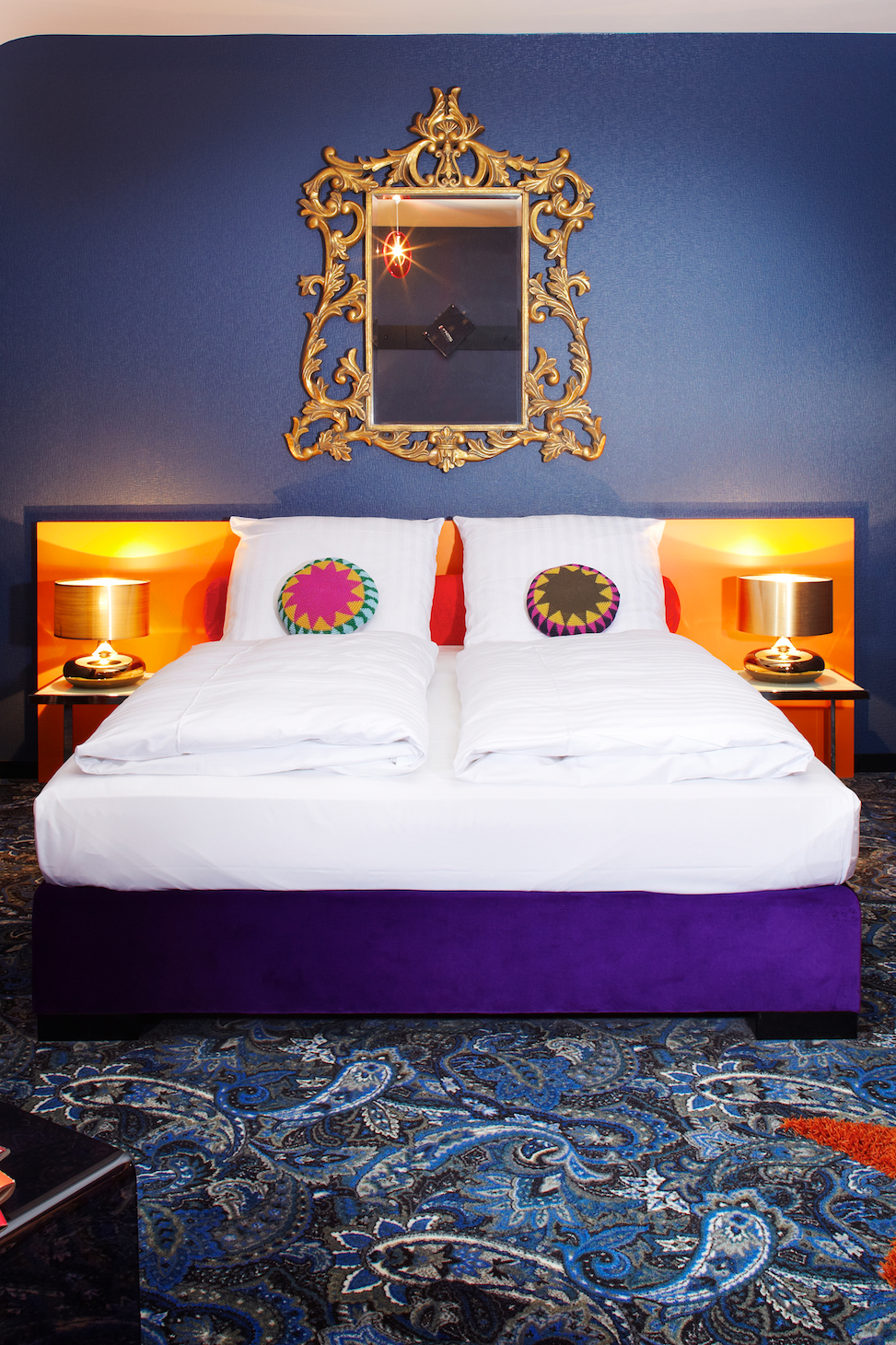 25hours Hotel by Levi's Frankfurt L Room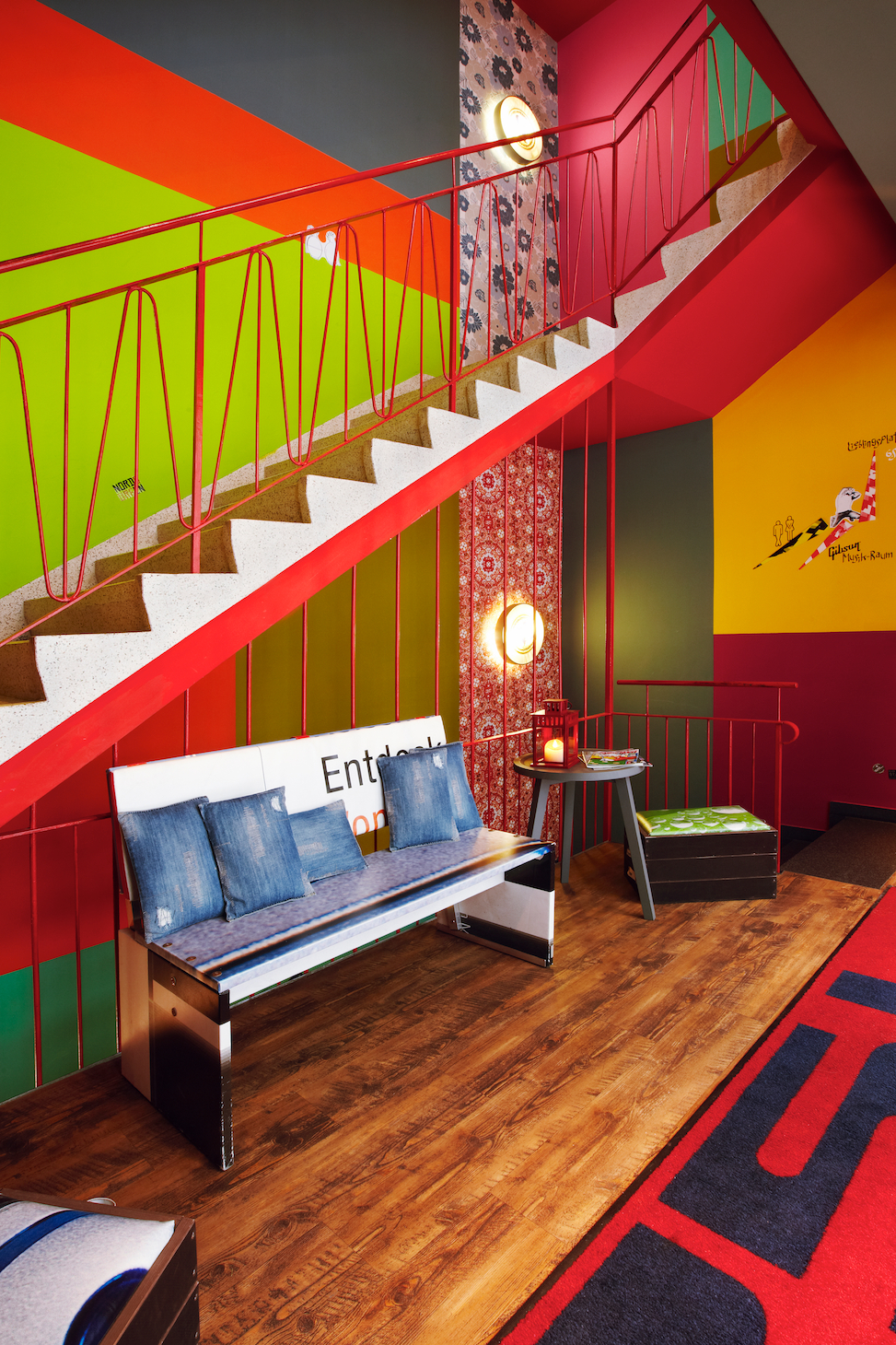 25hours Hotel by Levi's Frankfurt Staircase
Hospitality & Fashion
Hoffmann's 25hours also collaborated with US denim brand Levi's for the launch of the 25hours Frankfurt Levi's Hotel. According to Hoffmann, this came about more by accident rather than design. "It wasn't planned. It was organic. We happened to be located in a nearby building and met with the team. The partnership just developed."
Hoffmann believes that there is an increasing overlap between the hospitality and fashion industries. "Staying in a hotel is as much a statement as wearing something fashionable. It's all about statements – selfishness, pride, beauty and functional things," he says.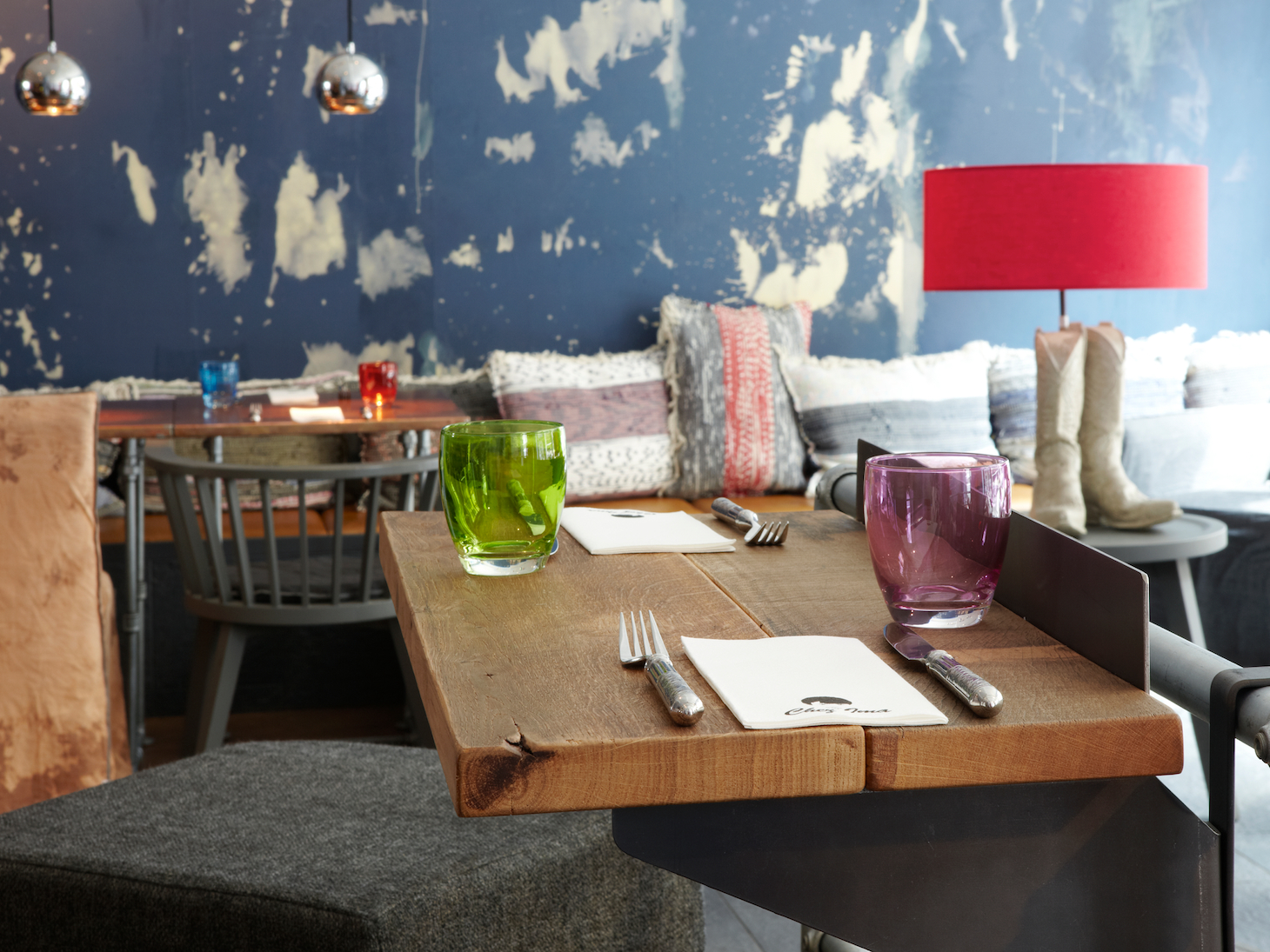 25hours Hotel by Levi's Frankfurt Chez Ima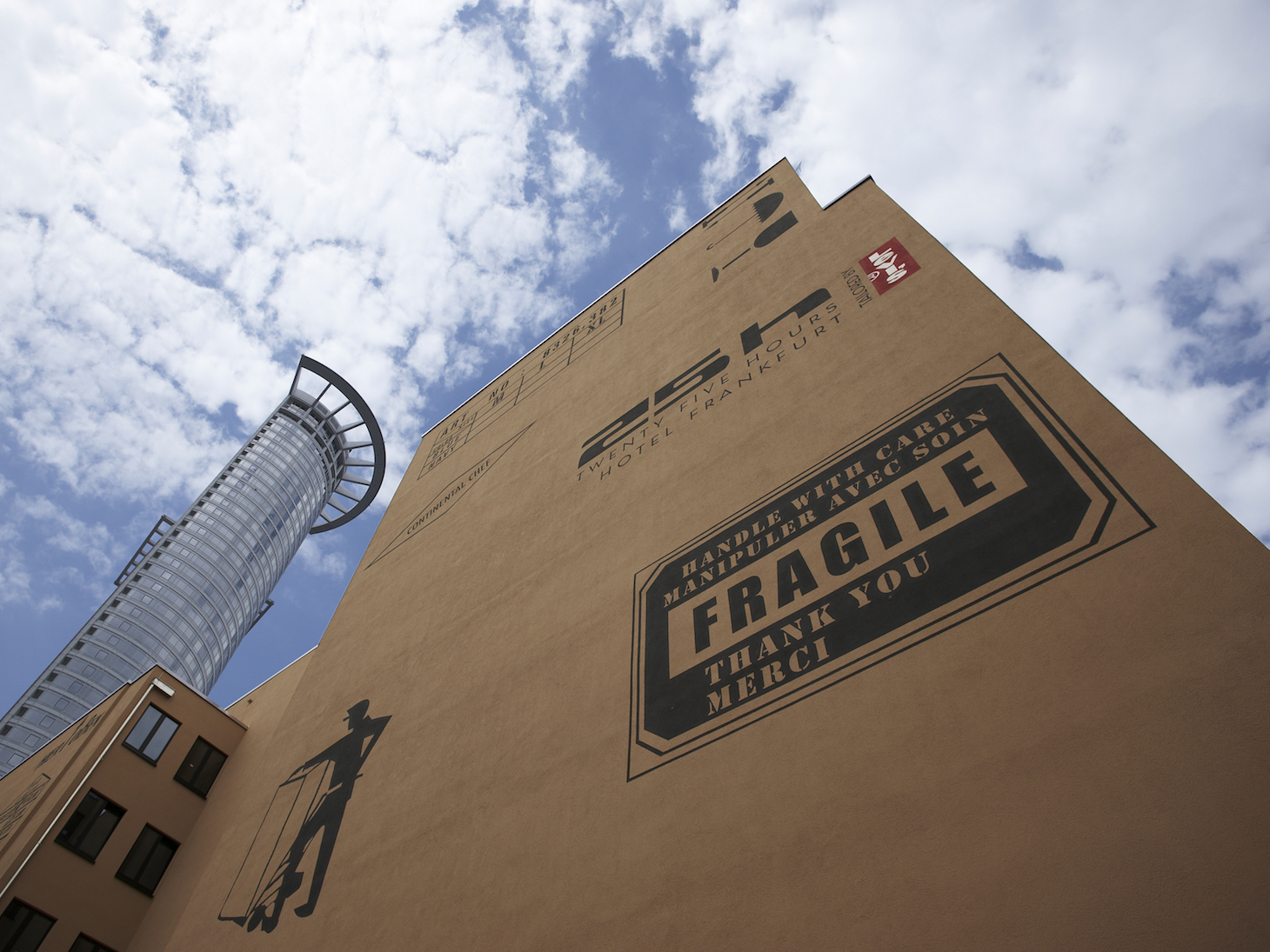 25hours Hotel by Levi's Frankfurt Exterior
Heading For the Hills
The brand has predominantly focused on expanding within Germany, Austria and Switzerland. Hoffmann's next project will be dependent upon finding a destination that complements his brand. "Shanghai is booming but we'd need to find the perfect partnership. We are looking at Istanbul but we have to research the language and culture before deciding if 25hours can be successful [there]."
Besides a bicycle hotel in Berlin, Hoffmann also plans to tap into the surfer market. "We are hoping to open a surf hotel on Sylt, an island next to the Danish border. A hotel called King and Grove in Montauk on Long Island [in the US] is our inspiration." Although Sylt is a very conservative place, Hoffmann believes that "there is a young market which would like to stay in a hotel that embraces the surfer lifestyle."
Up until now, the brand's hotels have been primarily located in urban areas. The proposed surf hotel marks a turning point for 25hours, away from cities to rural locations. "We do certainly have long-term aspirations to launch mountain and beachside properties," confirms Hoffmann, "But this will be some considerable time in the future."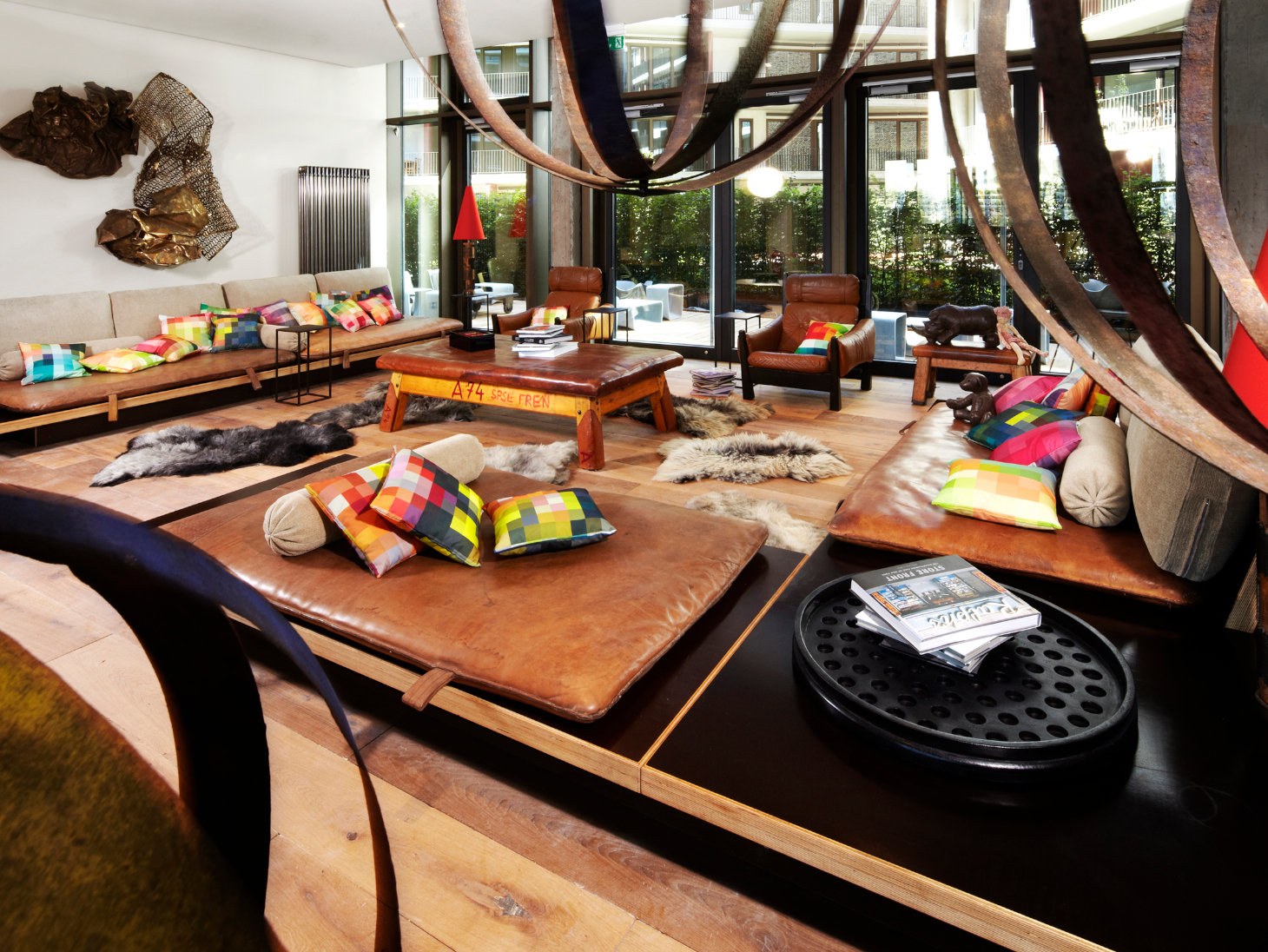 25hours Hotel Hamburg HafenCity Club Room